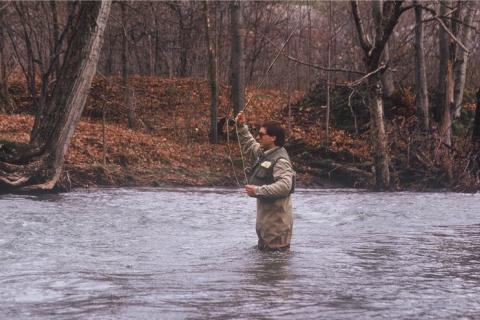 Few of us would choose winter as a favorite season for trout fishing with its bleak gray landscape and raw air that penetrates cold-weary bones like a knife. But if the alternative is no fishing at all, never mind the weather. We'll make the plunge, waddling out into the currents bundled up in thick layers of clothes and waders to ward off the chill.


If you'd like to join this diehard group of winter fly anglers, there are three keys to making your cold-weather foray a success. These include 1) choosing the right waters, 2) timing the trip for the best weather patterns, and 3) using the appropriate flies.



How to Set Up Your First Fly Fishing Outfit - LINK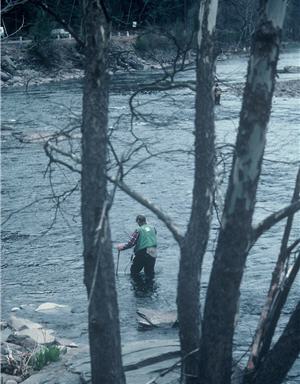 Winter fishing on the Lackawaxen River in PA. Using a wading staff is wise in big waters like these. 
Select the Trout Right Waters
Spring creeks and tailwaters are particularly good for winter trout fishing because their temperatures seldom drop as low as freestone streams. Baitfish and insects remain more active. And so do the trout.


Tip: If you don't have any spring creeks or tailwater rivers nearby and must fish freestone streams, choose shallow ones. Those will warm up more quickly after a few days of sunny, moderate temperatures.

Tip: 5 Simple Steps to Fillet Trout - LINK
Watch the Weather Successful Trout Fishing
This factor can be very important for successful cold-weather trout fishing. If temperatures in your local waters hover in the mid-30's, the best advice is to stay home. When readings rise above 40, the situation changes and good fishing is possible, but it will be mostly a bottom-scraping affair. As temperatures climb into the mid-40's to low 50's, excellent action is on tap.


Tip: As much as the exact temperature, it's important to pay attention to the direction the mercury is heading. When you get a two or three day warming trend, go on the peak day of the warming cycle. If a cold snap comes, hold off and wait for better conditions.
Tip: There's no rush to be on the water at the crack of dawn, either. Enjoy an extra cup of coffee and hit the stream in mid-morning. The warming air and sunlight can increase water temperatures two or three degrees during the course of a day. Expect peak trout feeding activity from 11 a.m. through 4 p.m.

The Flies—Nymphs, Streamers & Dries Can All Produce on Winter Fishing Trips

Here's a look at each group.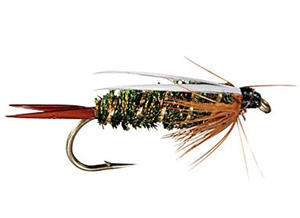 Prince Nymph is a great imitation of a stonefly or mayfly nymph.
Fly Nymphs
One of the best ways to enjoy action on winter trout is by scouring the bottom with a nymph like the popular Prince Nymph Fly.  Use an 8-10 foot leader tapering to a 3-5X tippet with a strike indicator. Top nymphs for cold water trout include the Golden Stonefly, Gold-Ribbed Hare's Ear, Pheasant Tail, Montana Stone, Scud, caddis larva and Cress Bug, sizes 8-18.


Tip: You can use weighted flies, squeeze a tiny split shot or two on 10 inches above the nymph, or buy versions with heavy eyes to take them down deep. Whatever method you choose, keep them close to the bottom. Trout won't move far to take a fly now.
Tip: Deliver these flies dead-drift through heads and tails of pools during warming trends, in the deep mid-sections during colder spells. If you detect a pause in the strike indicator's drift or sense a slight tap, set the hook immediately.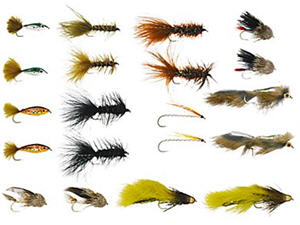 White River Fly Shop 20-Piece Streamer Assortment
Fly Streamers
Fish love to nail a chunky minnow or sculpin in winter since it helps fill their bellies quickly without much effort. Use either split shot or a sink-tip line to take the flies deep and a slightly shorter leader than you use for nymphs.  


Crawl patterns like the Woolly Bugger flies, Clouser Minnow, Sculpin, Matuka and Zonker across the bottom, inching them along slowly. Cast across and slightly upstream, then let the fly sink as close to the bottom as possible.


Tip: Keep the rod tip low to the water and strip the streamer with sharp 6-12 inch pulls and distinct pauses in between. You want to slowly tease winter fish, making your fly look like a wounded minnow helplessly struggling in the current.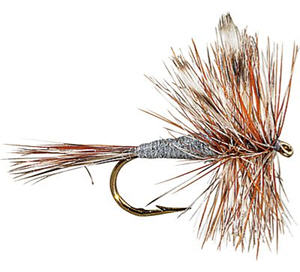 Adams dry flies
are a great choice anytime mayflies are hatching as well as when mosquitoes, caddis and duns are coming off the water.
Dry Flies
You probably won't see much surface feeding activity on the coldest days. But when the sun peeks out and a warming trend sets in, some surprisingly good top-water fishing can occur in winter. Watch in side sloughs warmed by the sun and swirling back eddies as well as the tails of long, slow pools. The fish will likely be feeding on midges, small dark stoneflies, stray caddis, or Blue-Winged Olives (Baetis). These are the staple patterns for winter dry fly aficionados.


Tip: Size of the fly you use in winter is critical. Stock a selection of patterns imitating the insects listed above in these sizes: 20-22 for the midges, 14-18 for the stoneflies, caddis and olives. Good specific choices include the Griffith's Gnat, Elk Hair Caddis, Adams flies, and Little Black Stonefly, plus Parachute, Sparkle Dun or Thorax Style Olive flies.  


Don't expect the action to match what you'd experience on a spring or early summer outing. But a few trout snatching your fly off the surface of a stream can help immensely in getting through the final cold, gray days of winter.