It's about 10 a.m., and my buddy and I have already been walking for more than two hours. The trail into the forest long gone, we lunge over slippery fallen logs and scramble up rock outcrops.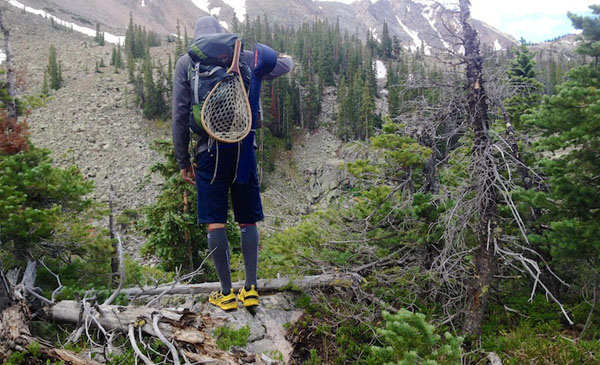 Far in the distance we hear the rumble of tumbling water, rushing quickly down an unfishable mountainside high in the Rocky Mountains. Yet, due to a little homework, I know there is a lake up there, somewhere.


We keep the sound of the rushing stream in earshot, hiding in hoods and swatting to combat the dense mosquito population. We sing and holler, hoping to alert any bears or moose of our approach over the rising din of falling water.


Suddenly, the dense forest opens on a scene from a fairy tale. A waterfall cascades off a 100-foot rock wall, water crashing into a small, crystal clear pond shimmering with the life of high-altitude cutthroat, rainbow and brown trout.


My buddy looks at me, covered in mosquito bites, mud and moss, and smiles widely.


"We're here."


As fishing and hiking grows in popularity, it can be hard to find places off the beaten path where fish are wild and uneducated in the ways of flies and lures. But still, those places exist and are plentiful, if you're willing to work!


On this particular adventure, we landed a dozen or so beautiful fish in less than two hours of fishing this gem of a pool high in the Rockies, but the truth is, fishing was only an added bonus to a great adventure. The following tips will help you plan a backcountry, bushwhacking fishing trip of your very own.


1. Do some research. Remote, hidden fishing spots are amazing because they are tough to find and even tougher to reach. Two great places to begin the search are topo maps and Google Earth. On this particular adventure, I had found our intended destination — an unnamed lake — as a dark blue dot on Google Earth.


2. Use geographical landmarks to plan route. If you are unfamiliar with backcountry travel, familiarize yourself with the area you plan to visit before heading into the woods. What landmarks lie to the north, south, east and west? Are there ridgelines or streams you can follow through the forest that may lead you to the fishing hole? These kinds of geographical landmarks are extremely helpful in finding your way through the unmarked wilds.


3. Get the compass handy. Backcountry angling is a lot like hunting in this aspect: you will very likely have to walk faithfully at a compass heading to find landmarks or fishing holes in the forest.


4. Pack for the occasion. Even if you don't plan to overnight, it's best to bring some significant equipment (sleeping bag, tarp or tent, stove, water, food, knife, etc.) when heading far into the backcountry. While the gear will come in handy in a storm or other emergency, it's even better if you have hiked all that way and find that the fishing is magnificent! Who wants to go home when the fish are biting, anyway?


5. And then pack for the unexpected. You will work hard for most backcountry fishing spots, so don't be forced to turn around early. Bring a rain jacket and pants, bug repellant, sunscreen, a hat and other gear to make your trip comfortable should you come across unexpected, unpleasant elements.


6. Tell someone where you're going. Like any time you are headed into the backcountry, tell somebody where you are going and when you expect to be back. This rule is particularly important when off trail in places like this last trip in the Rockies, where one could easily sit for weeks or more without seeing another soul.


7. Bring spares. When miles from the road, a small missing item could ruin a trip. Make sure to bring extra line, tippet, leader — or whatever you may need to fish once you reach your destination.


8. Practice catch and release. Well, maybe you'll want a fish or two to cook fresh from the stream, but let the rest go as they probably won't stay super fresh on the long hike out.


9. Keep your secret spot secret. With all the hard work to find a real backcountry gem, why share it with the masses? A nice way to "share" spots is to only bring friends, never hand out directions, even to friends!