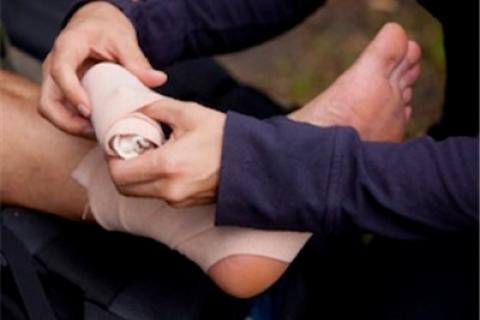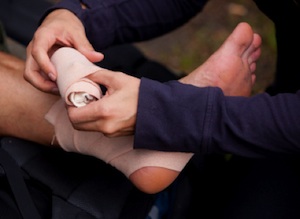 Camping with the kids gives you a great opportunity to get outdoors, teach the kids valuable outdoor and life skills, enjoy quality time with your family and make some lasting memories.


As with any other outdoor activity, there are risks associated with camping. Prepare yourself for these risks by bringing along a compact First Aid Kit that you can easily carry with you, and understanding how to use its contents.


You can purchase a pre-packed first aid kit, or you can assemble your own custom kit to fit any particular needs you might have.


When creating a custom First Aid Kit, think about the activities you'll be doing on your trip, and outfit the kit from there. For example, if you're hiking on your camping trip, you'll want to be especially prepared for injuries associated with walking, like blisters and ankle sprains.


Here are a few items to be sure you've brought along in your first aid kit when you're camping with the kids:
1. Hand sanitizer for getting hands clean before treating wounds

2. Protective gloves for protecting against cross-infections

3. Antiseptic towelettes or hydrogen peroxide for cleansing wounds

4. Gauze, a variety of cloth adhesive bandages and elastic bandages for dressing wounds

5. Adhesive tape to secure gauze or bandages

6. Burn cream for campfire accidents

7. Hydrocortisone cream to relieve itchiness from bug bites or poison ivy

8. Sting and bug bite relief creams

9. Ice pack to soothe stings or combat swelling

10. Eye drops to relieve any eye irritations

11. Anti-nausea medicine

12. Antihistamine medicine to relieve itchy eyes, runny nose and sneezing

13. Pain/fever medicine

14. Tweezers to remove splinters, ticks, etc.

15. Scissors to cut adhesive tape or trim bandages

16. Safety pins


Also remember to bring along other specialty items like an EpiPen, allergy medicine, dietary supplements, etc.


In addition to your First Aid Kit, pack the following ten survival preparedness items:
1. Headlamps or flashlights with extra batteries
2. Clean water and canteens
3. Protective clothing like sunhats and raingear
4. Sunscreen
5. Bug spray
6. Fresh changes of clothes
7. Whistle
8. Compass
9. Matches
10. Cellphone.


With these items, you'll be well on your way to a well-prepared-for and successful backpack or camping trip.