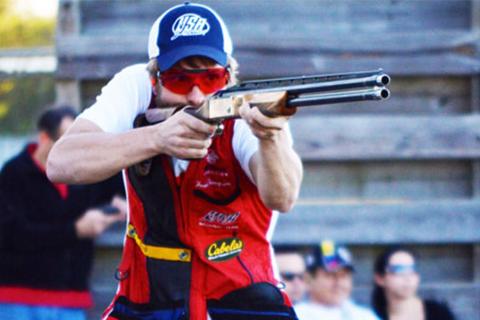 Cabela's Pro Staffer and Olympic shooter Frank Thompson started shooting a shotgun in high school and never stopped. In this article Frank discusses the basics and provides tips for skeet shooting beginners.
After high school, he went to Colorado Springs, Colo., trained at the Olympic Center, and in 2012 made the U.S. Olympic team.
He won the nationals in 2015 and is currently leading the selection match process for the 2016 Olympics.
I asked Thompson about common mistakes novice skeet shooters make.
"Skeet shooters tend to set up too close to the house," he said. "You should start halfway between the house and the center stake. If you find you are mounting the gun and coming up too close to the bird or behind the bird and you are having to chase it, you are holding too close to the house.
"If you're mounting to the target and you come up out in front and find you are having to wait on it, you're too far out from house. The end goal is having an easy mount that is the same speed as the birds. When the gun hits your shoulder you should be on target and can shoot when your cheek contacts the stock.
"The biggest thing is if the gun is shooting where you're looking. I like to mount to cheek bone, some like it touching their cheek. The key is a consistent mount and an adjustable cheek piece can allow you to tune the gun to you."
Thompson is right about shotgun fit and anyone who has competed in shooting clays of any sort will agree.
If you have a consistent mount it is a lot easier to fine-tune your training and get more hits.
In the end, just a few birds can make a big difference in score.
In closing, Thompson added, training is not always all about making the shotgun go bang.
Visualization can help.
Set up for your hold points, visualize the bird and work on a smooth and consistent mount.
I always like to say go half speed, or even slower, on practice mounts.
It helps to develop and stabilize the muscles.