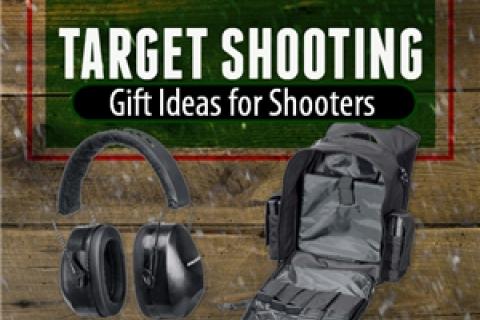 Across the country, the popularity of the shooting sports continues to grow.  Men, women, youngsters are all enjoying competitive, tactical, and recreational shooting in greater numbers than ever before.  Hundreds of thousands joined the ranks last year. So chances are pretty good you have shooters – especially new shooters – on your Christmas gift-giving list.  Bass Pro Shops is here to help with gear to earn you big smiles and warm hugs when the wrappings come off.
RangeMaxx® 3-Gun Competition Gun Case
3-Gun Competition is the hottest shooting game these days.It's packed with action, excitement, intensity, fun – and tons of pulling the trigger. But it's one gear intensive sport! RangeMaxx® designed the 3-Gun Competition Gun Case specifically to carry one MSR (Modern Sporting Rifle), one tactical shotgun, and one handgun – exactly what a match or a serious range session demands. The large main compartment has a padded divider that safely separates rifle and shotgun compartments. A removable, padded pistol case can be carried separately, too. Three large, zippered pockets offer storage for ammo and other essential accessories like magazines, cleaning supplies, and small tools. Adjustable straps even allow it to be carried like a backpack for comfort and convenience. $69.99.
 
RangeMaxx® R2G CCW Tactical Range Pack 
Have you seen Santa lately?  He's gone tactical!  And the pack he's chosen to carry his goodies is the RangeMaxx R2G (Ready to Go) CCW Tactical Range Pack.  (Okay … maybe not … but he could).  Whether for the shooting range, operational training, or a simply a day at the office, the RangeMaxx R2G pack is "ready to go."  It includes concealed carry functionality to keep a handgun hidden and secure, but ready should it be needed.Ample MOLLE webbing creates an adaptable, modular platform to attach tactical knives or flashlights plus MOLLE pouches for even more storage. Supremely versatile as a range bag, field pack, bail out bag or simply a daypack. About $69.99.
 
RangeMaxx® Firearms Safe
How would you like to make a big impression on your most beloved shooter? The RangeMaxx fire-rated firearms safe at 58x30x20 inches is a sure hit; just make sure you have plenty of extra wrapping paper!  The RangeMaxx safe holds 23 long guns and protects them from fire damage even if it burns at 1,400 degrees for a solid hour.  The matte black paint finish fits fashionably and inconspicuously anywhere you decide to place it.  Internal compartments and door storage can be customized to any need. Available in stores. About $1,099.99.
 
Pursuit® X1 Tactical Rifle Scope
This gift is perfect for those friends or family members on your Christmas shopping list that devote themselves to tactical, long-range shooting.  Dependable optics are at the core of successful long-range shooting. The Pursuit X1 Tactical Rifle Scope fits the bill.  The Pursuit features fully multi-coated optics with a rugged 1-piece, 1-inch aluminum tube and ¼-inch MOA adjustments on tactical-style turrets. Superior design and mechanics assure years of tactical field service, and that's backed up by a limited lifetime warranty.  $99.99 - $119.99.
 
Pursuit® X1 Tactical Red Dot Sight
Those who participate in tactical shooting sports generally do so for one reason – ACTION!  Events such as 3gun shooting get the adrenaline up. The perfect optic to support action-oriented shooting is the Pursuit X1 Tactical Red Dot Sight.  It's built for both-eyes-open shooting to find your target fast.  Once you do, the 5-MOA illuminated red dot reticle with five brightness settings locks you on.  Infinite eye relief allows for visibility and accuracy no matter what angle or position you must shoot from.  Runs up to 50 hours on two LR44 (included). $79.99.
 
Browning® Range Kit for Her
It doesn't matter whether the female shooters on your list enjoy rifle, pistol, or shotgun shooting, they rightly demand the same level of performance from their gear as men do. That's especially true when it comes to eye and ear protection.  But some ladies prefer an added touch of femininity. That's why Browning put together the Range Kit for Her.  It includes shooting glasses with smoke polycarbonate lenses and light pink frames; pink, soft foam ear plugs for noise reduction up to 31dB; and adjustable fit, padded headband earmuffs also with a noise reduction rating up to 31 dB.  $34.99.
 
RangeMaxx® 5-Lens Interchangeable Shooting Glasses
Every shooter needs eye protection, so shooting glasses make the perfect Christmas stocking stuffer.  The RangeMaxx 5-Lens is even more ideal because the interchangeable multi-lens system adapts to any type of shooting and any lighting situation.  (Translated: You don't have to know what kind of shooting the recipient does or where he/she shoots.) Scratch resistant lenses block 99.9 percent of harmful UV rays.  Includes durable, comfortable neoprene neck cord, microfiber lens cloth, and rugged molded foam case with belt clip and lens dividers. $34.99.
 
RangeMaxx® Maxx Muff –29 Folding Ear Muffs
Quality hearing protection is a universal requirement for every shooter.  They won't be allowed on the shooting range without it.  Show them you're thinking of their safety and comfort by giving RangeMaxx earmuffs. For comfort, they feature a CoolMax headband liner and wide adjustability to a customized fit.  The fold-up design stores compactly and easily. For safety sake, the hearing-saving noise reduction is rated at 29 dB. $29.99.
 
If you're not a bench shooter, you might have to wonder how exciting a gift a shooting rest could possibly be.  Trust Santa!  He knows the RangeMaxx Magnum Rifle Rest is exactly what the rifle shooters on your shopping list want.  It's the best rest going with a wide, stable, 3-point footprint and smooth, quick, one-hand elevation adjustments.  Height adjustable feet and a built in magnetic bubble level ensure a precision rest for testing handloads, optics, and any rifle. Give your favorite rifle shooter a rest this Christmas — for his/her rifle. $49.99.
 
RangeMaxx® Ambidextrous Hip Holster
Christmas and mistletoe — Santa and his reindeer — handguns and holsters — some things are simply inseparable.  For the handgunners on your shopping list, Bass Pro Shops offers a huge range of holsters.  The most basic and universal is the RangeMaxx Ambidextrous Hip Holster.  It's light, tough and secure; it cradles the pistol in protection.  Made from 600-denier nylon with brushed tricot lining, breathable open cell foam and layer of closed cell foam – all in stylish flat black.  Available for Smith & Wesson, Ruger, Springfield, Glock, Kahr, Colt, Browning, Sig Sauer pistols and revolvers as well as many more.  Check the chart for sizing.  $17.99.
 
RangeMaxx® Universal Flex Gun Cleaning Kit
It doesn't matter whether the shooter(s) on your list are into rifles, handguns or shotguns; all firearms need cleaning. So the RangeMaxx Universal Flex Gun Cleaning Kit is the perfect gift since it will neatly and quickly clean any firearm from .17 caliber to 12 gauge. Kit includes an ergonomic, rubber over-molded T-handle with a smooth bearing connector that accepts any of the five pull-through flexible rods for cleaning handguns, rifles, or shotguns. Includes 14 high-quality phosphor bronze brushes, 10 cotton bore mops, 6 nylon slotted tips, and the proper adaptors for all thread sizes. Also includes a starter set of synthetic patches, and a magnetic LED bore light, which is a great convenience. $34.99.
 
RangeMaxx® Shooting Bench Table
Has your favorite shooter been complaining he or she just can't shoot tight groups at the rifle range?  Maybe it's a problem with the foundation of all rifle shooting. No, not their skills, but the bench on which the rifle is rested.  The RangeMaxx Shooting Bench Table is the gift that will solve all those problems for your loved one.  It is rugged, solid and sturdy and accommodates all shooters whether right-handed or left-handed.  While it features all-steel construction, rubber-coated rests and the padded vinyl bench top protects valuable, cherished firearms.  The package also contains two convenient ammo and gear pouches.  $79.99.
 
Sometimes, the simplest gifts are the best.  No shooter—man, woman, or youngster—can have enough soft side gun cases for transport and protection of valuable – even sentimentally special – firearms.  The RangeMaxx FS12 Scoped Gun Case is a great one.  The tough denier polyester outer shell with thick foam padding and a shock absorbing PVC bottom keeps firearms from being scratched and dinged.   One large zippered front pocket offers secure storage for accessories and ammo.  A padded shoulder strap makes for comfortable carrying.  Comes in 48- and 53-inch lengths.  $39.99.
 
A Bass Pro Shops gift card is the perfect gift when your target shooter has a specific gear and gadget wish list. Simply provide Bass Pro Shops with the dollar amount you wish to give and select your favorite card design.  Bass Pro Shops will immediately mail a card and free Bass Pro Shops catalog.  Bass Pro Shops eGift cards all you to almost instantly send a gift to your favorite outdoor enthusiast.