When you mention fishing the northwestern region of the Pacific Ocean you quickly think of Chinook salmon and monster halibut. When you book a trip of a lifetime with Serengeti Fishing Charters out of Port Hardy, British Columbia, there will be no doubt that you will leave the west coast with sore arms from doing battle with these two species. However, a bonus within the depths of the Pacific Ocean is the incredible angling opportunities for the colorful rockfish that also call the western Pacific home.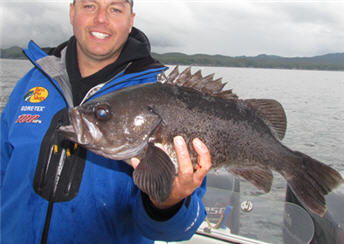 Tip: Shop for your saltwater fishing gear at Bass Pro Shops and Cabela's many stores along the U.S. Pacific coast.
Aggressive, colorful, abundant, and eager to bite an angler's offering, the rockfish that swim within the Northern Pacific don't get the credit they deserve. Each and every species I've caught has put up an incredible fight and there is a real skill to not only catching rockfish but also to landing rockfish.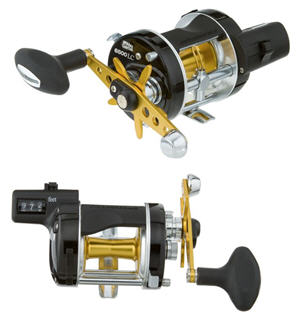 Even though rockfish species may not reach monstrous sizes like halibut, they will test an angler's equipment, especially when you use what's considered light tackle on the Pacific Ocean. Starting with your reel, which is the heart of your setup, I like to use a counting reel like the Abu Garcia Ambassadeur line counter 5500LC or 6500LC reel with a 5.3:1 gear ratio. A quality line counting reel is important as you may be fishing water depths over 200 feet.
Tip: Ambassadeur Line Counter Reels from Abu Garcia are built for trolling and tangling with the big boys! This reel features a palmable line counter that counts in feet and a line-out system to alert you when your line is being stripped.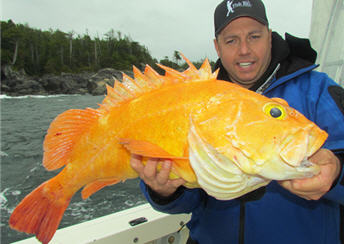 Spool the reel with Bass Pro Shops XPS HYPER BRAID 8 fishing line 30lb to 50lb line and load your reel with 200 yards or better. XPS line not only allows you to feel the bite that may be more than 100-feet beneath you, the no-stretch line also allows you a solid hookset and the strength to fight the fish. The Bass Pro Shops Power Plus Trophy Class 7' 6" Medium Heavy action fishing rod is ideal for this style of deep water fishing and will aid you in the hookset along with the fight.
Jig Fishing Aggressively, Big Vibrations and Flash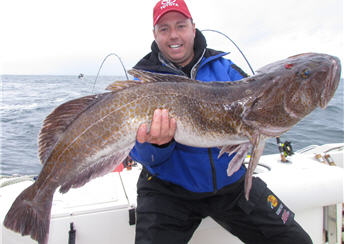 Heavy jigging spoons from 3oz to 14oz that give off a thunderous vibration and a lot of flash are a must. Lures such as the Original Buzz-Bomb Jigging Spoon , Zinger, or a Spinnow, are heavy flashy lures that give off a ton of vibration.
After your jig or jigging spoon reaches the bottom quickly snap the heavy jig/lures off the bottom. Lifting the jig three to five feet off the bottom and letting it freefall and repeating. In most cases, it's important for your jigs to be jigged aggressively so it will send a powerful vibration through the deep water column and be the most effective attracting a wide variety of predator rockfish within the depths.

Braided Fishing is Line is Very Important Because...
This aggressive snapping action causes the lure below to imitate a wounded or dying baitfish, therefore, making the lure irresistible to hungry rockfish. The braided line is one of the most important keys to this system. With 100-feet of line or more between you and your jig, the no-stretch line is very important in getting a solid hookset. Rockfish have very tough mouths and if a fishing line has too much stretch, the hooks will not penetrate into the fish's mouth when the angler sets the hook, causing more fish to be lost than landed.
The 30 to 50-pound fishing line is also needed as it's not uncommon for large halibut or a 50-pound lingcod to take your offering. I've even landed a 50-pound Pacific octopus jigging for rockfish. If you ever get a chance to pull a 50lb octopus of the bottom in 200-feet of water, you will quickly gain confidence in your rod, reel, and fishing line. 
With the fishing setup mentioned above, I've landed quillback, lingcod, yelloweye, black bass rockfish, English sole, red banded and black banded rockfish, and many others, and often in the same locations. When you plan your next trip to fish the Pacific Ocean for salmon and halibut, make sure you plan some time to jig the colorful rockfish that also call the northwestern region of the Pacific Ocean home.
Watch Video: Jigging for Rockfish,
Fishing the Wild West TV