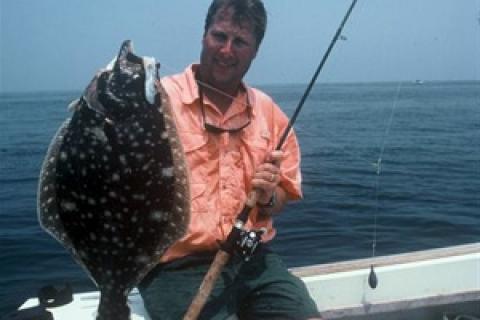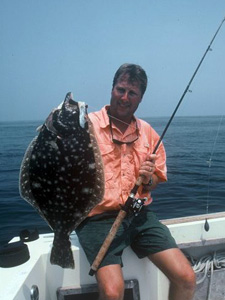 If last year's action was any indication, fishermen going after saltwater gamefish in Virginia should have a banner year this season.
Old Dominion anglers caught 6,167 citation-sized saltwater gamefish in 2013, topping the 6,000 mark for the second year in a row. This is the ninth time anglers have caught over 6,000 trophy-sized fish in a year since the saltwater tournament began in 1958. It also is the most award-winning fish caught since 2007, according to Lewis Gillingham, Director of the Virginia Marine Resources awards program.
There were some impressive tallies for some species and some surprisingly disappointing figures for others, such as flounder, weakfish and striped bass. Here's a look at some of the highlights and low points of the awards program for last year. (It should be pointed out that this is not a "tournament" in the usual term. Anyone catching a trophy fish in the state is eligible for a citation award. You don't have to enter or pay a fee.)
Speckled trout accounted for the most citations among the 35 eligible species. Anglers going after these tasty, challenging fish caught 1,874 award-winning trout. Some 1,198 or 64 percent of these fish were released unharmed. A total of 676 were kept to eat. The speckled trout tally accounted for an impressive 36 percent of the year's awards.
This huge speckled trout catch was an all-time record for the species. It was only the third year in which anglers collected over 1,000 trout that were citation-sized. The other years were 2012 and 2008. Gillingham points out that the trout fishery is a year-round activity, with specks entered for citations every month of the year. Among fish that were kept, 66 weighed over 8 pounds and 15 trout weighed over 10 pounds.
High-jumping white marlin accounted for the second most citation-sized fish. A record-setting 1,339 marlin were released. All citations for this species are for released fish. White marlin citations made up 22 percent of all awards given out.
The trend of increasing numbers for this fish began in 2008 and is continuing strong with the record number of citations. The best period was from mid-July through mid-October. The first marlin was caught on June 6 and the last one landed and released on November 22.
Red drum were the third most abundant fish in the program. They accounted for 13 percent of awards given, with 995 of the trophy "redfish" caught and released. (This fish too receives an award only if it's released.) This release-only policy was begun in 2000, to discourage fishermen from keeping fish mostly to get a citation. Since that year anglers have registered over 500 red drum in all but two years. The first trophy drum was caught on April 7 and the last one was pulled from the Barrier Island surf on October 31.
Tautog anglers also had a good season in 2013. More citations were recorded for this species than any time since 2006, with 184 fish registered. Black sea bass citations topped 100 for the first time since 2008. Cobia numbers were also good, with 162 fish being registered. Lots of 30-45 pound cobia were also present in the Chesapeake Bay, so next year anglers should tally even more awards for these prehistoric looking brown fish.
Unfortunately, while many species offered good fishing last year, a few were scarcer than normal. The most disturbing decline was in striped bass. The number of citation stripers dropped from 1,331 in 2012 to just 441, the lowest number since 1997.
Somewhat alarmingly, 75 percent of these fish were kept to eat, while only 25 percent were released. The pressure may just be getting too heavy on these 10-20 year old fish. Forty-one of the kept fish weighed over 50 pounds. Windy, cold weather also hurt the fishery. Many days anglers couldn't get out.
Flounder numbers were also disappointing. Only 61 citation fish were registered. This is the lowest total in 20 years. No gray trout citations were awarded. Spadefish were also scarce. Finally, croakers saw the lowest number of awards given since 1993.
To sum up, your best chance for a trophy in Virginia this year if trends continue will be for speckled trout, white marlin, red drum, tautog, black sea bass and cobia. That sounds like a good group of fish to target if you ask me.