When snows fall deep and cold winds blow, it's hard not to dream about fishing the flats in a sunny tropical setting. But if you book a trip and expect to catch thin-water "stars" of the angling world like permit, tarpon, and bonefish, your chances for disappointment run high.


Even though the air temperature may feel great compared to the cold climate you left farther north, the water temperatures on the flats are often in the 60's during winter. That's too cool for consistent fishing for these thin-water quarries.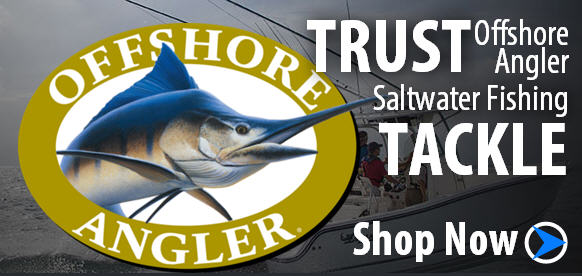 If the "glamorous" flats fishing species like tarpon and bonefish prove elusive, set your sights on the long, lanky barracuda, an often overlooked saltwater brawler. Here's the lowdown on the Barracuda's characteristics, where to find them and the best fishing tackle and tactics to use to battle the feisty barracuda.



Tip: Watch a Do-It-Yourself Barracuda Tube Lure Video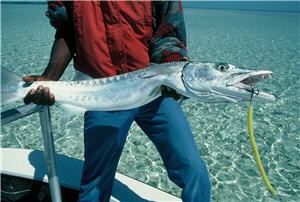 Luckily, there is one flats quarry that is more than willing to fill in for scarce tarpon and permit. The fish is the barracuda—a hard battler that strikes savagely and grows up to five feet or longer. And far from just being "available," right now is actually high season for catching this toothy silver quarry. Often hundreds of 'cuda can be found finning languidly over hard-packed sandy flats on a sunny winter's day.


Why Baracuda Like the Flats in Winter
Unlike tarpon, bonefish, and permit, which usually leave the flats when the temperatures drop, barracuda actually move up onto them when cold fronts hit. They do so to take advantage of the sun's warming effects on the lean water and to seek the needlefish and cigar and glass minnows found there.



Tip: If you like sight fishing, you'll love this thin-water barracuda sport. The best way to pursue them is to pole along in prime areas trying to spot them before a cast is made.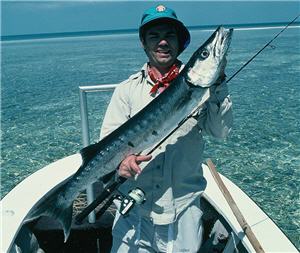 Know Where to Look for Barracuda
Look for the long, silvery-white fish near shoreline and island edges, in pockets of weeds, near beds of turtle grass, and over sand and marl flats. Florida Sportsman



Tip: The biggest fish will often hang near the outer, deepest edge of the flat. Hook one of these hulking beasts and it will respond like a bundle of coiled energy with searing runs punctuated with spectacular arching leaps that may span 20 feet horizontally.


A Terrific Saltwater Sport Fish, But Finicky
While 'cudas offer exciting winter fishing, they are challenging to catch and can be finicky feeders. For starters, they are skittish. They're just as likely to flee from your lure as they are to strike if it lands too close or swims at an aggressive angle towards them. They also might follow your lure almost to the boat, then turn with a water-boiling refusal at the last second when they see you.



Tip: To avoid spooking these temperamental fish, stay as far back as possible and make extra-long casts.

Tip: If a fish follows your lure but won't strike, you may be tempted to slow it down and twitch it. Usually however, speeding up the retrieve is more likely to incite a smashing take.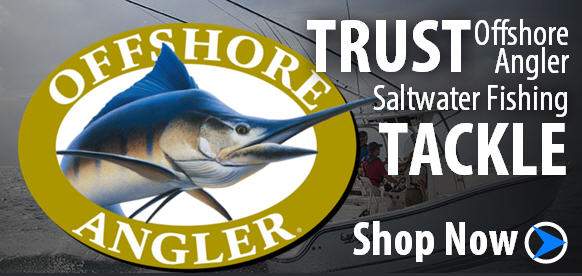 Best Fishing Tackle for Barracuda
You can use baitcast gear, but spinning outfits are preferable because of the problem of wind on the flats and backlashes. The higher retrieve ratio also makes it easier to deliver the fast presentations barracuda relish.



Tip: Go with a 7-8-1/2-foot medium-light or medium weight rod and reel spooled with 8-14 pound line. A wire or heavier-mono leader will reduce cutoffs from the 'cudas' sharp teeth.
Many Barracude Anglers Use Soft Swimbaits
Soft flexible plastic lures are deadly on barracudas. Some people still use homemade lures constructed of surgical tube material rigged with a set or curl in the body so it twists and spins as it's retrieved. Chartreuse, orange, pink, or natural are the most popular colors for these offerings, which should be worked fast on or just below the surface.


Most anglers today instead opt for swimbaits such as the Bass Pro Sassy Sally Swimbait or Bass Pro Jerk Shad and Bass Pro Shops®' Paddle Tail ShadBass Pro Shops®' Paddle Tail Shad rigged with a single hook.  These make great imitations of needle fish, prime forage for barracudas.



Tip: Deliver the lure 10-30 feet beyond the quarry and 5-15 feet in front of it. Begin your retrieve and speed it up a notch as it passes the fish.
Plastic Worms are  Also Effective on Barracuda
Plastic worms of 6-8 inches are also effective on barracuda but fewer anglers use these offerings. Try green and orange versions, with hard worms preferable to soft ones. Rig the worm on a 3/0 hook with a wire leader and swivel.



Tip: Worms are especially useful in areas with heavy fishing pressure. They're subtler and less likely to spook the quarry and can be cast closer to the fish without scaring it. Don't fish them like you would for bass, though. Instead, crank the worm fast and wiggle the rod tip to impart an undulating motion when a fish shows interest in the offering.
One of the best baits for catching Barracuda is a tube lure like the top customer rated Sea Striker Deluxe Cuda Tube. This tube bait mimics an eel fish and is great for inshore fishing on flats and along the shoreline. Some anglers make their own with surgical tubing, 70 to 90 pound wire, hooks, sinkers etc. Be sure to watch the  Do-It-Yourself Barracuda Tube Lure Video below.



Tip: The versatility of the tube lure allows for casting over the flats with very aggressive retrieval (don't stop until you hit the rod tip) or offshore trolling with the lure tracking behind the boat about 90 - 110 feet.
Watch a Do-It-Yourself Barracuda Tube Lure Video
For Excitement, Toss Topwater Plugs
For the ultimate thrill, try tossing topwater or surface lures to sighted barracudas. Darters, chuggers, and stickbaits will all work at times, as well as thin-minnow plugs with the front lip removed. A slow, twitching presentation sometimes works well when casting surface lures for barracudas. At other times a medium-speed "walking the dog" delivery produces more strikes.



Tip: To make releasing fish easier, remove the front treble hooks on your hard baits and squeeze down the barbs on the rear trebles with needle nose pliers.
If warm southerly winds crank up the temperatures on the flats during winter and early spring and they're flooded with bonefish and tarpon, you're in luck. But if cold waters send these fish scurrying for the depths, be sure to have a Plan B with plenty of barracuda offerings on board. These long, silver battlers can save the day on a flats fishing trip when the glamor species prove hard to find.