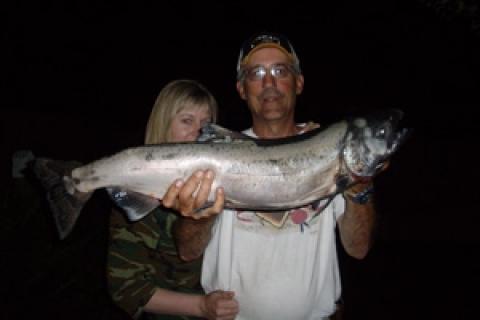 The lower 48 may not have anywhere near the salmon fishing that Alaska has, but one thing unique about Idaho is that we have the longest salmon run in America.
I go even on a bad year just to see the event. It's inconceivable that a fish can be born in a small creek in Idaho, swim downstream, end up in the ocean and then three, four or even five years later navigate their way 750 miles all the way back to their birthplace. Impossible! This pilgrimage occurs the end of June, first of July.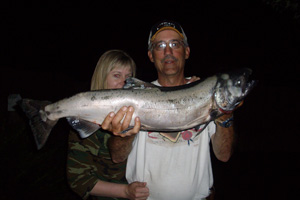 The author holding a decent Idaho salmon.
I'll describe a normal fishing trip to give you an idea how it works. Last year a friend of mine, Roger, called and told me that the salmon were running hard. He'd had 50 hits the day before and I needed to get up there. I lined up things right fast and ran up and spent the night with him.
The next morning we slid into his fishing hole out of Riggins. There were nine of us in the hole but it was still comfortable fishing. If you've never been combat fishing, it's unique. To crowd everyone into a hole, you have to fish in unity. The best phrase that I've heard to describe it was "they were fishing in perfect choreography."
The first guy will cast upstream, then 3-4 seconds later the second guy in line will cast and on down the line. As the last guy's drift is ending, the process is repeated. If someone hooks up, everyone reels in and someone nets the fish for the lucky guy. We had doubles a few times in our hole.
Just like at work, one village idiot can cause chaos. So it is here but about 80 percent of the fishermen on weekdays are older gentlemen and seem to work in unity pretty well.
Roger said the water had been high and it was tough to keep the fish in the hole. If you let them get out of the hole, it's tough to land them. Downstream the water will be faster and there's not a good place to land them. Secondly they can spool you. He said he'd been using 40-pound test and had broke off quite a few. I don't like using over 40 so I went with that.
To set up, tie on a three-way swivel. You tie in on one end and tie a 28-inch leader on the other. A rubber tube goes over the third eye. Into the tube you place a piece of lead core wire (1/4-inch) for weight. According to how fast the river is determines how long of a piece of lead that you use.
Tie a piece of yarn on your hook. Many people also wrap salmon eggs or tuna in a piece of netting and place this above their hook. I put on tuna and within a few minutes landed a nice one. Supposedly the yarn looks like an egg sac drifting and the salmon wants to carry it back.
In Alaska we take our time fighting our big Kings because they have a little bit of a softer mouth, so if you toss them too much, you can rip the hook out. In a hole, though, just by nature of the environment, you have to control them. Granted they weigh 20 pounds less but they have the river to help propel them. I see some guys really putting the crank on them. To me, you ought to be a little lighter. You don't want to fight one for 30 minutes and tie up the hole or you'll get gut shot but you don't want to lose him either.
The adipose fin is cut off at the hatchery to signify that it is a stocker. If it has an adipose fin, you have to throw it back. Be gentle with them. It'd be a shame for them to make the 750-mile trip and die because you bounced them on the rocks. Also if they're foul hooked, you have to release them. This day I got 15 hits. Roger got 30.
You have to determine where the majority of them will be running and hit that spot in the hole. You can also keep the jack fish, which is any salmon under 2 feet long. Fish and Game's reasoning is that they return in two years instead of three to four, and a high percentage of them are hatchery fish. They want to get them out of the gene pool. They're active and will dart in and drop their milt before the bigger ones can.
If you're ever in the neighborhood, you ought to check it out. The Idaho salmon run is one of God's most unique outdoor events.


Gear You'll Need
Of course Bass Pro Shops carries all of your salmon fishing gear. Check out the Atlas gear. If you're a fly fisherman, they have Roe Flies for baitcasting reels they have premade floating spawn sacs, nylone squares or even kits that include the netting and string. They also carry all manner of heavy duty hooks and various colored yarn.