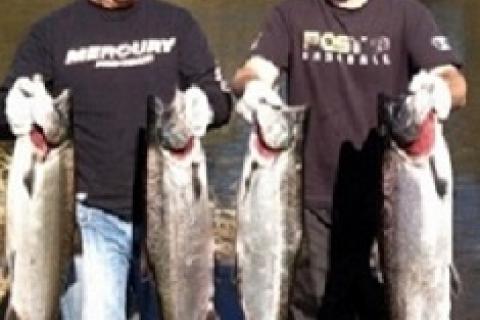 No more bass fishing for Mercury/Ranger pro Jay Yelas. The FLW Tour star has hung up his bass fishing gear, until next tournament season. His targets of opportunity no longer have spiny rays, but adipose fins instead. That's right, salmon and steelhead are what Yelas is all about during his off time, until the outdoor show season kicks in next January. 
"I'm having a ball here in Oregon catching salmon this fall," said Yelas. "This is one of the best returns for chinook salmon we've had here in years. The average fish is around 20 pounds. There have been reports of 50-pounders, but our biggest is in the mid 30's. "I will fish for salmon now until the run ends and then , usually in November, the steelhead fishing picks up and that is what I will be fishing for the rest of the time until I start getting busy with outdoor shows in January."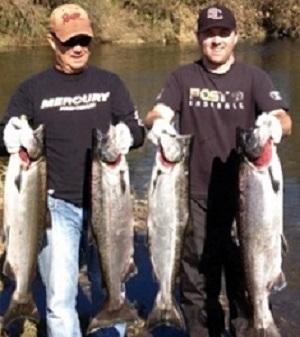 Yelas doesn't drag his Ranger into the shallow rivers of the Pacific Northwest. He has a drift boat and a jet boat to take care of business instead. "I love using my other boats," said Yelas. "I have a little jet boat I just used with some friends the other day. I also use my drift boat, but instead of just using the oars, I have a Minn Kota with 101 pounds of thrust to maneuver between holes. It is a great tool and allows me to fish more."
Family is also on Yelas' mind during his time off. "My last event was the TTBC in Texas," said Yelas. "There are a few outdoor writer conferences and a couple of speaking engagements at churches, but the rest of the time is devoted to my family. I have a lot of time now to watch the kids play their sports. It is a lot of fun. "It's also neat the way the schedules worked out. Our daughter is on the homecoming court and we get to see if she gets elected homecoming queen. It is nice to be here for that. It is nice having a clean slate to just fish for fun and have time with family and friends."