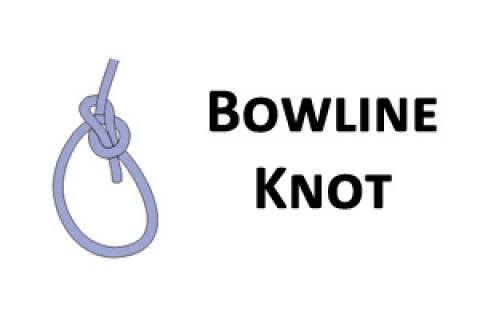 How to Tie a Bowline Rope Knot



One of the most useful rope knots you can know. The Bowline knot forms a secure loop that will not jam and is easy to tie and untie. The Bowline is most commonly used for forming a fixed loop, large or small at the end of a line. Tried and tested over centuries, this knot is reliable, strong and stable. Even after severe tension is applied it is easy to untie. However, because it does untie so easily it should not be trusted in a life or death situation such as mountain climbing. It is said to retain 60 percent of the strength of the line in which it is tied.


Find the bowline rope knot on the PRO-KNOT Outdoor Knot Tying Instruction Cards, available at Bass Pro Shops website or at your local Bass Pro Shops store.


Step-by-Step Instructions to Tie the Bowline Rope Knot
Step 1

Lay the rope across your left hand with the free end hanging
down. Form a small loop in the line in your hand.

Step 2

Bring the free end up to and pass through the eye from the
under side (the rabbit comes out of the hole).

Step 3

Wrap the line around the standing line and back down through
the loop (around the tree and back down the hole).

Step 4

Tighten the knot by pulling on free end while holding standing line.

If you'd like to download knot apps to your iPhone, visit PRO-KNOT's app page.