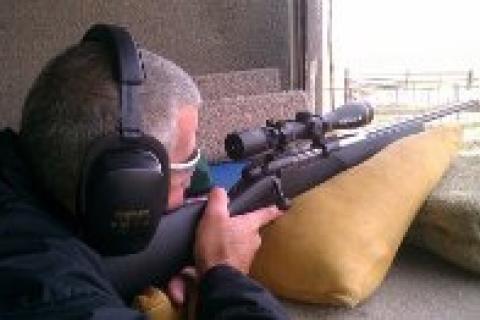 I have previously written about Hunting Classes and Shooting Schools. In my continuing look at various learning opportunities in the world of hunting and shooting, I now bring you some information on long-range shooting schools.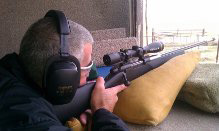 The proper tools and skills for shooting at long ranges can also pay big dividends when shooting at much shorter ranges. Photo courtesy of Thompson Long Range Shooting School
The topic of long range shooting in a hunting scenario is quite controversial. Many hunters question the ethics of taking shots at game at ranges of a half-mile or more. Proponents, however, argue that they possess specialized equipment and skills that make such shots very realistic, and that the critics just don't understand the preparation and training involved in these endeavors. Regardless of your feelings on the subject, long-range shooting is not going away and is in fact growing in popularity. The reality is that long shots, particularly in the more open terrain of the West, are sometimes unavoidable. If you are serious about consistently making shots out to 1,000 yards, or just want to be more confident when shooting at half that range, these schools will teach you the skills you need.
 
The Gunsite Academy in Arizona
The Gunsite Academy was founded by author, columnist, professor and combat veteran Lt. Col. Jeff Cooper in 1976 and is still going strong today. They operate year-round and offer numerous shotgun, rifle and handgun courses, with the average course length being five days. Of particular interest to long-range hunters are the Long Range Rifle and Precision Rifle 7 courses, although they will custom tailor just about any type of hunting or shooting course for groups or by way of private tutorial. Class sizes generally range from 1-12 students. Please note that they offer courses only to U.S. citizens.
 
Thompson Long Range Shooting School in Utah
Mark Thompson has been teaching his relatively simple long-range shooting system for 17 years now and has graduated over 3,000 students of his two-day course at the Thompson Long Range Shooting School. The course is offered from mid-April to mid-August, with maximum class sizes of four students. Thompson's course really consists of an entire system, including a new rifle and scope, and students are taught how to properly mount the scope, develop handloads for the rifle, boresight the set up, and then start shooting. Incredibly the shooting begins at 700 yards, but quickly stretches out to 1,000, and even offers a money back guarantee that students will learn to accurately shoot at 1,000 yards. One of the unique aspects of this system is the fixed-reticle custom scopes that are used, rather than scopes with adjustable target reticles.
 
Gunwerks Long Range University in Utah
Gunwerks was founded in 2006 to fill the demand for a long-range shooting system that works. The result is a complete package that incorporates calibrated optics and custom ammunition, along with a custom rifle offered in various configurations. All courses teach precision shooting out to 1,000 yards. The school offers courses in three different levels in order to tailor their training programs to specifically meet the needs of students. The school's unique indoor/outdoor facility allows these two-day courses to be run nearly year-round, with class sizes of 12 students.
 
Whether or not you'd actually wish to take shots at game at such long ranges, these courses will teach you skills and give you confidence to improve your shooting at any distance.
 
Good hunting.