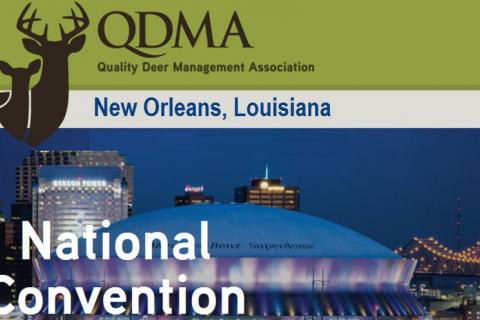 Join host Rob Keck this week for this LIVE broadcast from QDMA's 17th annual National Convention at the Superdome in New Orleans, LA.  You won't want to miss this show featuring guests at the heart of whitetail deer, hunting and habitat management. Rob's guest line up will be with him throughout the show featuring discussions about the excitement of the upcoming whitetail season, what's happening at the convention and with whitetail management today.  Enjoy informative conversations with the Founder of QDMA Joe Hamilton, Brian Murphy the President and CEO of QDMA as well as renowned whitetail biologist Karl Miller. 


Tune in on Saturday, July 22, 2017 at 10 a.m. and 5 p.m. ET on RURAL SiriusXM Channel 147 to catch this exclusive interview on Bass Pro Shops Outdoor World Radio.


Each week, Bass Pro Shops Outdoor World draws upon outdoor experts from across the country, including those within the Bass Pro Shops family.  Rob Keck, Bass Pro Shops' director of conservation, and his guests provide listeners with the latest information about hunting, fishing and wildlife conservation.


About Bass Pro Shops®
Bass Pro Shops is a leading destination retailer offering outdoor gear and apparel in an immersive setting. Founded in 1972 when avid young angler Johnny Morris began selling tackle out of his father's liquor store in Springfield, Missouri, today 102 Bass Pro Shops retail and marine centers host 120 million people annually. Bass Pro Shops also operates White River Marine Group, offering an unsurpassed collection of industry-leading boat brands, and Big Cedar Lodge, America's Premier Wilderness Resort. Under the visionary conservation leadership of Johnny Morris, Bass Pro Shops is known as a national leader in protecting habitat and introducing families to the outdoors and has been named by Forbes as "one of America's Best Employers."