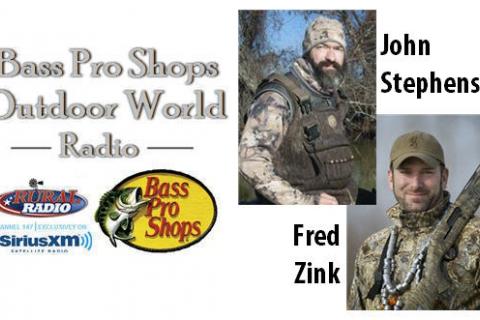 Tune in to Bass Pro Shops Outdoor World Radio as host Rob Keck talks with two icons of the waterfowl world. He'll visit with the President of Rich-N-Tone Calls, John Stephens, and the owner of Zink Calls and Avian-X Decoys, Fred Zink.


| | |
| --- | --- |
| | |
| John Stephens | Fred Zink |
This hour-long radio show will air on Saturday, September 12, 2015 at 10 a.m. and 5 p.m. ET on RURAL SiriusXM Channel 147.


Stephens, an avid hunter and three-time Duck Calling World Champion, will provide insight into the waterfowl forecast for this fall and duck population changes over the past 25 years. He'll also share his passion for duck calling and the story on how he became the 6th person ever to win three world titles.


Zink, a nationally recognized goose caller and TV Host, will describe what it's like to produce custom goose and duck calls for hunters and competitive callers. Fred will also talk about hunting during the early season and share some tips for targeting resident geese instead of migratory birds.


Each week, Bass Pro Shops Outdoor World upon outdoor experts from across the country, including those within the Bass Pro Shops family.  Guests and Keck, who is the Bass Pro Shops' director of conservation, and a RedHead pro hunter will provide listeners with the latest information about hunting, fishing and wildlife conservation.


Bass Pro Shops operates 94 retail stores and Tracker Marine Centers across America and Canada that are visited by more than 120 million outdoor enthusiasts every year. Each store is designed to reflect the local area's outdoor traditions and offers an authentic outdoor shopping destination. For more information, visit Bass Pro Shops.