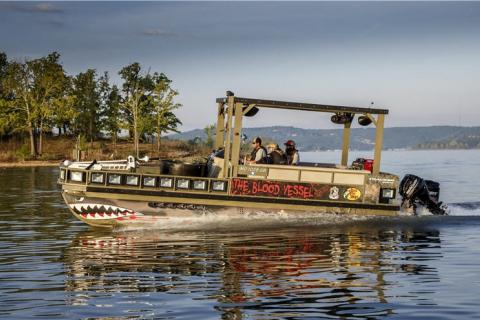 Bass Pro Shops Outdoor World Radio is featuring two outstanding experts in Bowfishing this week. Host Rob Keck is talking to Chuck Belmore, Co-Owner of "The Habit" TV show on the Sportsman's Channel and Steve Mason with Tracker Marine Group, the #1 boat manufacturer in the United States. Tune in on Saturday, July 2, 2016 at 10 a.m. and 5 p.m. ET on RURAL SiriusXM Channel 147 to catch this exclusive interview. 


Our first guest, Chuck Belmore is a winner of the World Bowfishing Championship which led to the successful creation of the "Ironman Bowfishing" television show. Chuck will be attending the U.S Open Bowfishing Championship at Bass Pro Shops at the Pyramid where he will be giving a seminar on bowfishing and of course signing autographs.


Our last guest, Steve Mason has played a huge role in the product development of the Tracker Bowfishing boat line. He discusses all the unique lighting features and the versatility that makes these models good for both hunters and fishermen. Steve will explain how the features of the boat allow for use in these two different sports making them an extremely versatile choice for many buyers.


Bass Pro Shops operates 98 retail stores and Tracker Marine Centers across America and Canada that are visited by more than 120 million outdoor enthusiasts every year. Each store is designed to reflect the local area's outdoor traditions and offers an authentic outdoor shopping destination. For more information, visit Bass Pro Shops.