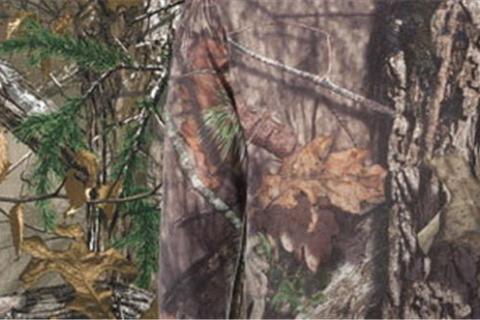 You've heard the old saying "…the clothes make the man … or woman"? Well, for many hunting and fishing types, it's the CAMO that makes the man … or woman! Most people may not even realize these 42 items come in camouflage, but it you're truly hooked on the camo lifestyle, you laugh at those people.  Now fess up; how many of these items do you already own?


We've gathered some pretty interesting camo things and provided links to the website where you can get more details. You can also view photos in the 42 camo things gallery here.


1. Camo Wrapping Papper: The CB Outdoor 5-Pack Camouflage Wrapping Paper Assortment brings the outdoors inside to dress up your gifts.


2. Camo Bikini Bathing Suit Top and Bottoms: Realtree Girl Camo Hipster Bikini Bottoms for Ladies. The Realtree Girl Camo Hipster Bikini Bottoms for women add style to your beach or lake escape. Featuring understated pink trim, these cute swim bottoms are accented with 4 brown straps at each side and a pink logo lining.

This Realtree Girl® Camo Bandeau Bikini Bathing Suit Top is a bold, fashionable swimwear pick. Featuring adjustable back ties, this halter-style swim top boasts Realtree® camo


3. Christmas Camo Stockings: Delight your favorite hunter on Christmas morning with the Bass Pro Shops® Realtree® Camo Stocking! Wrapped in Realtree camouflage and trimmed in white faux fur.


4. Camo Wine Bottle Holder: Tote your wine to parties as you keep it cool with the Bass Pro Shops® Camo Wine Bottle Holder.


5. Pink Camo Baby Bib: Ideal for the outdoorsy family, or as a great baby shower gift.  Bass Pro Shops Pink Camo Baby Bib.


6. Camo Sunglasses: The Costa® Cortez 580P Camo Polarized Sunglasses are lightweight and tough enough to explore any body of water.


7. Kid's Camo Dinnerware Set: This Bass Pro Shops dinnerware set for kids makes a great gift!


8. Camo Toybox: Keep toys, books, and games out of sight with this Camo Toy Box!


9. Camo Garlic Salsa: The Bass Pro Shops® Uncle Buck's® Camo Ammo Garlic Salsa puts some zest in your food with the robust flavor of roasted garlic.


10. Camo Sippy Cup: The Bass Pro Shops® 8 oz. Pink Camo Sippy Cup features a cool camo design and the Bass Pro Shops logo.


11. Camo Baby Bottle: The Bass Pro Shops® Green Camo Baby Bottle features a bold camo design and the Bass Pro Shops logo. Ideal for the outdoorsy family.


12. Camo Shower Curtain: Experience the great outdoors without leaving the house! This Browning® Buckmark Green Camo Shower Curtain showcases outdoorsy green camo with Buckmark accents throughout.


13. Camo Flying Squirrel Dog Toy: Add some more fun to your dog's play and exercise routine with the Camo Flying Squirrel Dog Toy from Chuckit!®. Great for a far-flung game of fetch, this squirrel-shaped throwing toy flies like a frisbee.


14. Camo Portable Bluetooth Speaker with Speakerphone: Enjoy rich, premium sound from your Bluetooth-enabled phone, tablet, or other mobile device with fuse®'s Realtree Portable Bluetooth Speaker with Speakerphone.


15. Camo Ear Buds: fuse® Realtree® Camo Budz Ear Buds enables you to listen to music or programs on your phone or MP3 Player when you're on the move.


16. Camo Sandals: Taking the cool, breathable comfort of an open-toed slide sandal to the next level, Under Armour® Mavrix Camo SL Slide Sandals make a great choice when temperatures soar.


17. Camo Toy Helicopter: Experience the unbreakable power of the World Tech Toys Nano Hercules Remote Control Helicopter in bold camo!


18. Camo Lingerie: Luxurious Black Widow lingerie boasting camo and lace, this playful collection blends rugged and refined.


19. Camo Boxer Shorts: Natural Reflections® Kiss My Bass Camo Boxer Shorts for ladies feature fun designs touting the outdoorsy attitude you adore.


42 Camo things photo gallery

20. Camo Portable Backup Battery and Charger: The Scosche® goBAT 6000 Portable Single Port Backup Battery and Charger keeps your mobile device going strong when you're traveling, camping, or without electrical power.


21 Camo Insoles for Shoes: RedHead® No-Scent Camo Insoles provide all-day comfort thanks to their natural contour, self-customizing and lightweight design.


22. Camo Desserts: Camouflage desserts and recipes. Ice cream, cookies, cake and more!


23. Camo Marshmallow & Hotdog Roaster: This Marshmallow and Hot Dog Camo Reel Roaster will add fun to any camping trip!


24. Camo Bible Cover: This New King James Version® of the Holy Bible has a green camo, cloth cover that adventurous kids, active in the outdoors, will be proud to carry.


25. Camo Arm Tatoo: Steve Jackson's Realtree Hardwoods camo half sleeve tatoo.


26. Airsoft Camo Ammo: A safer alternative for indoor and outdoor target shooting and gaming, Airsoft Camo Ammo BBs from Crosman® deliver a fun look with superior accuracy, speed, and performance.


27. Camo Golf Umbrella: The Nike® 68" WindSheer® Auto-Open Camo Golf Umbrella is specially constructed to keep you dry despite high winds and stormy conditions.


28. Camo Camp Stove: Enjoy your outdoor adventures even more with the Camo Flash Cooking System from Jetboil®. This compact, all-in-one camp stove design combines the burner and cooking vessel in one easy-to-use unit.


29. Camo Waterproof Wireless Speaker: Whether you're tossing a line from your fishing boat or hanging out in a hot tub, the Scosche® BoomBottle® H2O Waterproof Wireless Speaker keeps you company with your favorite tunes.


30 Camo Case for iPhone 6 or 6s: Your hunting trip might require a photo or a relayed text or call. Why not give your cell phone the same cover you give other gear? The Nite Ize® Connect Case for iPhone 6 Plus is your solution for keeping all gear in perfect cover—or just showing your outdoor style.


31. Camo Rolex Watch: Black Venom Camouflage Limited Edition Rolex watch.


32. Camo Rope: Bass Pro Shops'® Multipurpose Camo Rope is strong and ideal for a wide range of applications, from base camp to blinds, from tree stands to tents, and everything in between.


33. Camo Drone: Extend your flying fun after sunset with the World Tech Toys Camo Striker 2.4GHz 4.5CH RC Spy Drone!


34. Camo Kids Chair: The Kidz World Camo Club Chair for kids makes indoor environments as inviting as the outdoors.


35. Camo Trampoline: The Skywalker Trampolines® Camo 12' Round Trampoline with Enclosure provides hours highflying fun for kids and kids at heart.


36. Camo Golf Bag: Outdoorsmen who dig camo will appreciate the camo print on the RJ Sports Camo-Flash 9" Lightweight Stand Golf Bag.


37. Camo Toilet Paper: Don't set foot in the woods without a roll of the Doe Doodie Woods Wipe Camo Toilet Paper.


38. Camo Santa Hat: Pull on the Bass Pro Shops® Realtree® Camo Santa hat and spread some outdoor holiday cheer at Christmas.


39. Camo Hands Free Neck Coolie: A great gift for the active outdoorsman in your family, the Bass Pro Shops® Hands Free Neck Coolie keeps your beverage cold and close by, yet out of the way.


40. Camo Bently: Mario Balotelli infamous camouflage luxury car.


41. Camo Army Solder Party: Throw a military themed and camo birthday party for your budding G.I. Joe - or Jane.


42. 115-foot Camo Yach: A unique craft painted with a version of WWI razzle-dazzle camouflage.