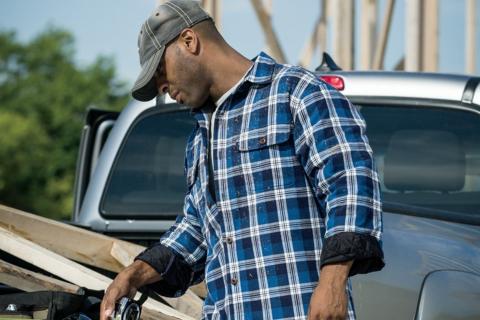 In the garment industry today a lot of fabrics are called fleece, yet they look very different and their performance varies widely. When you know the difference, you'll be able to make a more intelligent buying decision.
Shop fleece clothing for men here
Shop fleece clothing for women here
Fleece can be either a natural or synthetic fiber that is flattened or pressed down, then brushed hard on one or both sides. This brushing process raises a napped, fuzzy texture on the brushed surface, which increases its softness and insulating potential by creating a medium for trapping air that is heated by the body.
In addition to trapping air, the fleece fibers are very effective at wicking away moisture, so you get multiple benefits from wearing fleece because it's much softer, more comfortable to wear, very warm, breathable and silent.
Cabela's and Bass Pro Shops carries garments with all types of fleece suited to any application or weather condition, as well as price point. Natural fleece is made of sheep wool. You'll find wool fleece most often in footwear, but it is also used for jacket collars. Since the majority of fleece fabrics used in garments are made of synthetic fibers, let's look at those in detail.
Velour is the Most Recongized Fleece
Velour can have either one or two sides napped, and it's the most recognized fleece on the market, most notably for the soft, velvety feel that is comfortable and feels fuzzy. Like all fleece, the napped sides create a soft layer with a comfortable, supple feel you can enjoy as a wear-alone garment or as an added layer around the house or town. An example of a velour fleece with single-side napping would be Cabela's Active Weight fleece, while SuperLoft   has two sides napped.
Berber Fleece Has a Heavily Napped Face
Berber is the second most recognized fleece and features a heavily napped face on the exterior, making it look more nubby-textured. Better at retaining heat, Berber is an excellent layer for cold weather, or as an outer shell on colder days.
Tip: Cabela's Outfitter Series Wooltimate Pants combinds the best features of wool and Berber fleece, Wooltimate delivers stealth, warmth, weather resistance, and microclimate control, all in a single layer. The Cabela's Outfitter camo pants generous 6-pocket design includes hand pockets, rear pockets, and spacious cargo pockets, to store a full hunt's worth of gear. The leg zips allow easy on/off over muddy boots. Reinforced knees enhance natural movement, and side tab adjustments ensure a tailored fit, making these Cabela's Wooltimate hunting pants your next must-have ally in the field.
Sweater Fleece is Also Casual Wear
With sweater fleece, or textured fleece, the lining is generally brushed, although not always, and features the original knit/woven exterior. This style of fleece has become very popular in the fashion world as casualwear, sweaters and light jacket additions to wardrobes.
Bonded Fleece is a Casual Outerwear Layer
The term bonded fleece can apply to several fabrics, but it's generally just two layers of fleece that have been bonded together to create a unique two-sided effect. This technique has become popular for making different feels and appearances of garments possible. Bonded fleece can be used as another casual outerwear layer, and it's great for the heat-to-weight ratio.
Tip: Stay warm in the stylish Natural Reflections Sweater Fleece Bomber Jacket for women. This jacket features a plush sherpa fleece front, a full zip, variegated knit at the sleeves and back, and stretchy rib-knit trim at the cuffs, collar, and hem.
Softshell Fleece the Stylish Look
Softshell has the comfort of fleece, but with an exterior that will not collect burs, stickers, seeds or debris from an outdoor outing. Softshell is a fleece bonded to an exterior shell material, such as nylon treated for water repellency. This combination produces the stylish look, water resistance and warmth that make a great outer layer.
Tip: The Columbia Kruser Ridge Hooded Softshell Jacket has a comfort stretch construction. This smooth-face fleece jacket has a water-resistant and wind-resistant outer shell and comfy plush lining. An attached hood, full-zip front, drawcord hem, and zip hand pockets keep you protected.
Wind-Resistant and Windproof Fleece
Wind-resistant and windproof fleece fabrics offer great weight-to-warmth qualities in a lightweight package. Protection from the wind is achieved by varying the type of weave or by adding additional membranes. More tightly woven yarns restrict the amount of air that can pass through without reducing the fibers' ability to wick away moisture.
By adding an extra membrane such as WindShear or WindStopper, the fabric is bonded or stitched to a special layer that will reduce wind by up to 95%. Both of these two wind-barrier membranes have excellent wicking properties that eliminate moisture. They are also water-resistant and very durable.
Tip: The lightweight, plush Cabela's GORE-TEX INFINIUM WINDSTOPPER Beanie is a must-have for cold-weather defense. Wind- and abrasion-resistant construction protects your head from the chill and increases body heat retention. The 4-way-stretch construction on this winter cap ensures a snug fit on just about any head.
Fleece Fabric Finishes
While fleece generally has a very soft hand, or feel, if it is not properly finished, it may pill over time or after repeated washings, or the brushed fibers will bunch up and separate into small groups. This results in a reduced medium for insulation, as well as a coarser feel and uneven appearance. Always verify that the garment you are interested in has a no-pill treatment.
Cabela's and Bass Pro Shops Branded Fleece
Berber is a heavier-weight fleece best used for an outer garment in open spaces, or with a light shell to prevent debris from collecting. Berber is used heavily in hunting garments and has become a customer-favorite for the field.
Berber with WindShear takes advantage of the excellent outdoor properties of Berber and the wind-blocking power of WindShear to form a barrier that retains body heat. Garments with this fabric are even more practical to use as outer garments and have become very popular with customers for their quiet, durable warmth.
Polartec 100 is a lightweight fleece used primarily for shirts, pullovers and very lightweight jackets, vests and sweaters. Polartec 100 is ideally used for everyday casual wear.
Tip: Get the function of gloves with the warmth of mittens combined into one with the Natural Reflections Fleece Gloves with Touch Fingers for Women. A grid pattern on the palm provides a secure grip.
Polartec 200 is a lightweight fleece used in many styles of clothing, gloves, blankets and linings. Polartec 200 is great for a layer above base layers for any outdoor activity.
Polartec 300 is a medium-weight fleece used in various garments. It's great for an outerwear piece for cooler weather in casual environments or as a secondary layering system in cold or extreme-cold conditions.
No matter how you decide to use fleece, alone or in a layering system, the result will be a warmer, drier, happier you!