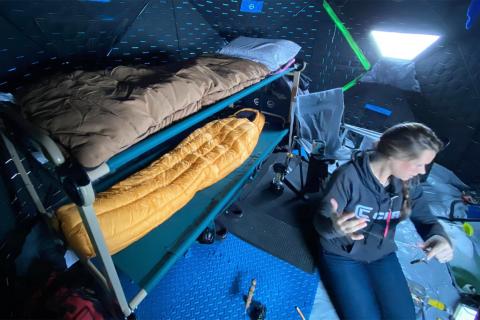 So what IS ice fishing?
Depending on your locale and your experience, the answers to that question will range widely.
The close-minded types who think anything less than 60 degrees F is cold, will probably say, "Craziness" or a "Waste of time."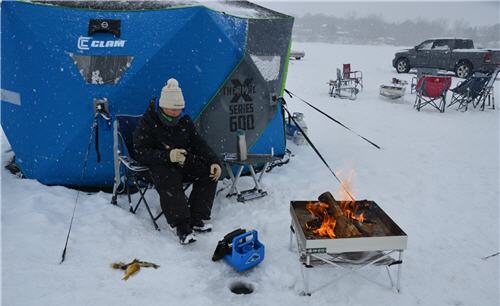 Those who know the game and the fantastic results possible in catching panfish, pike, trout and walleyes, might say, "The most fun you can have outdoors … below zero!"
The folks in between who might want to give it a try themselves will probably call it, "Interesting…!"
The Women Ice Angler Project
This winter, when the Women Ice Angler Project (WIAP) gathered for the #WomenOnIce Event on Lake Minnetonka just outside of Minneapolis, MN they enlisted the help of Media Lodge's 50 Campfires to cement a new definition of ice fishing. They call it "Camping on the Ice." And when you come right down to it, that description is at least as accurate as any other.
Well-designed, purpose-built gear makes it possible for anglers not only to be safe and comfortable camping on the ice, but makes it downright enjoyable. In preparation for the #WomenOnIce camp out, WIAP founder Barb Carey described how the WIAP team would tackle camping on 'tonka. She said, "In years past, we've stayed at some very nice resorts, but this year with one of our team living on Minnetonka, it gives us some go-to resources. We'll camp out overnight in CLAM shacks with floors built in just for this purpose."
LISTEN as WAIP Founder Captain Barb Carey joins Rob Keck on the Bass Pro Shops Outdoor World Podcast
Gear for Camping on Ice Through the Night
The ice shelters and  tents selected were the new CLAM X600 Hub Shacks with 90 grams of insulation per square meter and offering 94 square feet of fishable space. Each tent allowed plenty of room for several anglers to both fish and set up cots for sleeping. Zip-in optional floors added warmth and protection from melting snow.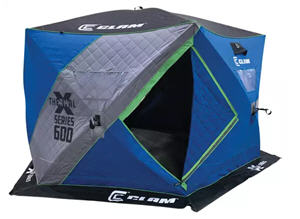 Tip: SHOP X600 Thermal Hub Ice Shelters at Bass Pro Shops or Cabela's
Camping through the night allows anglers to fish continuously. During the daytime, Lake Minnetonka offers a non-stop bite for bluegills, crappies, northern pike, and even the occasional bass through the ice. At night, it's about catching the Lake's wary, but delectable walleyes.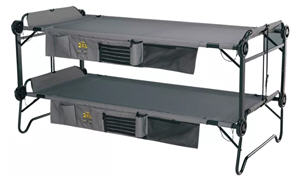 When camping on the ice, sleeping warm and comfortable demands separation between your body and the ice below – inside an insulated shelter, the more room the better. That makes a sturdy camping cot the best choice for a sleeping platform. Bunk cots maximize the floor space for fishing and for spreading out other gear. And for comfort, there's nothing like having room to spread out.
Tip: SHOP Cabela's 2XL Outfitter Bunk Beds by Disc-O-Bed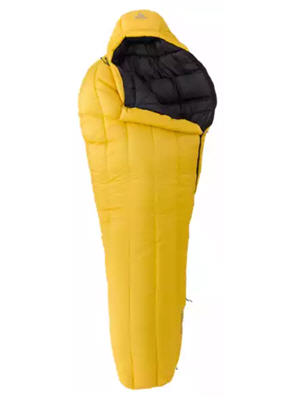 A warm sleeping bag is an absolute must for camping on the ice. It should be rated down to at least 0° F and many will find optimal comfort in a bag that's rated for even colder temps. Whether to go with a traditional rectangular style bag or a mummy style bag is a matter of personal preference. Mummy bags are more efficient in retaining heat and can be snugged up around the face to minimize exposure. However, many campers feel claustrophobic in mummy bags. For them, rectangular bags are the right choice. In either case, be sure to wear a wool stocking cap or balaklava to bed to stay the warmest.
Tip: SHOP Bass Pro Shops Ascend Hex 0° Sleeping Bag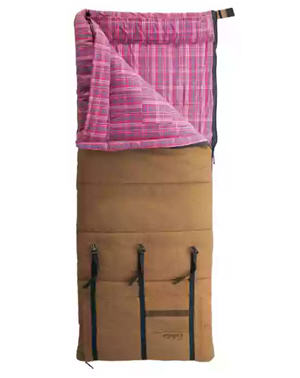 Tip: SHOP Cabela's Mountain Trapper 0° Sleeping Bag
Even when you are camping on the ice inside an insulated (but ventilated) shelter, off the ice on a cot, and snuggled in a warm sleeping bag, a portable heater is essential to take the edge off the cold any time of day or night. It makes a midnight biting fish so much more pleasant to deal with. The most common ice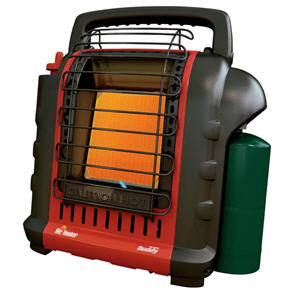 fishing heaters use one or two disposable one-pound propane bottles and turn on with a simple twist of the built-in igniter. It works well from several feet away which helps in keeping light fishing line away from the burner which will melt it instantly.
Tip: SHOP Mr. Heater Portable Buddy Propane Heater
That covers you for warmth inside the shelter, but 50 Campfires will tell you, "What's camping without a campfire?" However, there are problems that arise with a traditional campfire when you're camping on the ice. First, it's hard to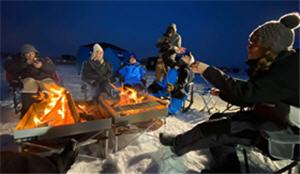 keep a good fire going as it melts its way into the snow and ice. Secondly, on many popular fishing lakes, it's against environmental and safety regulations to start an open, uncontained fire on the ice. The solution to both problems is to build your fire on a portable, folding firepit. This keeps it above the snow and allows you to remove everything from the ice once it's cooled.
Tip: SHOP UCO Flatpack Portable Grill and Firepit
The Women Ice Angler Project team and the newcomer guests who joined them for the public day of fishing clinics were well stocked with ice angling gear. Sponsors of the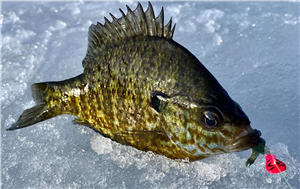 2020 Camping on the Ice event on Lake Minnetonka included Bass Pro Shops, Cabela's, Vexilar, Jiffy, Raymarine, Aqua Vu, GCI Outdoors, Briggs and Stratton, Fireside Industries, St. Croix Rods, Fish Monkey, Recycled Fish, Frabill, Muck Boots, Vexan Fishing, Yeti Outdoors, and Pursuit Energy Drink.
Minnetonka's panfishing, in particular, requires light line, sensitive ice fishing rods, and enticing fishing jigs. Among those most attractive to the non-stop bluegills of the north were Cabela's Glyde Jigs in the tiniest (1/32 ounce) sizes and a variety of colors.
Tip: SHOP Cabela's Glyde Jigs