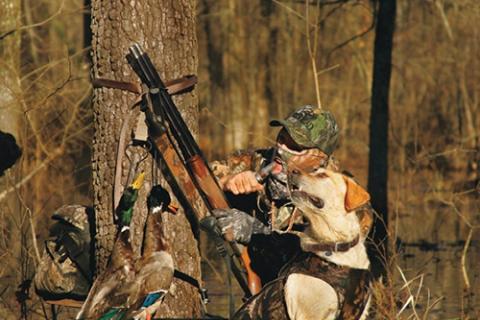 Growing up in a farming environment, I learned the importance of having the right tool for the job. Part of my self-imposed duties involved walking the field edges in search of groundhogs. It was my job to try to eradicate the vermin as they wreaked havoc on the local farmer's equipment. Groundhogs didn't do the livestock any favors either, whenever the livestock happened to stumble into one of their holes.


On occasion, when the field was closely cut, I would carry a .22 rifle; more often than not, though, a pump shotgun accompanied me on these missions.


If I spotted a groundhog unaware, I would simply sneak within range, take a steady rest on a tree, and with a thunderous roar -- mission accomplished. More often than not, though, I'd get busted as I went from field to field and was frequently faced with a running shot, which is more difficult than you might think. The shot had to be taken as soon as the varmint was spotted, or the galloping groundhog would suddenly disappear into the safety of its hole.


It was good practice, not only stalking, but hitting a moving target, which is the primary job the shotgun was designed to do.


Today, the shotgun is as essential to my shooting needs as ever before, if not more so. The shotgun provides food for the table, as well as providing security and safety for my family and home.


With so many different styles of shotguns, from pump action to the classic side by side, it is sometimes difficult to decide which one to choose.


Let's break down the many styles to help you choose the one which best suits your needs.


Single-Shot Shotgun
The single-shot shotgun holds a dear spot in my heart as the first game animal I ever took was with a little single-shot 20 gauge. The operation of the single barrel is quite simple. A lever of some sort is pushed or depressed, and the barrel drops open exposing the empty chamber; by inserting a shell into the chamber and closing the action, the shotgun is now loaded. Most single-shot shotguns have a visible hammer that requires the shooter to manually cock the shotgun, and a few models cock on opening. Once cocked, the shotgun is ready to fire.



Considered a beginner's gun by many, don't let that label deter you from using one. Although many firearm manufactures have at one time or another produced a single shot, most have moved on to more advanced designs. A few firms, including Harrington & Richardson 1871, currently produce single-shot shotguns. Many custom or specialty niches that don't require more than one shot have been filled by these shotguns.


And let's not forget the single-shot trap guns produced by high-end makers. These are often works of art -- highly embellished with engraving and fine European walnut stocks. The price on many of these single shots would make Warren Buffet blush.


Side-by-Side Shotguns
Side-by-side shotguns are essentially nothing more than two single shots made together. However, side-by-side shotguns are judged by many to be the finest shotguns ever produced. On this side of the pond, names like Parker, L.C. Smith, Fox Sterlingworth, or the ever popular, Winchester Model 21 are some of the classic shotguns that are still highly desired and collectable. Fine British makers include Holland and Holland, Boss and Purdy. These firearms bring visions of driven bird hunts and hunters in tweed jackets and require a loan that exceeds my mortgage.



Like the single shot, several companies have produced "doubles," as they are often referred, but only a handful currently produce side-by-sides.


The recent popularity of cowboy shoots has given the side-by-side a boost. Many of these imports are inexpensive models with short barrels and exposed hammers. 


They are designed for shooting close range targets quickly.


Stoeger currently imports an affordable double; while the fit and finish is not that of the fine English shotguns, its functionality is without question all business. If you have a need for a true bird gun look to doubles from CZ and, for a few dollars more, the Smith &Wesson Elite series is as nice double as I have ever had the privilege of shooting.


Over/Under Shotguns
A different twist on the double barrel is the "over and under" shotgun; instead of the barrels being side by side, they are stacked atop of one another. The Browning Superposed was one of the first successful over/under shotguns introduced in the U.S. These shotguns, while being a great bird gun, also lend themselves to the clay target shooter. While the Superposed is still available from collectors, other modern firearms are available through makers like Browning, Beretta and CZ. Many target shooters lean toward the European flavor of Perazzi and Krieghoff.



 The over/under shotgun is very popular with upland bird hunters, as well as skeet and sporting clay shooters.
Pump Shotguns
The pump shotgun has been around for more than 110 years and, like most successful firearms, did a stint in the military, ensuring a place in the hearts of American sportsmen of that era forever.


The 1897 Winchester and later the Remington 870 served soldiers proudly. And why not? The pump gun offers fast follow-up shots at the flick of a wrist.



The Remington 870 (shown above) may be the most popular pump gun of all time.

Remington's 870 first debuted in 1950, and some 10 million guns later it is the king of the pump gun. Other current models include the Winchester SXP, Browning BPS, Benelli Nova, Mossberg 500, as well as a host of others including makers such as Weatherby and H&R. The list is nearly endless.


If reliability is what you're after, look no further than a pump gun. Reliability is the reason why the pump gun is used by law enforcement and home security, not to mention the intimidating sound the pump gun makes as a shell is loaded into the chamber from the tubular magazine.


Bolt Action 

Like its bolt-action rifle cousin the bolt shotgun is an accuracy fiend. In days gone by, the bolt-action shotgun was purely utilitarian, but has since lost its luster to the other models. Today, it is more often asked to shoot slugs, which it does well. Savage and Browning currently produce these job-specific shotguns. A few custom bolt-action guns are slug shooting machines and priced like any precision piece of equipment.


Semi-Auto Shotguns

"When all the others froze up, the old Browning kept spittin 'em out," is part of a story I recall being told by an old-time Eastern waterfowler. The old Browning was the Auto -5, introduced in the early 1900s, and labeled by conservationists of the day as "game exterminators" due to its tubular magazine and fast follow-up shots. While the long recoil stroke of the A-5 is considered a dinosaur by today's standards of gas operation or inertia recoil shotguns, it remains one of the most popular shotguns of all time.


The semi-auto is quickly becoming a shooter's go-to shotgun, and not just by hunters. Many target shooters have started using semi-auto shotguns. Shooting sport athletes choose the semi auto for its near instant follow-up shot and mild recoil (due to the shotgun using the expelled gases of the burning powder to operate the firearm).



Semi-autos, such as the Browning Maxus Stalker, offer ultra fast follow-up shots and are very popular with waterfowl hunters.

The newest shooting sport to use a shotgun is Three Gun. This sport has taken the semi auto to new heights and changed the way law enforcement and the military look at shotguns for combat needs.


The semi-auto has its share of the market with nearly every firearm manufacturer having one in its lineup. Look to makers likes Beretta, Benelli, Browning, Mossberg, Remington and Winchester leading the way.


Gun Gauge Choices
There are many choices when choosing a gauge. The most popular is the 12 gauge followed closely by the 20 gauge. A few goose hunters and some turkey hunters have gone to the 10 gauge for its oversized payload. The 16 gauge has seen resurgence in its popularity, filling the void between the 12 and the 20.


The 28 gauge and .410 are used by target shooters for the most part, though an occasional hunter carries one or the other afield.


Pick a Shotgun to Meet Your Needs
So what is the best shotgun for you? The answer depends on your needs as a shooter.


If you're looking for a hunting/target shotgun, a semi- auto can double as both a hunting and sporting clays gun, as can an over/under. A pump shotgun can serve both needs, but some practice will be required to get your timing down for follow-up shots.


Perhaps you're looking for a home security or defense shotgun? An over/under might not be the best fit, though it would certainly do the job; a pump or semi-auto is better suited to the task.


Maybe you need an all-around shotgun one that could be used on upland birds as well as deer? A pump or semi-auto that offers a slug barrel option like the Remington 870 or Winchester SX3 would be the ticket.


An upland bird hunter might want a lightweight over/under or side-by-side for long treks, while a diehard waterfowler would probably prefer a semi-auto or pump capable of digesting the latest 3-1/2 inch shells.


Take some time to think what your needs are and try out as many models and styles as possible. With all the options available, you're sure to find a shotgun to fit you and your needs.