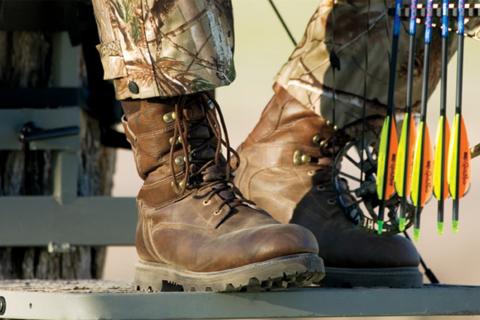 You may not think of a pair of boots as a personal item, but to be happy and have happy feet after a day in the field, you need to match your boot to your body - not just your feet. Shop Cabela's entire lineup of hunting boots.
Proper Hunting Boots Can Make or Break Your Hunt – Make Sure
You're Equipped With a good-fitting pair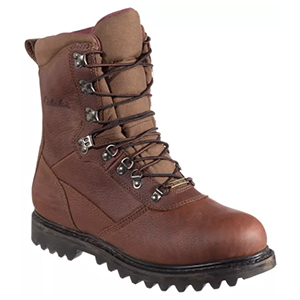 At this point you are probably thinking this guy's nuts, but we are all as different as apples and oranges. Obviously, we all have different size feet, and most people are aware of the fact that they have two different size feet, but that's not the issue. Our internal thermostat is as important to picking a pair of boots as the right length and width. In fact, according to Cabela's hunting and hiking footwear product manager, it's one of the big four - fit, ventilation, insulation and intent.
If you'll consider these four factors carefully, when buying your next pair of boots, you'll be much happier. Curiously enough, the first three are closely tied to the last. How you intend on using a pair of boots will have a major impact on your ventilation and insulation needs as well as the ultimate fit you'll need.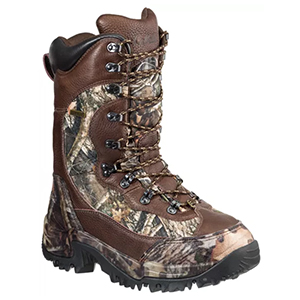 Fit would seem like a fairly straightforward deal, but you'd be surprised how many people buy a pair of boots after trying them on with an everyday pair of casual socks, when they intend on hunting or hiking with a wool sock or a combination of a wool sock and a liner sock. The best advice is to try on your boots with the socks or combination of socks you plan to wear during your planned activity.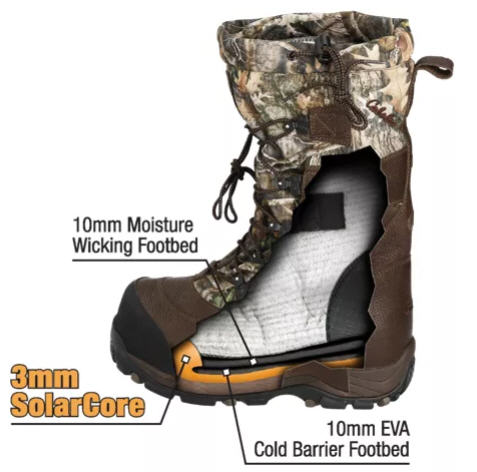 Insulation is the number one factor in a technical boot's properties that affects warmth, but the key issue in selecting the level of insulation you need is two pronged. First of all, what is your body makeup and secondly, how will you use the boot?
The intended activity will vary widely the affect it will have on the insulation required to maintain your level of comfort. Sitting in a duck blind, or on a treestand in 10 degree weather requires more insulation because the amount of physical activity is minimal. When you're walking up pheasants or stalking elk, your toes are moving constantly, which increases circulation and your body is pumping lots of hot blood.
Sit down and all that heat generating activity is over, as is your toe's comfort. Less insulation is needed for a high level of activity, and more is needed for sedentary activities.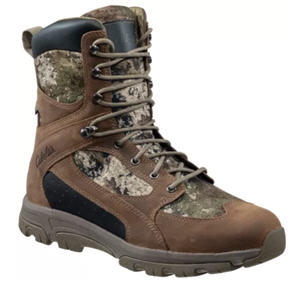 Be aware that we all have a different internal thermostat. Many people have either hot or cold feet that require drastically different boots for similar activities and conditions. Knowing your body's tendency is very important.
The Hunting Boot Insulation Considerations
Thinsulate™ is an excellent insulation choice because it provides a great deal of warmth without excessive bulk and weight. The insulation-rating factor for boots is always listed in grams. This is not an actual measurement of the total mass of insulation, but a shortened form of grams per square meter of the fabric. The utility of insulation can be broken down into three functional levels.
Tip: The Cabela's Silent Stalk GORE-TEX Insulated Hunting Boots for Men make a great choice for spot-and-stalk hunting. Made of a waterproof, full-grain leather and Microtex microweave fabric panels, the Silent Stalk's uppers give you whisper-quiet support without attracting burs. The moisture-wicking lining keeps your feet dry through grueling hikes and inclement weather plus the 400 gram 3M Thinsulate Ultra Insulation blocks out the chill to keep feet warm on cooler hunts.
Uninsulated to 200 gram: These boots are best for early season and high activity levels.
400 gram to 800 gram: This is the most popular category of hunting boots with insulation levels that cover most fall hunting situations.
1000 gram and up: These boots are designed for colder, winter weather and more sedentary activities.
The Hunting Boot Waterproofness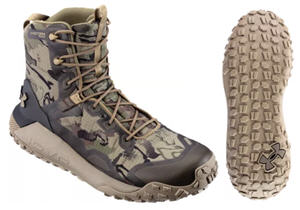 Your intended activities should be carefully analyzed when it comes to moisture exposure. Hunting tends to have some degree of moisture involved, no matter what species you're pursuing. Since most hunts start out early in the morning, walking through grass that is heavily laden with dew can accumulate enough to quickly soak through unprotected leathers and fabrics. Nothing will send you back to the truck or cabin quicker than wet feet on a cold day.
Tip: A great choice for early season hunting, the Under Armour HOVR Dawn WP Waterproof Hunting Boots for Men offer the lightweight flexibility and breathable comfort you need to hunt hard in warm weather. Under Armour Storm membranes are 100% waterproof to keep feet dry in wet conditions. However, in hot conditions, their breathability lets moisture vapors escape for dry comfort in the heat. And, the Molded Ortholite anti-odor sockliners create a snug fit while keeping unwanted odors to a minimum.
A waterproof membrane sewn into the lining between your foot and the outer shell is the most common form of making a boot waterproof. One of Cabela's preferred methods of hunting boot construction utilizes a full GORE-TEX bootie. The reason? GORE-TEX is the premium waterproof, breathable membrane in the footwear industry. Fully taped seams in a bootie that totally surrounds your foot assures you'll have waterproof protection to the top of your boot. GORE-TEX booties also breathe to allow perspiration vapor to pass through, keeping your feet dry and comfortable.
Types of Hunting Boot Designs and Styles
You'll find many different styles of boots on the market, but most fit into three basic categories: Upland, Multi-Purpose and High Country boots.
Once you've determined what you are going to use a pair of boots for, and what properties are important to that pursuit, pick one of these three categories to narrow your search.
Upland boots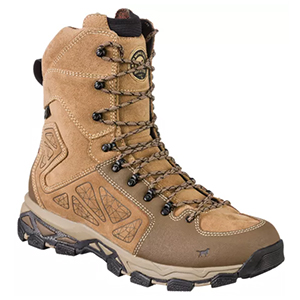 Upland boots are designed for lightweight walking comfort, with a soil-shedding sole and a lighter lug design. Upland bird hunters put on a lot of miles and don't need a lot of weight to carry along, or a design that accumulates heavy mud along the way. A heavy-lugged sole isn't needed for traction, and support isn't generally an issue, since most upland hunting is done on moderate terrain.
A good example of a lightweight upland bird boot would be Danner Sharptail GORE-TEX Hunting Boots, stating that ounce for ounce it is hard to find a tougher boot. Leather is lighter and stronger than cowhide of equal thickness.
The Irish Setter Wingshooter Waterproof Upland hunting boot will keep you comfortable in any weather, season after season. The prairie sole is a proven performer, shedding mud and debris to deliver sure footing in any conditions while chasing wild roosters in the early season.
Multi-Purpose Hunting Boots
This is the largest category of hunting boots available. Every option is available in this category, depending on your own specific wants and needs. You'll find an excellent choice for either big-game or upland hunting and for the hunter that wants one boot that can cover most of their activities. Boots in this category are designed to be durable, long lasting, and provide excellent traction on a variety of surfaces. Many levels of insulation are also available, so you can mix and match features with various levels of insulation to obtain just the right combination for your all-around needs.
In general terms, boots in the multi-purpose category will have more support than upland versions, to accommodate tougher terrain. You'll also find heavier lugged soles that provide better traction on multiple surfaces.
High Country Hunting Boots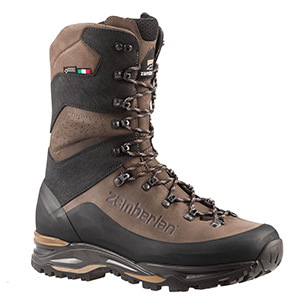 Hunters going after big game such as elk, deer or sheep that inhabit rugged, steep terrain require additional support from their footwear. The rough country can result in a hunt ending prematurely due to a twisted ankle with lesser boots. On a hunt of this caliber you might spend all day climbing, just to get close to a bull or ram you spotted the day before, and on pack hunts, carrying an extra pair of boots for tough situations isn't an option.
One pair has to do it all. This category of boots is designed for the most demanding high elevation hunts, for extreme durability and support for your foot and ankle. Cabela's Mountain Hunter™, as well as all of Cabela's boots produced by Meindl are excellent choices that will cover your season from August archery through November rifle seasons.
Other Boots Such as Hikers
Our discussion has revolved around hunting boots, but Cabela's has an excellent selection of boots in their hiking selection that serve well for hunting. These hiking boots are especially good for early season archery hunts, such as bugling elk. These shorter, lighter boots may help you succeed in the field by improving your mobility, as well as your strength to stay in the hunt.
Overboots are an Option for Certain Types of Hunts
Another option to consider, for sedentary hunts would be overboots or boot insulators. This line of products is designed to be carried to your stand or blind, and then slipped on when you are in position. They have insulation properties that will protect you down to as low as -110F, and simplify the choice of boots so you don't have to expect one pair to cover all of the seasonal extremes from August to January.
Rubber Hunting Boots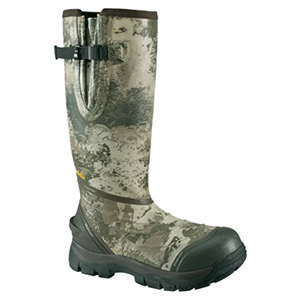 When conditions are sloppy or you have creeks, marshes or swamps to traverse, rubber hunting boots are the best option. Rubber boots are scent-free and 100% watertight, a feature that can make the difference between a comfortable day in the field and one that sends you to the truck shivering.
All quality rubber boots are made of vulcanized rubber. Vulcanizing is a specific curing process that involves high heat and the addition of sulfur to the rubber. During this chemical process polymer molecules are linked to other polymer molecules by atomic bridges composed of sulfur atoms, resulting in springy rubber molecules that are harder and more durable.
Rubber boots can be separated into good, better and best categories. Insulation is an option with most models in all three categories, with up to 2000 gram being the heaviest insulation offered. Additional features that indicate boot quality include a shovel guard and heel kicker. The shovel guard is a strip of rubber that is bonded to the bottom arch, which gives added protection for digging or climbing. Heel kickers are made of molded hard rubber, and extend behind the heel to make removal easier. Side-entry zippers or side gussets with buckles also make getting rubber boots on and off a much easier process.
Boots that fall into the "good" category have an ankle-fit design for a comfortable fit that doesn't slip while walking. "Better" boots incorporate an improved rubber outsole for enhanced traction and support, and wider insulation levels may be offered.
Boots that fall into the "best" category are more technical in construction and performance. They have a neoprene lining that increases warmth, a wool felt insole that acts as a barrier to the cold, an EVA midsole and rubber outsole that is wider, more rigid and offers more cushion and support for the feet and ankles – very similar to the technology offered in running shoes.
Other boot options to consider include steel toes and snakeproof construction. Steel toes are preferred for industrial or construction use, but they're also a feature you'll appreciate if you drop a heavy piece of firewood on your toe. Snakeproof boots are lined with an extremely dense nonwoven backer material and an extra layer of rubber in the vamps that is impenetrable by fangs or other sharp objects.
All rubber boots should be properly stored in a cool, dry location when not in use to avoid deterioration of the rubber and bonding.
Once You've Narrowed Your Boot Choice Keep These Points in Mind:
Make sure they fit right - Most problems in the field with boots all lead back to the original fit. A boot must fit properly before you can reap the benefits of the intended design. Cabela's offers an excellent variety of sizes, styles and widths that can provide the right fit for virtually any hunter.
Don't get a boot that is too short - Boots that are too short can cause big problems in the field. Your toe will press against the front of the boot and cause painful issues, especially when traveling downhill. With boots that are already too short, you also don't have room to layer socks for additional warmth or comfort.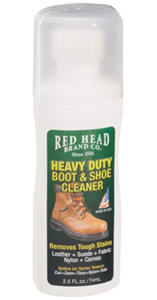 Allow ample break-in time - Boots need to be broken in and formed to your feet. Taking stiff, new boots on a weeklong backcountry hunt only spells trouble. The amount of break-in time required varies with boot construction, but in general, more supportive boots will require a longer break-in period.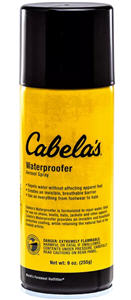 Take proper care of your boots - You don't want to wear out your new best friend to early. A properly broke-in boot is conformed to your foot, flexible and is probably one of the most comfortable pieces of footwear you will own. Leather, while durable, can wear prematurely, especially when wet, if not treated properly. By purchasing the proper care products, such as several offered by Cabela's and Bass Pro Shops, you can soften and waterproof the leathers on your boots to prevent them from wearing out prematurely.
Don't Forget Socks - If you just bought a quality pair of boots, bargain basement socks will not add to your comfort. You are working against yourself with a moisture-absorbing sock in a boot that is designed to wick away moisture and breathe. Cabela's offers a full line of properly designed socks that do not absorb moisture, but instead are designed to transport it out of your footwear. This will allow the breathable system of your boots to work properly and keep your feet dry.