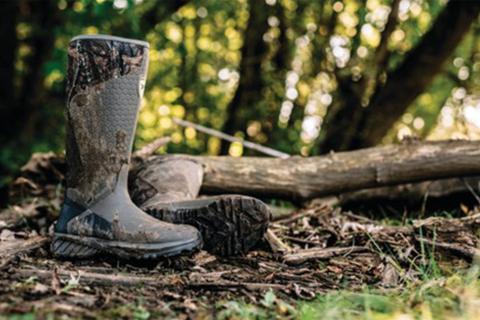 Rubber boots have evolved from all-purpose "mucking-around" rain boots to highly engineered hunting boots, work boots and even snake boots. They offer an edge over traditional hunting boots because they're not only durable, abrasion-resistant and waterproof, but also scent-free.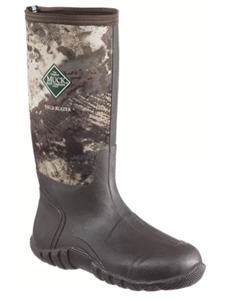 Most all-purpose rubber boots are one piece on the outside, from the bottom of the soles to the top of the collars. This is achieved through a process called vulcanization. Rubber is treated with a curative substance that is formed into precise shapes and dimensions, bonding the rubber in such a way that it's one solid unit.
This process is responsible for the waterproof and scent-free attributes as there are no pores for water or scents to get trapped in. The vulcanization process also helps prevent fading, chipping or peeling. Rubber boots built without vulcanization are bonded using strong, waterproof adhesives.
Shop Women's Rubber Boots here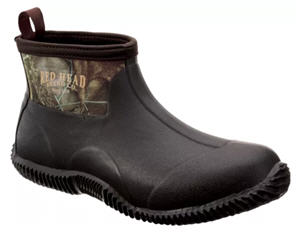 Anatomy of Rubber Boots
Uppers – Made from neoprene or rubber, the uppers cover your feet from the soles up. The tops are called collars. The type of material used to construct the uppers impacts their weight, warmth factor, durability and water-protection level.
Neoprene - A synthetic rubber resistant to most oils, chemicals and liquids. Less resistant to cuts, punctures and abrasion. Lightweight, insulating and often paired with laminate finishes for added durability and water protection.
Rubber - Natural rubber resists water, bases, acids, alcohols and diluted-water solutions except for petroleum- and oil-based solvents. Extremely resistant to cuts and punctures. Offers supreme slip protection.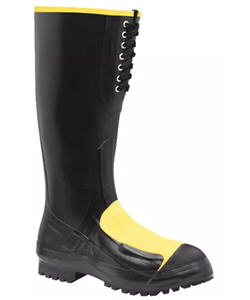 Other components of the uppers - Every piece plays an important role, and understanding these will further help your choice in picking the right boots.
Protective overlays - Seen on the toes and around the Achilles tendon areas, these provide added stubbing and abrasion protection from rough terrain, such as riverbeds, muddy forest floors and rocky trails.
Boot Zippers - Provide easy on and off.
Gussets - These create a stretchy section in the sides of the uppers to accommodate different calf sizes. They also provide flexibility and breathability. All Cabela's rubber boots with gussets have cinch buckles over the gussets to achieve a secure fit.
Buckles - Positioned at the outer topsides of the uppers, these adjust to tighten around your calves for a secure fit and a snug seal to keep debris out of your boots.
Boot Linings - Linings can aid in breathability, especially in vulcanized rubber boots, which don't allow anything to pass through. Mesh and fleece are popular linings, depending on the type of boots.
Soles - Rubber boots soles have three components: the insoles, midsoles and outsoles. The soles are attached to the uppers through vulcanization or with waterproof adhesive.
Insoles - Often removable, these directly touch and cushion your feet.
Midsoles - Provide stability, disperse weight and absorb shock. Incorporated shanks made of steel or fiberglass provide stiffness and even more support to the bottom of the boots. Midsoles with steel shanks are used in rubber boots used for hunting, and protect your arches when you're climbing a treestand ladder.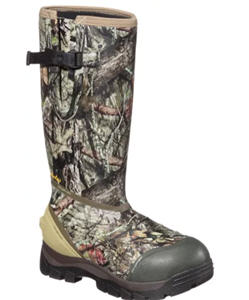 Outsoles - Made from durable molded rubber, these are what help keep you on your feet. Lugs or cleats on the bottoms - protruding rubber tips that provide traction and help shed mud - provide you with traction and are made in varying types of patterns. Lugs vary in size according to the type of boots they're on. Self-cleaning outsoles have a distinct pattern on the bottom that shed mud and debris when flexed, giving you superior traction with every step.
Tip: Shop for insoles, boot dryers & shoe accessories here
Specialty Rubber Boot Features
Knowing the pros and cons and necessity of different "extras" will help ensure you have the right boots for the job without spending too much or buying something you don't need.
Insulated - Intended for use in colder conditions, insulation is measured by neoprene thickness (3mm to 8mm) or by the weight of Thinsulate™ Ultra Insulation (400 gram to 2,000 gram) integrated into the linings. Keep in mind that while it might not feel cold outside, any water you might be standing in for extended periods of time may be noticeably colder, necessitating insulated rubber boots. Insulated boots, on average, are rated to keep you warm in temperatures from -40°F to 50°F.
Uninsulated - Intended for use in warmer weather, these can be made with or without linings.
Ankle and heel-considerate designs - Some rubber boots are designed to lock your feet in place for superior comfort and ankle support on long walks to and from your hunting location. This design also prevents your boots from being sucked off your feet in deep, aggressive mud and bogs.
Camouflage - Perfect for hunting, rubber boots are available in varying camouflage patterns for different seasons.
Varying shaft lengths - For deeper waters and mud or for more versatile leg protection, rubber boots are designed in heel-to-collar heights from 6" to 18" on average. Others are offered in a more convenient, Romeo-style for easy on and off.
Heel kicks - Rubber boots can be a challenge to get off, especially after hours on the trail or trudging through a bog. Heel kicks integrated into the lower heel sections, help you dislodge your heels to pull them off easier.
Steel toes - Steel toes are integrated into some rubber boots for added protection in hazardous fields of work, such as mining, ranching and farming.
Types of Rubber Boots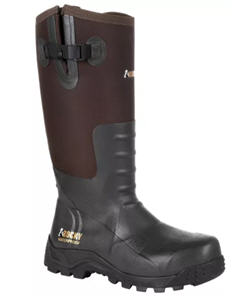 Hunting Rubber boots - designed for hunting will generally be made from a combination of neoprene and rubber, and are always waterproof. They generally have a camo pattern or brown color for better concealment from your prey, and give you the advantage of a scent-free trail. They are offered in both insulated and uninsulated versions.
All-purpose rubber boots - These are great for ranching, farming, checking your irrigation or any situation that warrants avoiding wet, cold feet. While some designs resemble the traditional Wellingtons of the past, more all-purpose rubber boots feature insulation, improved tread and even stylish patterns and bright colors.
Snake protection - A specialty type of rubber boots, these offer you extra protection from fang punctures. Whether you're wading through water or walking through tall grass or brush, these boots will provide the extra protection you need, thanks to collar-height shin guards.
When to Replace Your Rubber Boots
Like any equipment, rubber boots are going to wear out; when they wear out depends on how long you've had them, how much you've worn them and what kind of weather they've been through. Knowing when they're shot is key to ensuring a positive outdoor experience, as well as having healthy feet to carry you through to your next venture. Replace your boots if:
Other Boot Factors to Consider
To ensure a long life for your boots and a comfortable experience for your feet, make sure you're wearing the best Cabela's socks or sock liners for your activity. Stay away from 100% cotton socks, as these retain moisture instead of wicking it away from your skin - wearing these with low-breathability boots, such as rubber boots, is just asking for blisters. Your best choice of socks should be made of wool or a wool blend to wick moisture away from your feet.
From lightweight to heavyweight, over-the-calf to no-shows, Cabela's and Bass Pro Shops offers the right socks to outfit your needs.
The soles are worn smooth (lugs are gone) and no longer provide adequate traction.
If water begins to seep in and a patch kit won't fix it - a sign the rubber has cracked or the seams are unsealing.
If you get blisters in places you didn't used to before.
If the linings become worn with visible holes.
If they come off your feet more easily, when they did not before.
Shop socks for men, women & youth at basspro.com here