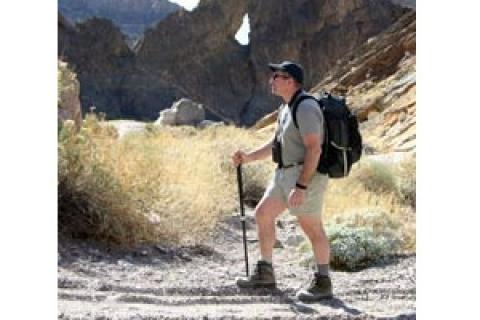 When possible, one thing that hikers and adventure trekkers like to do on hikes is to incorporate interesting routes with scenic points where you can stop-and-stare. Hikes let you soak in and experience the scenes, country and waterways that you'd never see unless you walked there and looked. The great news is that America is still home of the brave and land of the many spectacular views. National parks, state and local parks, other public lands and some designated national scenic waterways can help you find solitude and memorable scenery. There are many places awaiting you on your next walk, and more ways to pinpoint your next hiking destination.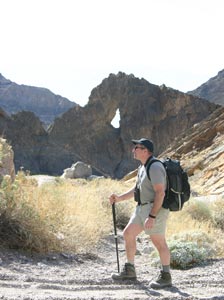 National parks offer the most "wow" factor for those up for a hike.
National Parks
National parks often offer the most "wow" factor for those who are up for a hike. Among these parks is world-famous Yellowstone National Park that sprawls into Wyoming and parts of Montana and Idaho. It's a huge place with more hiking trails and backcountry routes than roads. You'll need to check weather conditions, and for possible problem bear reports with rangers, before leaving the trailhead. This is a park that's rarely viewed by visitors except through the windshield of a car or RV. If those visitors do take a hike, 100 yards from the parking lot seems to be the norm. Step further away from the pavement and you will be utterly amazed and awed. And you could spot a bison, eagle, bull elk or possibly a wolf. It's important, however, to remember that Yellowstone is mostly closed October through April.  
Further north in Montana you'll discover another huge wow factor site — Glacier National Park. Your backcountry hike here could end with an overnight stay in one of this park's rustic backcountry cabins. Again, scenery awaits and you'll possibly spot a mountain goat or bighorn sheep here on your trek.  
Also in the West, Yosemite, Arches, Death Valley and Rocky Mountain National parks hold the attention of many hikers. The great news is that many of the routes in those areas can now be explored online before you lace on your hiking boots. Remember also that the changes in altitude found in some of these parks can create problems not found on lower elevations or on level grounds, so plan accordingly. Then there are other stunning places to take a hike.  
In the east, everyone knows about the Great Smoky National Park. There trails leading to waterfalls or along meandering creeks offer glimpses into stunning natural habitat settings and home to deer, bears and wild boars. If you want to see deer, hike through or around Cades Cove, a rustic valley complete with log cabins and pastoral pastures. Also in the Appalachian Mountains, the 2,000-mile long Appalachian Trail can be used for day hikes. Some sections of this National Park system trail can be very steep, like the climb out of Nantahala Gorge in western North Carolina. Again, always do your research and plan accordingly. Many stretches of this famous trail are long enough-but not too long-so it is easy to shuttle vehicles from highway to highway crossing points as you plan routes and available time for taking a day hike.  
In the Midwest, and more specifically in northern Minnesota, there is one more trail worthy of consideration. The well-marked 200-mile plus Superior Hiking Trail offers views of Lake Superior and stunning glimpses into Northwood forests. One section of the Superior Hiking Trail comes to a flooded valley where the water is stalled by a huge beaver pond. If you are lucky, the deposited canoe will be on your end at that time and you can simply climb in and paddle across. If the canoe is on the other side, you'll have to watch your steps as you pick your way across the stick-built beaver dam. The Superior Hiking Trail Association headquarters in Two Harbors offers great maps and most have altitude scales to reveal the steepness factors. Some trail sections are very steep.  


Other Places  
There are other places where solitude or scenes could be in the eye of the beholder-or make that hiker. In fact, nearly every state and national forest in North America also offers up hiking trails. There's possibly one near you.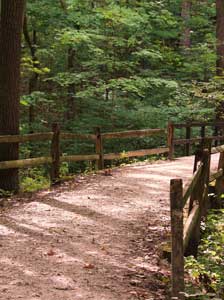 Local hiking areas can offer great outdoor thrills and enjoyable atmosphere.
To find day hikes for yourself, your family and others in most state parks, simply ask a ranger and call a headquarters with questions. Then read the many printed and online trail guides, and carefully study sources such as DeLorme maps. As you study possible routes, it's also important to note the scale of the contour lines for the map you'll be using. These can often range from 20 to 300 feet between changes in elevation and lines close together on a map section equals steep terrain. It helps to know if a difficult climb is ahead of you, or if you'll be wading across a creek.  
As you do your distance calculations during trip planning and preparation, note that most humans walk at approximately 3 miles per hour. On an average day on level ground, most hikers can do 10 to 15 miles. You will definitely move at a slower pace if children are along, or at a quicker clip if a marathoner is hiking with you. Fall hikes with colorful leaves and treks where wildlife can be viewed can also result in slower paces. Having a dog on the hike can slow or speed-up your hiking rate – dependent upon the breed and the dog.  
That's the thrill of hiking and stepping out to see America up close-you set the pace. One other factor you will need to consider in fall and spring hikes is the time change factor and increased or decreased daylight hours created by daylight savings time and longer summer days — or shorter winter days. Hiking vacations planned during the summer might push into darkness if taken during the winter.  
One other source for quick-fix hikes can be city parks and established river corridors. Some of these trails can stretch for many miles, while others are definitely short but often interesting. City recreation departments often maintain and regulate these hiking areas (often designated as Metro Parks), so check there first if you have questions or want details. Also ask if the trail is designated as "multiple use." Some hikers don't like the experience of speeding bikes whizzing by merely inches away.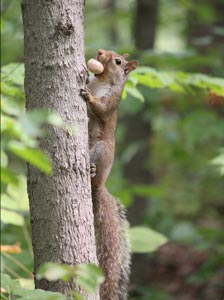 No matter where you go, nature is sure to provide for an exciting hike.
Now is the time to make plans to get out there. And make those plans to take along young hikers because those earlier adventures in the outdoors could start them on a lifetime of enjoyable outdoor enjoyment.  


Discover the Details  
While I've mentioned maps and trail guides, many modern day hikers are also using Google Earth and GPS units to plan hikes and explore routes. You can download and print maps from some tech sources, and easily share these with other hikers and participants. There is also software that gives full details on hiking trails and the backcountry.  
Another useful place to discover new hiking trails or points-of-interest is local hiking clubs. Lots of cities have these, and most active clubs post up to date details on their sites, blogs, or chat rooms. Stores that sell outdoor gear, like Bass Pro Shops, can tell you if a club possibly exists-or may reveal other places to "take a hike." Travel and tourism offices — at the local and state levels — also often have outdoor adventure guides and many of these publications yield insight into hiking trails.  
When planning and preparing for a hike, always take into consideration the smallest and slowest members of the hiking party. They will set the pace for all. Work to keep hiking a pleasure and not a dreaded experience as you "take a hike!"  


The Perfect Pack  
Ok, all that walking translates into two situations: hunger and thirst. Plan to shoulder and use a daypack. In that pack should be water and food, any necessary maps, extra socks, a first-aid kit and possibly a lightweight stuff-sack rain gear. Be certain the pack you select offers protection for the contents and is comfortable on your shoulders, back and hips. When possible, select a daypack with external pockets large enough for storing binoculars, a small camera, and wildlife and plant identification guides. Once you explore the backcountry and spot a plant or bird, you'll be able to learn its name.  
Now is a great time to take a hike.