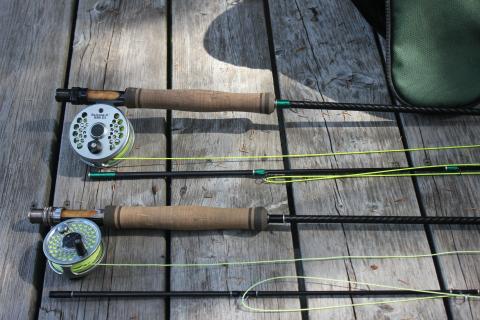 If you are not lucky enough to live in an area that has a year-round trout fishery, then winterizing your fly gear should be an annual undertaking. Thorough cleaning and storage will keep all your gear performing and looking like new for years to come.
 First off, your rods, reels, nets and waders should be thoroughly washed.  If you don't get sand, silt and debris off of your equipment, it may harm your gear to remove it once it has fully dried.  
 Rods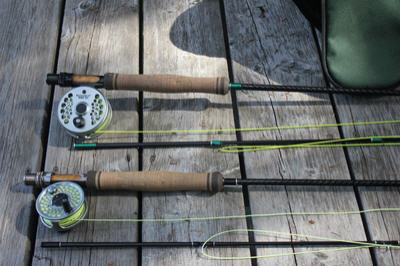 Thorough cleaning and storage will keep your

fly gear

performing and looking like new for years to come. 
A light brush or dish scrubber is the prefect tool for cleaning your rod. Scrub the grip and guides thoroughly to remove dirt and debris. While you are cleaning the rod, make sure you inspect the blank and guides for wear and tear. Look for grooves, nicks or scratches in the inserts of the guides as these can fray or cut tippets. When you are storing fly rods remember to lay them down horizontally rather than standing them upright to prevent the blanks from bowing.
 Reels
Reels should be taken apart and scrubbed to get the sand and dirt out of the gears. After you have cleaned the reel, make sure all the internal and external screws are tight. Many times after a year's worth of use, screws will begin to loosen. If you lose one it can be hard to replace. Make sure that after the reel is cleaned and checked, that you back down the drag before you store it. This reduces stress on internal components. It is a good idea to store reels separate from rods and in a soft case so they do not get nicked or damaged.
 Line
It is a good idea to unspool fly line and clean it by running it through a wet rag.  A lot of people like to take their fly lines off of the reels, but I have not had any problems leaving them on over the winter. Taking lines off and rewinding them onto another holder just seems like a good opportunity for tangles and a lot of work to boot. In the spring, I will unspool my line again and apply a little lubricant to get the line casting smoothly.
 Waders
After rinsing your waders, the next important step is drying them. Make sure that you turn waders inside out so that both sides have a chance to air out completely. The end of the year is a great opportunity to check over and fix any nicks or tears that you might see.  Commercially made sealants are great for this. When storing waders, do not hang them under tension from the suspenders. Instead, lay them down, unfolded, on a hard surface.  Make sure there are no stress spots, folds or bends, as these could damage your waders.
 

Nets
Nets do not typically require much maintenance. It is a good idea to rinse them thoroughly and hang them to dry before storing. If you see tears in the netting, this is a good opportunity to make repairs.
 

Raingear & Vests
For your vest and raincoat, a quick run through the washing machine will rid them of the insect repellant, sweat and fish slime that normally inhabits these items. Just make sure that after washing your gear you dry everything completely before putting it away for the winter. With fishing vests, hanging them is a great way to store them. Make sure to remove your fishing accessories so they do not put stress on pockets or seams while the vest hangs.  Also, take the time to make sure that your fishing accessories are dry before storage to avoid rust and grime.
 Properly cleaning and storing rods, reels and waders will ensure many seasons of use and keep things looking like new.