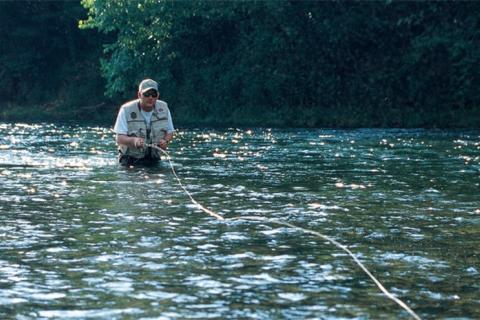 Whether you're new to fly fishing or just want to know more about fly fishing this guide will help you get started in selecting the basic collection of fishing accessories including the right fly fishing gear, selecting flies, leaders, fly line, fly rod and reel. So before you buy, check out these tips.
Fly Angling - Another Way to Fish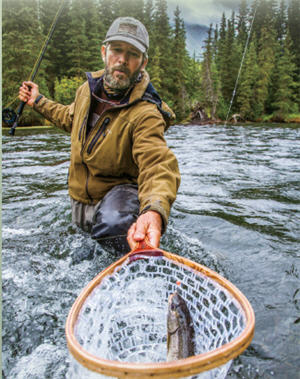 Fly angling can seem intimidating until you understand that it's just another way to fish. The difference between fly tackle and conventional fishing gear is how it delivers the lure to the target:
Conventional Fishing Outfits: cast a lure of a given weight, and the line is primarily for getting it back (or the fish to the boat).
Fly Outfits: cast a fly line of a given weight, and the lure (often weighing practically nothing), is carried to the target by the line. Good casters can literally deliver a feather over a hundred feet with amazing accuracy.
As with conventional gear, there is a "size" range of equipment for handling everything from the smallest to the biggest fish (and flies). You must first decide what type of fish you want to catch. Most people start with a medium duty outfit in a #5 or #6 weight size. (We'll get back to "weight".) A #5 weight outfit is great for pursuing trout, bluegill, and small-to-medium size bass. If you are immediately targeting redfish, pike, or heftier bass, a #8 weight outfit is a better choice.
Outfits range from nearly impractical ultralight #1 weights, to specialized #15 weight setups for billfish and tuna. Most of the world lives between #4 and #9. Lines, rods, and many reels are labeled by weight to assure a perfect match.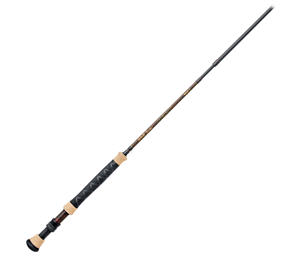 How to Choose a Fly Rod
Like conventional rods, fly rods vary in price. The most important differences are in the material the blank is made with.
The cheapest fly rods use inexpensive fiberglass, and tend to have a very soft action.
The price increases with the use of better fiberglass, glass/graphite composites, and then graphites ranging from less expensive lower-modulus material to expensive high-modulus aerospace materials. (Modulus is a measure of a fiber's strength in relation to its weight and mass.)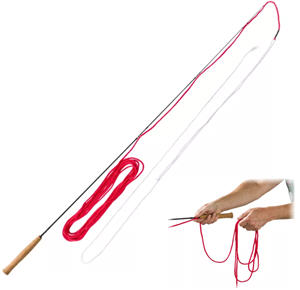 Tip: On-the-water time is "real" fishing time, so what's more convenient than an indoor practice rod? The compact White River Fly Shop General Practitioner Practice Fly Rod has a realistic feel and non-damaging components, so you can hone your casting skills anytime without endangering your office or living room décor. Comes equipped with 20' of lightweight braided rope "fly line" and a soft yarn "leader."
Other factors that add to the price of a rod include:
More and better guides
Fancier reel seats, using exotic wood and machined metal instead of plastic
High-quality cork
Rod sock and tube
Research, development, tooling costs, and labor
Brand recognition
R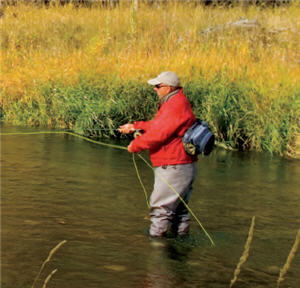 od actions range from slow (softer), to fast (stiffer), and are a matter of personal preference. The most important thing is making sure the line matches the rod. The length and line weight are printed on the rod.
"What is a five weight?"—Fly rod, reel, and line "weights"
3 and 4 Line Weight: Perfect for the light-tackle enthusiast. Best with small flies for panfish and trout at short range. The ultimate for sensitivity and delicate fly presentation.
5 and 6 Line Weight: The most versatile line weights. Compatible with floating or sinking lines, dry flies, or bass bugs. A 5 weight is best for trout and panfish only. To add bass, small steelhead, and salmon to your quarry, a 6 weight is the right choice.
7 and 8 Line Weight: A pleasure to cast at medium and long range. These line weights work with floating or sinking lines and are best for large flies and large fish—bass, pike, salmon, and inshore saltwater species.
"How long should my fly rod be?"
7–7-1/2 ft. Fly Rod Length:  Available in lighter line weights to maximize accuracy and sensitivity at short range. Great for fishing tight cover, spring creeks, small streams, and ponds.
8 ft. Fly Rod Length: Maximum accuracy for short- and middle-range casting. Best for small or medium rivers, and ponds. A good choice when casting space is confined.
8-1/2 ft. Fly Rod Length: A versatile length, at home on all sizes of rivers as well as still water. Increased accuracy for middle and longrange casting. Also effective at short range.
9 ft. Fly Rod Length:  Maximum overall line control. Effectively casts all distances. Best for medium and large rivers, from float tubes, boats, or anywhere casting space is unobstructed.
How to Select Your Fly Reel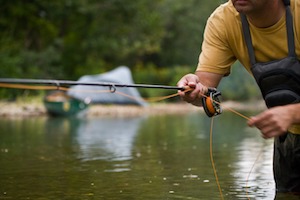 Fly reels serve a different role than conventional reels. Mostly they serve to store unused line. Usually, a workable amount of line is stripped from the reel, and managed by hand while fishing. Fly anglers retrieve their lures by hand-stripping them in.
Tip: See the Fly Fishing Reel Buyer's Guide here
A fly reel is not used for fishing out a cast, i.e. casting and retrieving. In most cases, including big game fly fishing, the reel has a 1:1 gear ratio. The least expensive fly reels are made of plastic, and while OK to start with, are not very durable. Diecast metal reels are the next step up in price and ruggedness. The highest-quality reels are machined from bar stock aluminum. Reels ascend in price due to other factors:
Corrosion-resistant hard anodized finish
Extensive finishing, inside and out
Use of high-quality gears and bearings
Sophisticated drag systems
Research, development, tooling costs, and labor
Brand recognition
When angling for trout, the drag need only offer light but smooth resistance to protect the light leaders used. A smooth click and pawl system works fine here, however more and more trout-sized reels are offering disk drags. Whichever you choose, the key is "smooth".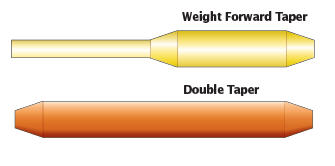 For longer running fish on heavier leaders, like steelhead, bonefish, etc., the drag becomes more critical, and disk drags become the preferred design. Nonetheless, "smooth" and reliable are the 2 critical factors. At this level (8 weight on up), you might consider spending more on your reel than your rod.
How to Pick the Right Fly Line
Your fly fishing line has to match your rod. If your rod is a 5 weight, you must have a 5 weight line. Line weight is quantified by the weight of the front 30 feet of fly line. The front 30 feet of a 6 weight line weighs slightly more than a 5 weight, and so on. The flex of a rod is designed to cast a certain weight line. As with conventional rods, trying to throw more weight or less weight than what the rod is designed for just doesn't work well. Heavier lines will carry out heavier flies, and do better in wind.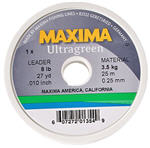 Bass buggers prefer 8–9 weight outfits for this reason. Regardless of how a line is marketed, line boxes are always labeled (coded) with their taper, weight, and whether they float or sink. "WF5F" describes a weight forward taper, 5-weight floater. At this time weight forward taper lines are the most common, followed by double tapers. Even when fishing with nymphs and other submerged flies you will use a floating line most of the time.
How to Pick the Right Fly Leader
The fly leader is your connection between the fly line and your fly. Most often it is monofilament, and tapered from a thicker butt section on the line end, to a thinner tip which is tied to the fly. Length of leaders will vary, with the most common sizes being 7-1/2 to 9 feet. There are various ways to attach the leader to the fly line. The simplest and most efficient connection is a Nail Knot, which is most easily tied with a tool. Other connections include braided loops and nylon connectors. When leader packages are coded with a number like "5X", that refers to the diameter of the thin tip of the leader. Fortunately the packaging will also give the pound test of the tip section, which is more practical for new fly fishers.
Tip: Your leader is your most critical link to the fish, so this is no place to cut corners. Cabela's Trout Leaders are unrivaled in precise taper and strength.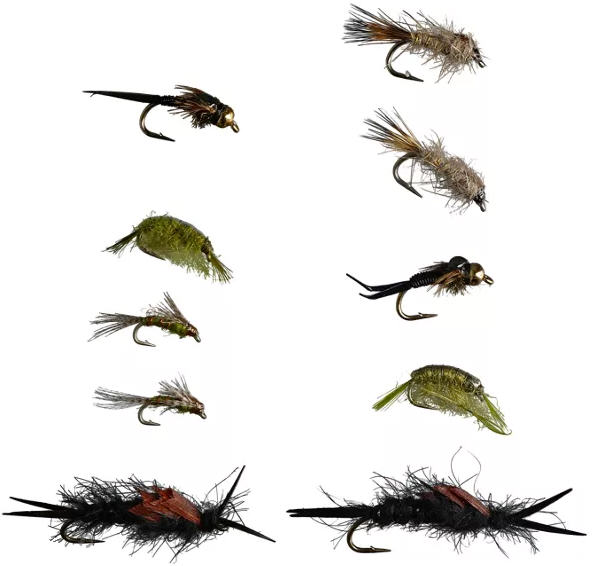 About Flies & Matching the Hatch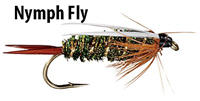 This is a very broad subject. A lot of trout flies are meant to look like insects, hence the term "fly." Actually, the reference applies to any phony food item with a hook in it that has a good chance of ending up in a fish's mouth, and can be delivered with fly tackle. We are talking imitation eggs, baitfish, insects, plankton, crustaceans, etc., and any part thereof.

Some floating models that look like adult bugs are referred to as "dry flies." There are other subsurface insect designs that are classified as "wet flies" or "fish nymphs." At its simplest, "matching the hatch" is finding out what the fish are eating, and then digging through your fly box for something the right size and shape.
The Advantages to Buying a Matched Fly Fishing Outfit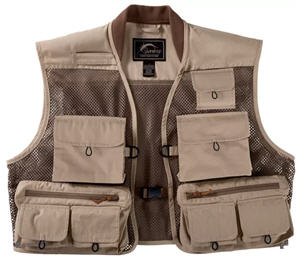 Cabela's has taken much of the guesswork out of shopping for an outfit by offering matched outfits at a savings over individually purchased components. If you've always wanted to try fly fishing but were intimidated by what to buy, the all-inclusive Cabela's Prestige Fly Outfit takes the guesswork out of gearing up for catching fish on a fly rod.
Tip: Shop fly fishing outfits and fly fishing accessories at basspro.com
Selecting a Basic Collection of Fly Fishing Accessories
As you've guessed, there are various spare parts, gadgets, tools, and substances that will make your fly angling more productive. Fortunately most fly fishing accessories inexpensive, and a fly fishing vest like the Aventur1 from White River Fly Shop has enough pockets for you to organize them all. A basic fly fishing collection to start would include:
2–3 sizes of fly fishing leader material (tippet)
nippers like the Dr. Slick Offset Nipper with Hook sharpener for trimming mono
knot tying tool like the Tie-Fast Knot Tyer for changing leaders
a box of flies
forceps like the White River Fly Shop stainless steel forceps for removing small fishing hooks
Trout fishers can also add the following fly accessories:
Getting Fishing Tips, Answering Questions & Buying Fly Equipment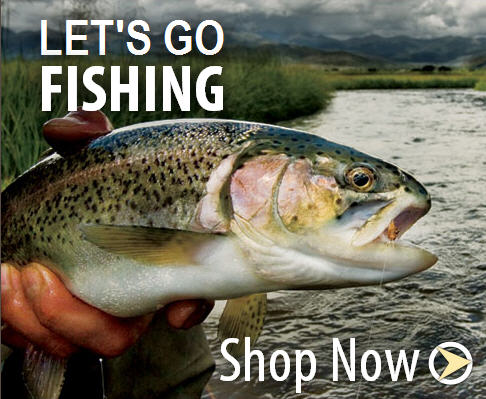 At your local Bass Pro Shops or Cabela's the outfitters can be of great assistance when making your equipment and fly selections, and in answering your questions.
Fortunately, there are a lot of great fly fishing instructional videos and DVDs available to help you master fly casting, knot tying, and even fishing techniques. We highly recommend you make the most of these instructional materials. In the long run, your introduction to fly fishing and your time on the water will be a lot more fun if you do.
Find a Bass Pro Shops store near you here
Find a Cabela's store near you here