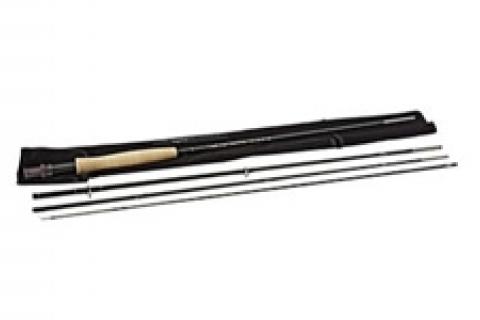 The aura surrounding fly fishing can be intimidating, particularly for the novice considering taking up the hobby. As with most any outdoor activity, a person can pursue it at whatever level he or she is comfortable. The sport need not to be daunting, though. Introduction into fly fishing begins with choosing a rod that fits your needs.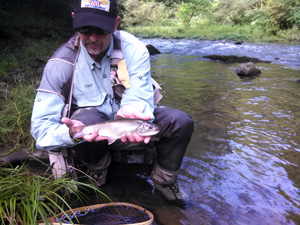 With over 40-plus years of fly fishing experience, Tom Ference has many tips to offer when selecting a fly rod.
To help explain the basics of fly rod selection, I consulted on my good friend Tom Ference. Not only is Ference a highly skilled fly fisher/caster, he spent over 25 years in the fishing retail business, helping customers make wise selections among the myriad of available fly rods. He also spent several years guiding anglers on some of central Pennsylvania's finest trout streams.


One of the first steps in choosing a fly rod is in understanding how they are classified. Two of the most important rankings are in line weight and rod action.


"Rod makers design and label their fly rods based on what size fly line that will be used on it," Ference explained. "A fly rod is a flexible lever that moves the fly line back and forth through the air. Fly lines can be made thin — light weight, such as a 1 weight to 4 weight; medium — 5 wt to 7 weight; or thick and heavy — 8 wt to 12 weight. For a simple example, consider a very stiff, powerful fly rod. It would require a very heavy weight line to bend and flex the rod during its casting stroke, while a thin, flexible rod would only need a thin, light weight line to flex the rod properly. Using the improper sized line will fail to work the rod efficiently."


So, choosing a fly rod incorporates deciding what size line you intend to use. In fly casting, the line provides the casting weight (as opposed to spin and bait casting, where the lure provides the needed mass). Lighter lines are appropriate for casting nearly weightless, compact flies, such as the dry flies, nymphs and small streamers typically used in stream fishing for trout. Bulkier, more wind resistant flies like bass bugs and beefy streamers, require heavier lines to efficiently 'move' them through the air.
Another significant consideration is the rod's action.
"Rods that are considered 'slow action' usually bend evenly throughout the entire length of the rod, while a 'fast action' rod will be more stiff and powerful through the lower- and mid-section of the rod, but have a slightly softer or less powerful tip section; 'medium action' and 'medium fast' fall somewhere in the middle," Ference said. "Keep in mind that all rod designers and companies have their own ideas on where these values fall and thus, for example, one company's fast action rod may feel similar to another company's medium fast."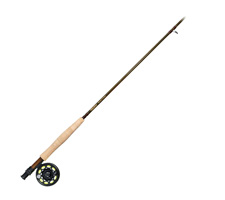 Two of the most important rankings when looking at fly rods are in line weight and rod action.
Rod length is yet another factor for consideration. As Ference pointed out, the rod is a lever. As such, there are parameters (short to long) regarding a rod's length for it to properly cast the line weight it was designed for. For instance, similar 4-weight fly rods might be available from 7 feet to up to 9 feet. The longer rod is a more efficient lever (i.e. casting tool), but the shorter rod may be a better fit if you're planning on using it on brushy, backwoods streams, where compactness trumps casting distance. That said, there other advantages to a longer fly rod, such as ability to better control the line in fishing situations.
Many new fly anglers wish to target trout on medium-sizes streams, so let's look at that scenario as a basis for choosing a rod.
"Years ago, a 9-foot, 6-weight fly rod was the most popular freshwater trout fly rod," Ference noted. "With new design technology and modern materials, this model has pretty much been replaced with an 8-foot, 6-inch 5 weight in the eastern US, and a 9-foot 5 weight in the west."
Such a rod will serve most anglers well, in most stream situations for trout. Ference also noted that an added spool for the reel, one filled with a sinking tip line, will add to the versatility of the rod of choice.
In regard to a rod's action, the recent trend has been toward fast action rods, ones that have the potential to produce long casts. An angler may or may not realize the benefits such a rod can provide.
"When fast action fly rods first hit the market, anglers went in search of these new, 'mind-boggling' distance casting rods," Ference said. "Many folks mistakenly felt that they would now be able to cast further than they ever had before. Unfortunately, some anglers learned that they could not cast any better, typically because they had inherent casting faults to begin with and the fast action rods magnified them. Their older, softer and more forgiving rods hid these flaws and enabled them to produce a better cast. Fast and stiff rods in trained hands are unsurpassed in reaching casting distances never before experienced."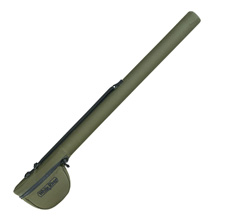 No matter the price of your rod, you'll want to protect it with a good rod case.
Regardless of rod action choice, an angler owes it to him or herself to develop good casting skills. The ability to put a fly where you want it, despite casting (and back-casting) hazards, has much to do with one's enjoyment of the sport. But when weighing the question of rod action, consider the situations you're likely to face, if 50 to 60-foot plus casts are going to be necessary. In some situation they are. But in many stream settings for trout, most are caught within 30 feet of the angler.
Number of rod sections is yet another factor. Years ago, rod ferrules provided "dead spots" in a rod; less ferrules meant a more fluid action. Typically, this isn't the case anymore. In all but low end rods, technical advancements have eliminated this problem. Three and four-piece rods are often indistinguishable, action-wise, from a two-piece rod.
High-end fly rods can cost several hundred dollars. But it's not necessary to lay out that much cash to get a decent rod, especially for the person new to the sport. Ference said many of the entry level rods of today will outperform high-end rods of a few years ago. Advantages of the high prices models include terrific warranties; extremely light weight (which equates into less angler fatigue over a long day of fishing); and outstanding rod aesthetics.
Lastly, whatever rod you choose, protect it by transporting it in a good rod case. Many rods come with a hard case (typically a nylon cover over a PVC plastic tube). If yours didn't it's worth the modest investment. Ference said that in his 40-plus years of fly fishing, the vast majority of rod breakages he's learned about have occurred during vehicle transport.