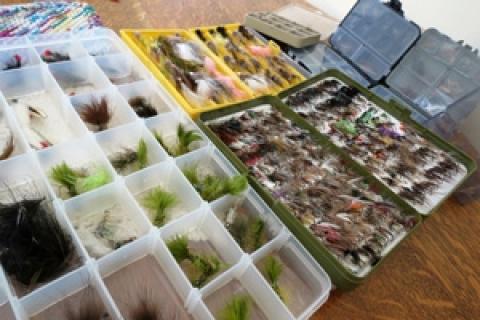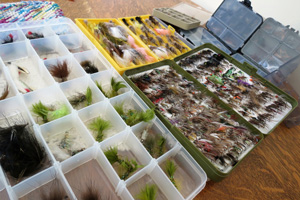 This is a confusing time of year for a guy like me. Our lakes are still frozen, so I'll be chasing lake trout this afternoon with my sonar unit instead of turkey hunting and fly fishing.
One of my main concerns when it comes to fly fishing is being prepared in terms of fly selection. Luckily, I tie my own and am well stocked with material.
Essentially, when I fish our lakes at ice out, I rely on two strategies for rainbow, brook and lake trout.
The first entails using a good sink tip line and streamers such as beadhead wooly buggers, Gartside sort-hackle streamers and wooly worms to fish aggressively for those trout. I tie these in olive, black and white as well as in a few bright body colors like chartreuse and hot orange just in case. You never know when these oddball colour combos will come in handy.
My next strategy entails using a floating line a very long leader and chironomids. During the ice fishing season, we've examined stomach contents of a few trout and found that, especially of late, they've been loaded with chironomids. Lately, they've been reddish brown. So I'll tie up a dozen or so of these in brown, red and black as well as a few dry flies so that I can use them in tandem.
Caddis patterns, such as the elk hair version, that are very visible will also be tied. So too will Mikulak sedges as well as tried and true searching patterns like Adam's dries in size 10 and maybe even 8.
I'll round out my fly tying selection for lakes with a few beadhead gold-ribbed hare's ears, some pheasant tail nymphs, Diawl bachs and gold-bead damsels, just in case I want to fish these subsurface nymph patterns instead of chironomids.
Obviously, you're choices will probably differ depending on your experience, confidence level in the patterns and location. But these are the patterns that work for me on most outings.
I'll be tying every night from here on in. I'm getting there but ice out is coming fast.