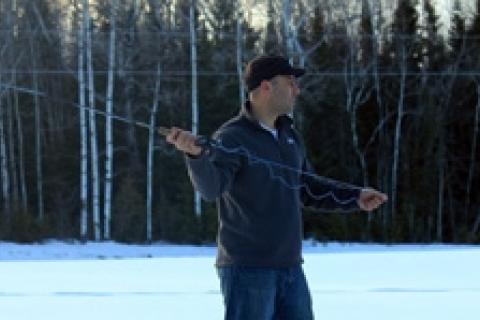 With the early trout season opener only a week or so away refreshing casting techniques has to be on the minds of fly anglers everywhere. Nothing is worse than getting out to your favorite river or stream and watching your first cast hang up in an alder. Fine tuning your casting skills does not need to be a hard process. A few ten minute practice sessions and you should be ready to chase those elusive trout.
Before you get outdoors it is a good idea to check your fly rod over thoroughly after being in storage. Look for nicks or scratches in the guides that could fray your line. If you find any damage either replace the guide or change the insert in the guide.
Next spool the line off the reel and check if to see if you are going to need to oil the reel. You want the line to strip easily while the drag is set light.
After the quick maintenance check, figure out what type of fly you want to practice with. If you are still a beginner fly caster tying a small piece of yarn to the leader is what you should start with. Casting on land is never as easy as it is in the water. If you happen to line yourself while casting in the field, the yarn will prevent the painful removal of the fly. If you are planning on streamer fishing for the opener then using a weighted fly is a good idea as it will better mimic what you will be doing. If you are going to be using actual flies while practicing, be smart and remove the hook.
Once you get out to the field, practicing the several different types of casts that you might use is a good idea. Start with about 25 feet of line out and go through the overhead, reach and roll casts. Remember since the line is not going to be on the water but rather snow it will be a little harder to manage the fly line until you get it into the air.
Practice picking up the fly line, false casting and laying the line down with each of the casts listed earlier. After you have casted for few minutes pick a target out in the field and practice casting the fly at the target. One you get used to casting at the target move back ten feet and repeat the process. A few minutes a day with this routine and you will be as ready as ever to lay out a line and entice a trout into rising.