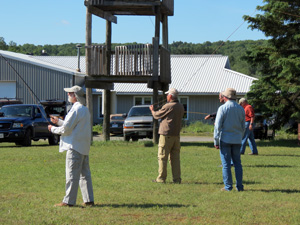 In my part of the world, ice fishing season is rapidly approaching and fly fishing season is standing there waving a sad goodbye in the rearview mirror.
So what's a fly angler to do?
The obvious answer is to get ready for next season and use the off time to learn more about the sport.
For me, that means filling fly boxes, reading a book or two and perhaps planning a trip. But mostly, it means getting more involved in our local fly fishing club.
This is something I'd heartily recommend to any fly angler out there. Fly fishing clubs provide a wealth of great opportunities for those who join. And, like any club, the more you put into it, the more you get out.
Winter is really the best time for this sort of thing. It's the time when we reflect on the past season and prepare for the next. In most clubs, winter is also the time for getting down to some serious tying.
A good club with an organized tying night provides you with access to a wealth of experience and different perspectives. I've been tying for more than 25 years and I continually learn new techniques, tying tricks, and patterns from other members of our group, regardless of their level of experience.
Another advantage of being part of a group is the opportunity to swap materials and flies with fellow members and learn new local patterns that really work. There's also no better place to get a heads up on new materials, books or websites than in your local club.
But mostly, a fly fishing club provides a place where you can go and relive past fishing experiences and plan for the future ones with like-minded, enthusiastic anglers. You can't imagine how great this is until you've immersed yourself in it.
More frequently throughout the winter and once a month throughout the rest of the year, you'll be grateful that you made these connections.
It pays off in new places to fish and new skills learned. I can't think of any angler who won't benefit from a club in some way.
This year, our young club covered everything from rod selection and bass fishing to making furled leaders. We have brought in expert presenters that inspire and educate and we have started a conservation project that we hope will make our local opportunities better. And we have a growing library that is free for all to use.
You could certainly get most of that just sitting at your desk, reading a book or two or looking at the odd Youtube video, but then you'll miss the most important and inspiring part of it all, which is the camaraderie. Here is a place where fly fishing is spoken enthusiastically.
If you ask me, that's the best part of a club.