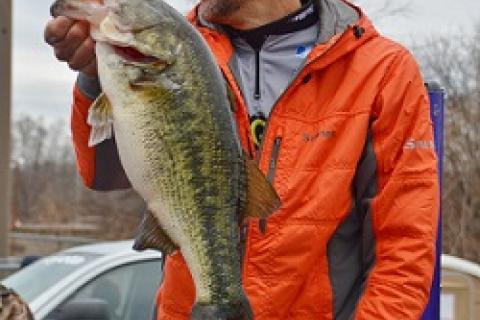 Success is where preparation and opportunity meet. We've heard that cliché a zillion times, but it rings true for most. This is especially true for athletes. Truer even more for non-traditional athletes plying their athletic skills and knowledge against wild creatures. That's the challenge of bass fishing pros. Specifically, Mercury pro Aaron Martens, the King of prep work.


Martens, the two-time Bassmaster Angler of the Year (AOY) and multiple tournament winner, spends countless hours preparing for the Bassmaster Elite Series season. However, it's not just eating your vitamins, saying your prayers and studying hard. For Martens, it's 12-hour days working on tackle and pushing his physical conditioning to the limit to ready himself to compete against the best in the pro fishing business. Oh yeah, against those little piscine adversaries, too.


Getting gear ready is a full-time job for Martens during the off-season.


"I've really put in the time getting prepared for the 2015 Elite season," said Martens. "I think I've put in 40-plus days where I dedicated
over 12 hours each day to getting tackle ready.


"I spent an entire day tying flies and another balancing baits. I have boxes of baits I meticulously go through to find the lure I want to use. I'm really learning to refine everything. Make it simple for myself on tour, even though none of this is simple.


"I actually don't like this prep work. I'm good at it, but I don't like changing out 400 hooks to put on my Gamakatsu finesse trebles. I have to use them. They are just so good. It is prep work like changing out hooks that helps me succeed."


Martens' prep work isn't just about gear.
"Fitness is so important to what I do," said Martens. "Anybody who follows the sport knows I'm a fitness guy. I believe you need to be strong and have the endurance of a distance runner. Basic overall fitness is a constant goal of mine. Especially as I get older. Being fit is one of the biggest reasons I've been successful."


Striving to achieve his goals keeps Martens focused.


"I want to get better with tackle," said Martens. "I want to stay as healthy and fit as I can. I strive to become the AOY each and every season. I want to make better decisions on the water. Sure, there are screw ups along the way, but with preparation I believe I can minimize them.


"My preparation makes me more successful when the opportunities are there."