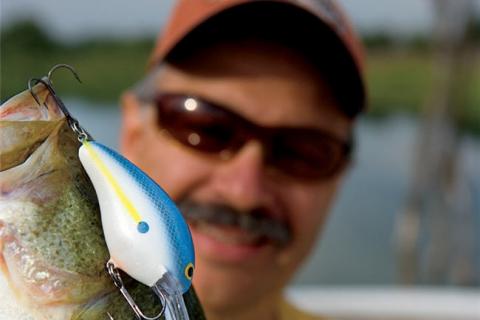 While there are lots of specialty fishing hooks available, a handful of select hook styles do the brunt of the work for most fishing presentations. Bait, circle, treble, and worms hooks are a few examples. The following is a primer on popular fish hooks and some of their applications.
Popular Fishing Hook Styles
With a good understanding of hook components, let's look at basic and advanced hooks to add to your tackle box.
Bait Hooks Hold the Bait in Place  

Bait fishing hooks come in a variety of styles and are the white-bread option of hooks. Most feature barbs on the shaft to hold bait in place. Longer shank hooks are good for teaching kids to fish, while shorter shank ones are often used in snells. The Bass Pro Shops Baitholder hook is one popular bait hook that has a 4.6 star rating.
Circle Fishing Hooks Help Prevent Gut Hooking Fish

The term circle fishing hook refers to a specific design for fishing hooks that causes them to appear circular in shape. Used primarily for live bait fishing, these hooks increase hooking percentages and also help to prevent gut hooking fish. When a strike occurs, the hook slides out of the fish's throat. The barb does not penetrate until the hook reaches the corner of the mouth. At that point, the hook point pivots and sets for a safe, solid hookup.
The primary thing to remember about circle hooks is that they do not require a standard hard, hook set. In fact, setting the hook in that manner will almost guarantee that a fish is lost. Instead, simply cranking down and applying steady pressure works best.        

Treble Fishing Hooks Work Well for Cut Bait & Artificial Baits
Treble hooks feature three bends and points in one hook. Trebles provide greater coverage for artificial baits such as crankbaits, jerkbaits or topwater baits. Bait anglers also use trebles. Cut bait for catfish or threading minnows for trolling salmon or trout are examples where trebles are regularly used.
Siwash Fishing Hooks

Adapt Well to Replace Other Hooks

Siwash fishing hooks have a long shank and a straight eye to ensure they sit properly on lures. Siwash hooks are often used on single-hook baits, such as spinnerbaits. They're also an excellent alternative to factory-provided treble hooks on spoons and other baits. These hooks are handy to replace treble hooks on hard-baits when fishing a zone that limit hook points on a per lure. The VMC Siwash Open Eye hook is a quality Siwash hook.
Aberdeen Hooks are Often Used for Bait Fishing
Aberdeen fishing hooks are composed of a lighter wire than Siwash hooks and are often used for bait fishing. The thin metal easily hooks bait with minimal damage so it stays lively. Light wire also makes them a good option when fishing timber for crappie. When snagged, you can sometimes bend the hook and pull it free with a bit of pressure. The Eagle Claw Cricket Aberdeen hook is a top rated hook on BassPro.com.
Octopus Hooks are Also Popular for Bait Fishing

Octopus hooks are short-shank hooks that feature a round shank and bend, but it's not as dramatic as circle hooks. Octopus hooks are often used for bait fishing when minimal hook weight and size is essential for a natural presentation.
These hooks are great for hooking a leech through the sucker. The Bass Pro Shops XPS Octopus hook is a good example and highly rated. A mosquito hook is a variation on this style.
Worm Hooks are Used to Fish Soft-Plastic Baits

A variety of worm hooks exist to fish soft-plastic baits. Worm hooks feature a slight bend just below the hook eye for Texas-rigging plastics to make them weedless. Most worm hooks feature wide gaps to ensure adequate clearance for the point to penetrate a fish's yap when setting the hook with a bulky plastic offering.
These hooks are quite strong and feature solid penetrating power to hook fish. The Bass Pro Shops XPS Magna Superlock hook is an excellent worm hook choice with top ratings.
Jig Hooks are for Jigmaking Applications

Jig fishing hooks like the Gamakatsu 90º Jig Hooks are designed to sit in specific jig molds. They feature a bend just below the hook eye, with 90-degrees being the most common. Pouring your own jigs can save you money and be a fun winter hobby to gear up for the next season.
The Mustad's UltraPoint Jig Hook is a premium-grade, 60-degree hook made specifically for jig molding.
You may not need all of the popular hooks listed above, but odds are good that there are a few styles or sizes that would be welcomed additions to your tackle box. From everyday rigging methods, to fishing lure modifications, to DIY fishing projects — these hooks are essential items for many anglers.
Take an inventory of what you're missing and visit your nearest Bass Pro Shops or Cabela's store to stock-up so you're well outfitted and ready to fish.
Also Read: A Guide to Specialty Fish Hooks and How to Use Them  and  Understanding the Anatomy of a Fishing Hook