Flipping jigs account for more big bass than most lures on the market. The weedless design allows an angler to probe the thickest junk that fish hide out in, while tempting them with a life-like profile and action that largemouths can't resist.


Here are four trailer options for tipping your jigs with this season. All produce under the right conditions.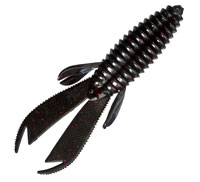 1. Creature Bait
If seeking out the biggest and baddest bass that haunt your swim, then a plastic creature bait rigged on your flipping jig is the way to go. A trailer of this type will provide a large profile, slow decent and additional action on the fall — perfect for undercut banks or dock fishing. Choose a bait between 4 and 5.25 inches to put the odds in your favor — and get those big bass chomping.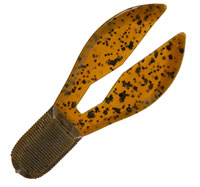 2. Plastic Chunk
A mainstay on my flipping rig, a plastic chunk provides a compact yet action-packed profile that is perfect for punching through pads or gliding down through grass. I reach for a 3.5-inch model but will drop down to 2.75 inches if fish are striking short or overly finicky.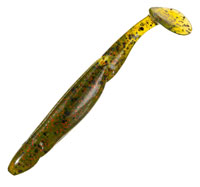 3. Swimbait
A new wrinkle in the flipping game, a soft plastic swimbait provides a tail-thumping action that can trigger those extra bites. An excellent choice when fishing stained water and my go-to trailer when dunking weed pockets or working along defined weed edges. A 4- to 5-inch bait gets the nod in a contrasting color to your jig.


4. Grub
A personal fall favorite when water temperatures plummet, this down-sized curly-tailed nugget offers fine-tuned finesse. Perfect for working around sand and rock, this rig is especially effective when fishing mid-lake humps for schooling or sulking fish. A grub is also a great choice when faced with clear water conditions.


Choose a grub between 3 and 4 inches but don't be afraid to go larger if fish are eating it up.