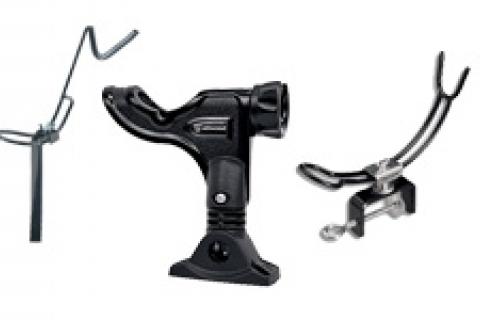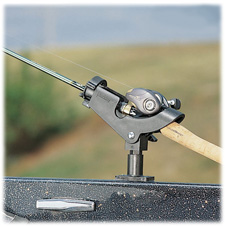 Rod holders are invaluable to fishing boats, mostly for trolling purposes.
Rod holders are an often-overlooked yet invaluable tool that can increase fishing success and enjoyment when out in the boat. When used in conjunction with trolling applications, these units are a necessary tool for precision placement of rods, baits, and lures, allowing the angler a completely hands-free approach. Not only that, but they come in pretty handy when it's time to relax with a sandwich and a soda under the warm summer sun!


Knowing what style to purchase can be a difficult and frustrating event, especially for those perusing the catalog for the first time. Take the opportunity to familiarize yourself with the available brands and types on the market with this guide, and be prepared for some fruitful days on your favorite body of water this season.


Why Do I Need a Rod Holder?
Fishing rod holders are an integral part of a fishing boats setup, and for very good reason. The most obvious use is for trolling. Whether it is with a downrigger or when flat lining, a rod holder can be a godsend during long, punishing days on the water, and also during nasty and extreme weather. 


Utilizing a rod holder will allow the angler to be more attentive to electronics and the operation of the boat, without the fuss of physically holding the rod him/herself, essentially limiting the use of one of the extremities. Not only that, but the device will help in keeping you alert and fatigue-free - a common ailment for those unlucky enough to troll with a rod in their palm for hours upon hours. (Have you ever tried speed-trolling giant musky plugs all day in sub-zero weather, with your oversized rod clenched in your mitt? Let me tell you, it certainly isn't a walk in the park!)


Another use for rod holders is during live bait fishing, especially with floats, and when utilizing more than one rod. (Where laws allow this style of fishing.) Spread out across the boat, they can dramatically help in keeping rods organized and lines tangle-free. Your rod is always within easy reach, leaving accessibility never an issue. 


Whether trolling or still fishing, rod holders offer simplicity and user-friendly attributes, allowing an angler to up his odds when out on the water - a trait each and every one of us can use.


Does Material Matter?
Rod holders come in a wide range of shapes, sizes and styles, with a variety of materials being used in the manufacturing of the unit. The four most common ingredients are steel, aluminum, copolymer, and polypropylene.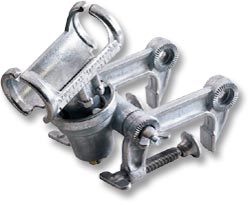 For saltwater fishing, you'll need a rod-holder that resists corrosion.
Out of the two metals, aluminum is the lightest in terms of weight. Strength attributes are very similar between the two, leaving both respectable choices when making your decision. The non-metal materials used are extremely tough and resistant to breaking, although they can pose some weaknesses in strength when compared to the metal varieties. 


Generally, aluminum and steel will be towards the high end in terms of price, with the non-metals being further down the scale. Don't let price differences fool you - more expensive does not always equate to a superior product. Generally, in terms of rod holders, increased prices are due in part to the complexity of the unit and the elevated price of the raw materials.


So which one is best? Good question -- although there really isn't a correct answer. can provide a respectable product, although little things such as overall design and manufacturing often play a more important than the actual material used. Saying that, my suggestion for those that spend the majority of their time trolling big water, come across punishing weather and waves and put in a lot of hours with their equipment, is to choose one of the metal units for best results. Those that fish smaller water and use trolling as a secondary application, picking one of the high-quality non-metal versions will provide excellent value and characteristics.


One thing I can't stress enough is to buy a quality product. If the rod holder feels or looks inferior, chances are it is. Just like all fishing equipment, scrimping to save a few bucks will usually cost you in the long run.


Mounting Options
When it comes to attaching a rod holder to your boat, the angler has two choices - to drill or to clamp. Both of these options have pros and cons attached, so figure out your priorities and uses before making that final decision.


Clamp-on holders are inexpensive, portable and don't require any drilling.
Clamp-On -- Clamp-on rod holders offer a simple design for attaching to your boat, leaving little fuss and muss for the angler. With the clamping variety comes the option to position the holder anywhere on the gunnels, meaning you can set it to your specific needs and adjust accordingly throughout the day. They are also portable, thus making them extremely handy when renting a boat or traveling to a fly-in resort. In terms of price, they are generally less expensive than the drill-mounted units.


A disadvantage of this style is the chance of slippage due to not being permanently fixed to the boat. This is not the norm, but can occur when conditions get wet or when the clamps become loose. (Tightening the clamps periodically throughout the day will help alleviate this problem.)


Drill Mounts -- Mounting a rod holder permanently to your boat can have both positive and negative results, although the style of fishing the angler pursues will often dictate if this is the most viable option. 


For those that do a considerable amount of trolling, use only one boat and like to have a permanent, non-slip attachment, a drill mount is surely the way to go. (If you're a "hardcore troller," these are the only ones for you.) A drill mount will allow you to permanently mount a rod holder to your exact specifications, with a certain upgrade in strength and reliability in comparison to the clamp-on mount.


Drill mounts can be attached to your boat on either the side or top, with both options providing a "near-flush" design. The hardware is simple to install, and will usually involve only two- to-four holes being drilled, causing minimal "damage" to your craft.


A Look at Adjustments
A rod holder is designed to accommodate your fishing pole in a variety of positions - or at least they should. When selecting a holder, please make sure it is fully adjustable, both horizontally and vertically. This will allow the angler to troll or still fish with his rod in the perfect angle for the task at hand. (Some models you may come across can only be set in one position, taking much of the freedom and design away from the fisherman. I would highly recommend that you pass these ones by.)


A swivel base is also a neat perk, allowing easier access to the drill mounted units when traveling or bringing in lines. 


The Right Fit
Rod holders are designed with specifics in mind, so the angler should question what applications and tools he'll be using so that they form a perfect match. You first need to decide what style of reel and rod you will be using. Some holders are specifically designed for either spinning or casting reels, while others can accommodate both varieties. Another valuable tip is to ascertain that the holder will allow the use of long- handled rods. (Many styles will, but some may not.)


Ensure that the design you choose will allow easy access to your rod.During the initial strike, you want to be able to get your rod out of the holder quickly and easily in order to land fish.A simple design without the "bells and whistles" will make this task a breeze. A locking feature is a nifty improvement that can stop your rod from being yanked overboard.For those that fish rough water or chase "big" fish, check this feature out for safety and added peace of mind.


One last perk for those searching for a rod holder is a padded lining. This will ensure that your rod remains in perfect condition when riding in the holder. (I find it is an invaluable protection feature for doing away with scratches and surface scuffs.)


Shore-bound Anglers  
Although I've touched on trolling and still-fishing applications for rod holders, those that fish from shore can also enjoy the benefits that these units provide. 


If you are in the market for a rod holder for shore or surf fishing, a few tips to consider are these:


Make sure the base is wide and stable, or that the "spike" is long and sharp for easy penetration and holding power.


A rod holder that allows adjustments will outshine those that remain in one position.


Choose a holder that is tailor-made for the style of fishing you do. Whether it is spinning or casting, accommodating the appropriate rod or reel is paramount for fishing success.


A locking device can help ensure that your rod is not pulled in the drink for a watery swim. As you can see, rod holders can provide a valuable function for the everyday angler. Have fun selecting the best style for the fishing you intend to do, and enjoy your increased success for the season that lies before you.