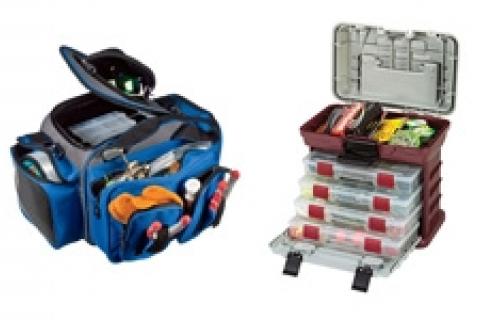 When it comes to the tools we utilize to catch fish, the most important aspect when heading out on the water is organization. Having all of your lures, baits and terminal tackle in one easy-to-find location will enable you to become a more efficient and savvy angler, all the while leaving one less excuse for why the fish didn't bite.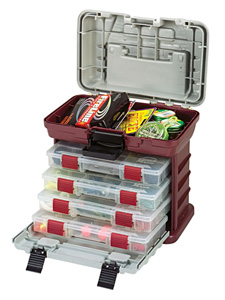 Most tackle boxes have fold-out trays on the inside, allowing the user to utilize different compartments to store their lures and baits.
Tackle boxes and bags come in every size and shape imaginable, leaving the fisherman with some bewildering choices when it comes to finding one which is right for them.Deciding on a tackle box is akin to buying a pair of pants — you want them to be the perfect "fit", with a bit of extra room for added growth.Follow these suggestions and discover the tackle storing system that is tailor-made for you.


Hard or Soft Tackle Box?
When it comes to choosing a tackle storage system, the angler has two options available — hard, plastic boxes or soft bags. 


Hard tackle boxes have been on the scene since the dawn of modern day fishing, conjuring up childhood memories for many that enjoy the sport today. Although the basic design remains the same, improvements and minor refinements have been made to make the product even better in this competitive market. For those looking for a solid and sturdy design, tackle boxes certainly have the bases covered. The hard plastic and resin will resist cracking and rough handling nicely, making the toughness of this product hard to beat.


Most tackle boxes will have fold-out trays on the inside, allowing the user to utilize different compartments in order to store their lures and baits. Make sure these trays are classed as "worm proof" before purchasing, (the majority are), as your plastic baits will "melt" and fuse into one another without this technology. Some models have forgone the trays in place of plastic utility boxes — a neat concept that allows you to customize your lures into different groups. Both varieties work well, but utility boxes seem a better fit for ease and functionality in today's market.


Another interesting wrinkle that many of these boxes include are top-loading compartments, allowing the storage of larger items such as pork jars, spare reels, and tools. Time and effort is simplified greatly by accessing these items from the top, allowing improved simplicity for the angler. Keep an eye out for this significant feature to add value to your purchase.


One last thing to keep in mind is spinnerbait and jig racks. These plastic additions to the box allow easy and tangle-free storage of certain lures, keeping them at the fisherman's fingertips for easy pickings. Many of these lures are cumbersome in nature, yet these racks allow storage in a neat and tidy manner. (Not all boxes come standard with racks, so keep this in mind when perusing the catalog.)


Things to inspect when buying a tackle box would be strong, sturdy handles; secure latches; and roomy lure compartments that will allow the storage of "oversized" baits and tackle. A deep base that can hold a variety of miscellaneous bits and pieces is also a handy addition. 


The one downside to tackle boxes is their weight. In comparison to bags, they can be quite heavy (depending on the model). This extra weight is often offset by the increased protection they offer your tackle and gear, leaving the final say up to the preference of the angler.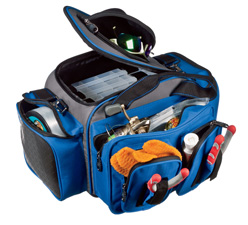 Soft tackle bags are lightweight, waterproof and hold a variety of gear and storage boxes that hold lures and baits.
As with all tackle storage systems, purchasing a model that is larger than your present collection of lures is advisable.Remember, over time you will be adding more lures and baits to your ever-growing collection, so make sure that the model you choose can adapt to your future purchases. 


Soft tackle bags have recently become popular, providing a new innovation in the storage system industry. Tackle bags are lightweight, waterproof shells that hold a variety of plastic utility boxes, which in turn, house your lures. Depending on the dimensions of the bag, utility boxes can number anywhere from two to six or more. 


A great feature that really shines is the convenience that tackle bags offer. Take only the tackle "boxes" you need, while leaving the others at home. (If you're strictly fishing walleye for the day, no need to cart all of your bass and pike gear to the lake.) This can greatly alleviate unnecessary weight, while also simplifying the process of finding your baits quickly and effortlessly. 


Another interesting "perk" that comes with a tackle bag are storage pockets. These can come in handy for holding blister packs of plastics, spare reels, fishing tools, or even the camera. I prefer a tackle bag that has a number of pockets in varying sizes, as, in my mind, you can never have enough storage compartments. (Nor enough tackle to fill them all!)


As in the case of the tackle boxes, make sure you buy a bag that is roomy enough for all of your gear. I've seen some bags that only hold two utility boxes — great for panfishing, but ineffective for most all round fishing situations. Bigger is definitely better when making your final decision.


Padded shoulder straps are a nice feature that will bring comfort when carting your gear to and from the boat. Make sure the straps and handles are strong and sturdy, with reinforced stitching to provide added toughness. Waterproof material is mandatory, as is sturdy fabric that will resist tears and punctures. 


As with anything in life, you get what you paid for. Tackle boxes and bags both have their good points and bad, leaving the consumer the option to thoroughly investigate both varieties before rendering a decision. Whichever system you choose; make sure it is the right fit for you. A storage system is an angler's office when out on the water, and being the particular bunch that we are -- everything must be in perfect order when out in our watery domain.


Fishing Tackle Binders
Do you struggle or curse when it comes time to file your jigs, plastics, or spinnerbaits? Fret no longer, as tackle binders are here to save the day.


A tackle binder is basically a wrap (with Velcro lining or a zipper for closing) that contains binder rings and plastic inserts, specifically designed for the storage of various lures. Whether it is spinnerbaits or cranks, each lure fits snuggly and securely in individual bags, ensuring a tangle-free and easy-handling storage system.


When it comes time to store plastics, binders are the way to go. Bags are roomy enough to fit large numbers of craws, lizards or worms in, and give you the freedom to refrain from digging through endless mounds of blister packs. Replacement bags are also available, making this system one of the most revolutionary when it comes to organizing tackle. 


These binders will fit nicely inside your larger tackle box or bag, allowing the angler to keep all of the lures and baits together in one easy to use, hassle-free package.


I hope you've learned a little bit about choosing a tackle storage system. Functionality is the key word when heading to the checkout counter, so make sure you cover all the bases in order to get the most from your purchase. Good fishing and happy tackle organizing!