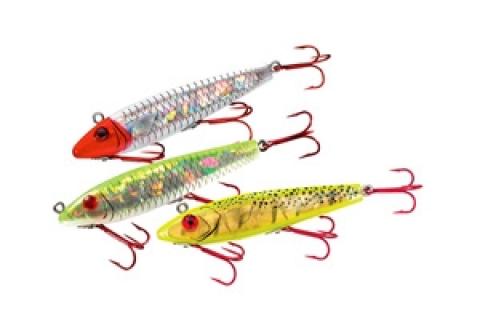 Harold LeMaster was a high school student in Kankakee, Ill., during the Depression. While walking home after school one day he came upon a fallen walnut tree. Examining the wood, he was intrigued with the quality of the grain and went home to find a saw. Returning to the tree, he examined it carefully, found a branch with good grain, then cut out a piece to carve a fishing lure out of. Using pieces of glass and sandpaper, he carefully smoothed the wood to the shape of a baitfish. Then he added hooks and fashioned an eyelet to tie his line to.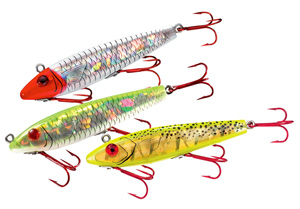 Throughout the years, the MirrOlure has had many different series.
Slipping on a pair of waders, he walked excitedly down to the Kankakee River to field test his product and finish and final hand-tuning of the lure. Fish tore into the homemade plug and LeMaster knew he had a winner. Soon requests from other anglers began coming in. Carving more lures from the same walnut tree, he began selling them through tackle shops. While fishing with his brother-in-law, Phil Schriner, one day, the two decided to make the plunge and form a lure manufacturing company. With that decision, L&S Bait was born.
The lures were first made in their basement, using ping pong tables for work benches. In 1948, the owners decided to move the company from Illinois to Florida. It was then that the most unique feature of the MirroLure was created. Soon after arriving in the Sunshine State, LeMaster came upwith the idea of using a mirror to give his lures a flashing, baitfish-like appearance under the water. With that addition, the classic MirroLure 52M was born.
To protect the reflective surface, it's covered with a clear plastic outer-body. Although it had its beginnings in freshwater, the MirroLure has become especially popular among saltwater anglers. Today the company is named after it's most famous offering and includes a wide variety of lures from topwater plugs to twitch baits to deep-diving crankbaits.
Tactics
Though most popular for use in the brine, MirroLures are effective on a wide variety of gamefish including bass, pike, pickerel, walleyes, bluegills, crappies, trout, stripers white bass and muskies. Cast and retrieve over weed beds, fallen logs, rock piles, brush and points. Work through pools and tail-outs in rivers with a slow to moderate steady retrieve Also try jerking and pausing with sweeps of the rod.
But be sure to hold onto your rod tightly. MirroLures draw belligerent strikes whether you're after a striper or redfish along the coast or a bigmouth bass in a weed-filled inland lake.
If anything good came out of the Depression, LeMaster's lure was certainly one of them.