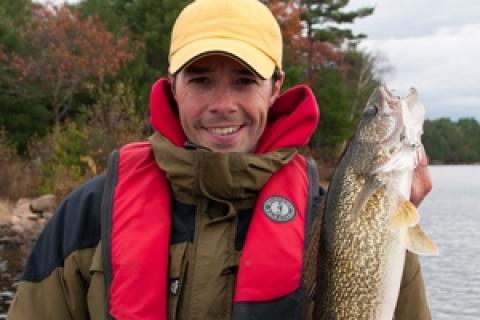 Fall is almost here, which means that some of the year's best fishing is just around the corner. Cold winds and cooling water temperatures are another reality of autumn fishing. Most anglers I know are well-versed in the ABCs of staying warm through proper layering practices, dressing with technical garments, and wearing quality outerwear/rain gear. This is a good thing.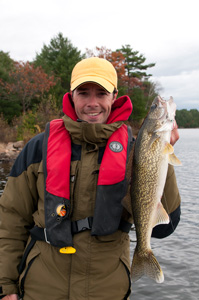 A life vest is a must for anglers; for better comfort, try inflatable life vests.
A scenario that's often overlooked, however, are the potential risks of falling overboard while fishing during the fall. Few anglers expect to tumble in the water, but it can happen. Exposure to cool and cold water poses risks, so it's important to get back in the boat quickly and safely. As the saying goes, "an ounce of prevention is worth a pound of cure." Here are three gear recommendations that will improve recovery time in the event of an accidental dunking.
First and foremost a life vest is a must. There are many models to choose from. A few anglers I know rarely wore a life jacket, labeling them "restrictive" and "uncomfortable". Then I started lending them my extra automatic inflatable life jacket. "With all these layers I'm wearing I can't even tell this thing is on," said one of my quickly converted angling buddies who bought one for the following outing. He's right. An auto inflatable life jacket is incredibly unobtrusive and the flotation it provides, or any life vest for that matter, is critical when re-boarding a boat. When fishing late into the fall an even better option is wearing a floatation suit or full-length floatation coat as these products provide floatation as well as foam insulation for hypothermia protection.
Floatation is just part of the equation for a successful return to the boat. A boat ladder is recommended as it provides steps and grips to climb aboard. A ladder comes is a standard feature on certain boats, but if your vessel is without one there are options. One is to mount a folding ladder on the transom. The second option is to purchase a version that hooks over the side of the boat and can be stored out of the way when it's not needed.
After successfully boarding the boat, it's time to get out of wet clothes. Carrying a full, spare set of garments and a towel in a dry bag is recommended to make quick work of this task. Next, seek medical attention if needed or find shelter to warm up.
The above are three pieces of gear that can reduce the threats that come from falling overboard into cool or cold water. Just as important are boating smart, which includes assessing conditions and recognizing the vessels limitations, as well as exercising common sense. For more information, an internet search on "cold water and boating safety" will guide you to experts and authorities for your area. Here's to a safe autumn filled with lots of quality fishing!