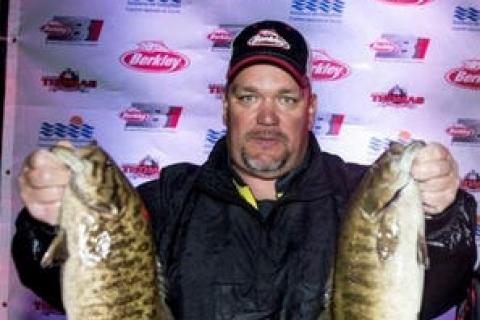 Well, another year of fishing is done, and it has been a great year. Lots of big bass were caught, and I have a firm grasp for a technique that I wanted to learn: the drop shot. The smallmouths pictured below were caught on a drop shot rigged with a Gambler Lures Ugly Otter on a 1-oz. weight using a 7'0 medium action spinning rod with Bass Pro Shops XPS 6-lbs fluorocarbon line during day one of the Berkley B 1 Canadian Bass Open in September.  It was great to have success with a technique that I started using and become more familiar with throughout the 2013 season.
That brings up a question: How can I make 2014 better?
The answer is hard baits. Yes, I use hard baits as a search bait to find active fish, but now I would like to expand on that technique/bait and start using it to catch the bigger bass. I have had great success finding active bass with Livingston Lures Stick Master and the Livingston Lures Dive Master Jr. and Dive Master 14 pictured below.
The Livingston Lures series of hard baits is revolutionizing the fishing industry with its advanced technology of Electric Baitfish Sounds as well as illumination eyes or tail, making this the choice of some of the top pros in the country.
I always use square-billed crankbaits, like the Livingston Lures Dive Master Jr. or Pro Wake, while fishing around laydowns and stumps to locate bass on the outer edges of fallen timber and have had great success with them. What I want to improve on is fishing the deeper weedlines with crankbaits like the Livingston Lures Dive Master 14 and 20 and the Pro Ripper. I will be focusing on line diameter and line type (ex. fluorocarbon, copolymer, mono, braid) to find out which combination will work best for me.

Also in 2014, I would like to head back down to South Carolina and fish the Santee Cooper reservoir. I cashed a paycheck there in 2004 on the Citgo BassMaster Tournament as a co-angler, and I haven't been there since. I learned so much during the week of practice for that event that I really want to go back there again and see if I can't do better this time.
2014 will also be the eighth year for the Peter Larmand Outdoors Kids Fishing Tournament, which is something that I always look forward to. The event is held at the end of April, and it is amazing how many emails I get around February asking when the event will be from the kids that have participated in the past. It is an annual event that I am very proud of and will continue to operate as long as the kids continue coming out and enjoying the sport of fishing and catch and release. This event has introduced kids to fishing that normally would never have tried it; in addition, this event is the only time each year that some of the kids get to go out fishing. The smiles on their faces makes it all worthwhile, and it truly warms the heart.
Whatever you want to do in 2014 – whether it is learning a new technique, fishing a body of water that you have never fished or haven't fished in a long time, or introducing someone to fishing – go out and have fun, enjoy the great outdoors and take in what Mother Nature has to offer. Either way, it is a win-win situation.
by Peter Larmand