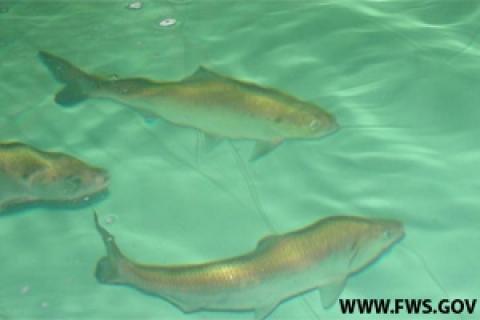 A brilliant orange sun crept above the horizon as I eased into the crisp, clear waters of Virginia's Rappahannock River. The air was chilly, but layers of warm clothes and neoprene chest waders kept me warm as I carefully waded towards the head of a favorite pool.
The majority of the time I try to catch the same popular species most anglers do: bass, bluegills, trout, crappies, stripers and catfish. But each spring, a unique quarry draws me for at least a few trips — the migratory shad. It may be the smaller hickory or the larger whites. But spring always means I must squeeze in a few trips for one or the other.
The hickory shad is an anadromous fish that migrates out of the Atlantic Ocean, forging into a number of Mid-Atlantic and southeast rivers to spawn in the spring. Farther north and on the West Coast, it's the white or American shad that draws anglers.
Both are fast, hard-fighting fish that put up a strong battle on light tackle before they are carefully released to complete their spawning ritual.
Quite often for this sport I use a simple ultralight spinning outfit and 4- or 6-pound line, but that morning I stripped line from a 7-weight fly fishing outfit and began working it out with the 9-foot graphite rod.
At the business end of the tapered leader was a compact streamer I'd tied with a chartreuse body red head and short white marabou wing. It had weight on the shank to make it go down where the shad like to lie.
Casting across stream, I let the offering sink and then began a pumping retrieve, pulling in a foot or so of line with every third twitch of the rod tip.
The tension was almost unbearable as I waited. Then suddenly it was there — the sharp heavy take of the year's first shad.
Thrashing and bucking wildly, the fish jumped twice before I worked it in and twisted the hook free. I watched with satisfaction as it shot back into the water — healthy and ready to continue its mating mission.
That trip was one of hundreds I've made over 40 years in quest of these migratory gamefish from the sea in waters such as the Rappahannock, Potomac, James and Delaware.
One of the nice things about shad fishing is you can enjoy it with no guides or expensive equipment required. Just a spinning rig or fly outfit with some weighted streamers and shad darts is all you need.
Wherever you fish for shad, several strategies seem to apply. For instance, morning is the best time to catch these fish, although fishing can be good all day if it's drizzly or raining and the light level stays low.
Also be aware that shad tend to bite in flurries. If you don't get any strikes for a while, be patient. Soon they'll go into a feeding mode and you may catch two or three quickly before the action slows down again.
Top spots to try are deep pools, with the bigger ones holding the most fish. Some shad can be caught in the upper sections of the pools, but the lower one-third of the pool usually holds the most fish.
Position yourself directly across from this prime zone or slightly upstream from it and cast out and across. Let the fly or dart sink a few feet, and then begin a slow to moderate pumping retrieve.
Some people also score with a steady reeling motion, but I like to activate the jig or fly. I feel like I get more strikes that way and I enjoy the more lively approach.
When shad first arrive they'll strike large darts and flies. As the season wears on and waters become lower, switch to smaller offerings and lighter line might be required.
Wherever you fish, be sure to exercise caution when wading. Wearing a floatation vest and using a staff are recommended if you go in more than knee deep.
Rocks on the bottom may be slippery and currents can be swift in many shad rivers. Avoid wading through dangerous water just to get to a hard-to-reach spot.
There are plenty of shad in reach without taking needless risks.