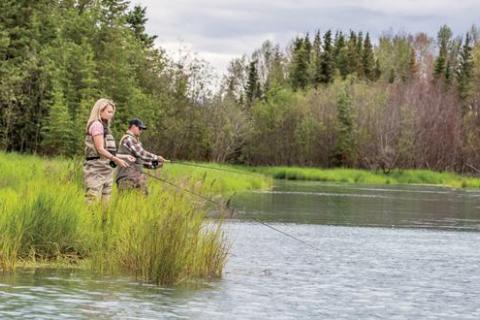 Going backpacking doesn't mean you have to leave your fishing rod at home. Even though you'll be without a boat when trekking through the wilderness, you can still take advantage of the area's angling opportunities if you properly plan your route and pack some fishing gear.


Accessing Unfrequented Waters to Fish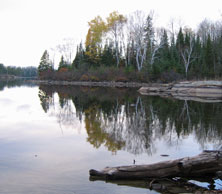 Open shorelines are perfect for some exploring on foot when fishing.
One of the great benefits about fishing on hiking treks is you'll be able to access waters that receive minimal fishing pressure. When plotting hiking routes, look carefully and hike paths that run parallel to waterways. Although there is sometimes some bushwhacking required to get to the water's edge, choose routes that will lead you to water, so to speak. A good start is reviewing maps of the area you'll be hiking.  


Do Your Homework  
Like fishing any new water, do some research before the first cast. Getting topographic and hydrographic maps of the area will help you plot an appropriate course. Although much is said about the qualities of hydrographic maps for fishers on foot, topographic maps are equally as important.


Topographic maps help you judge the terrain of the landscape. This way you know if the four mile hike is a leisurely walk or an aggressive descent down a hill to get to a small stream. Take your research a step further by overlaying information on the type of fish stocked or present in the water and use this information to choose your fishing gear. Make sure you also pack a compass for navigation when hiking and exploring angling opportunities. GPS units are handy but batteries can fail, so a compass is a must have back up.  


Get Details From Park Staff  
When hiking in parks and natural reserves, it's a good idea to talk with park staff or local experts about fishing opportunities. They'll tell you what lakes offer good fishing and which ones are best to avoid. You also might get tips on some secret fishing spots or advice on good bait to use.  


It pays off to make these questions part of your trip planning. This way if the person you're dealing with isn't angling savvy, they might recommend someone else who's more of a fisher in the area, like a guide or tackle shop owner.  


When speaking with park staff, it's also important to make sure traveling off hiking paths is permitted. Wilderness areas tend to allow this, while some parks prefer that you don't bushwhack and that you stay on pre-established trails. Of course, once you get along the shoreline exploration is often easy.  


Choosing & Packing a Rod and Reel  
If you're on a multi-day hiking trip, the overall weight of your backpack is important, so keep your fishing-related weight to a minimum. Here are some tips to stay light.


First, invest in a quality travel rod. Spinning or baitcast rods usually come in 3- to 4-piece kits, while fly-fishing rods are comprised of more pieces. Usually the rod comes with a travel case. Some rod and reel kits come together in one case, but these are more bulky and meant for travels where space isn't a major issue.


When hiking, it's best to have the rod in the smallest tube case possible. Often you can secure it on one side of your pack using straps. Keep the reel in its own case and pack it separately. A soft reel case packs easier and is less bulky.  


Also, to keep the weight down and minimize required space, consider an ultra-light or light action rod. Rods are light regardless, but by going with a light action one you'll shed a few ounces on the reel's weight and reduce bulk.  


Fishing Tackle: Less is Best  
One of the biggest challenges for anglers is downsizing tackle for an outing. In wilderness hiking, one seldom has the choice whether to pack light or not. Your best bet is packing lures that catch multi-species fish. Also pack your confidence baits too.  


Fly anglers are lucky as their terminal tackle is light and compact. It's easy to pack a few dozen dry and wet flies in a fly box and be prepared for most fishing situations. As long as you can accommodate the carrying case, fly fishing tackle adds little overall weight to your backpack and is a good way to integrate angling into your hiking adventures.  


Spinning and baitcast anglers have more of a challenge. Although, as already noted, going with a light action rod is a good solution to keep weight down. Consider only packing light baits, such as inline spinners, floating minnow baits and topwater baits. You should still include some jigs and soft plastics if you have the space. Store these baits in a small tackle tray that will fit in a cargo pant or jacket pocket.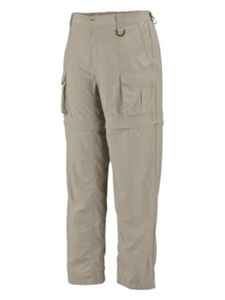 Zip-off pants are handy when wading into the water after the hike through weeds and brush.
It's also a good idea to pack floats, hooks and sinkers for live bait fishing. Live bait is a sure way to match the hatch. With a bit of exploring, like overturning rocks and logs, you can easily find crayfish, nightcrawlers and other bait to tip a hook. If using bait, make sure you check the fishing regulations for the area. Pack a small container to carry the bait in as well.  


Clothing You'll Need for Your Backcountry Trek
If you're a serious hiker, most of your clothing will work when adding angling to your treks. If you have the option, opt for a backpack with a removable fanny pack or smaller bag. This way, you can leave your larger bag at camp or on the shore, and travel light when exploring the fishing opportunities.  


Convertible pants are a good option for wading. The full-length legs will provide you with protection if bushwhacking. Once you find the water's edge, you can zip off the bottom-legs and wade in to knee level. Of course, it's best to wear hiking boots to protect your toes on the trails, so carry a pair of sandals for wading. Wading a few feet from shore is a simple way to avoid snagging trees and other hazards when casting.


Other important clothing items include sunglasses, wide-brimmed hats and quick-dry clothing.  


Cooking the Catch  
There's nothing like the taste of fresh fish. It tastes even better when cooked over a campfire and enjoyed outside, so don't forget to pack a fillet knife. You might also want to pick up a wilderness cookbook for tips on various ways to prepare fish in the outdoors when traveling light. Really though, some butter, a dash of salt and pepper, and a hot pan is all you really need.
Take a travel rod and explore the nearby water on your next backpacking trip. You'll likely find the resident fish willing to bite. The payoff of catching and cooking a few fish on the trail is well worth weight added to your pack from a rod, reel and a few lures.