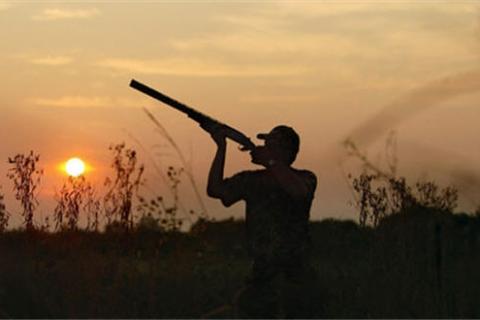 Don't think it's tough to get started dove hunting. Before you hit the ground and start laying out dove decoys, you'll need a good gun, with the right loads. Then you'll need to know how to become a good wingshooter. This article about dove hunting should help you find the gun to get the job done.
 

Tip: Check out this video about MOJO Outdoors Dove A Flicker Spinning Wings Dove Decoy here. Designed to bring doves in with their simulated natural feeding behavior, this decoy unit rotates 3 Winged Dove decoys in a circular bumping motion that closely mimics the behavior of doves feeding on the ground.
 

Also Read: Dove Hunting Basics: Tips to Get Started
Guns and Loads for Doves 
When selecting a dove-hunting shotgun, you can go as plain or fancy as your budget allows. A good all-around choice is a 20-, 16- or 12-gauge autoloader with screw-in choke tubes. Pumps, double-barrels and over-and-under shotguns work fine, but because doves are fast and difficult to hit, many hunters prefer autoloaders, which allow three quick shots before a bird gets out of range. Always remember, however, that repeating shotguns must be limited to holding only three shells ("plugged") while dove hunting. Federal regulations require it. (Be sure you understand all dove-specific hunting regulations, particularly baiting laws, to avoid unintentional violations.)        
 
Stick to smaller shot sizes — 7-1/2, 8, or 9. It takes only a few small pellets to down a dove, and smaller shot sizes offer more pellets per charge. For instance, an ounce of No. 8 shot has 186 more pellets than an ounce of No. 6.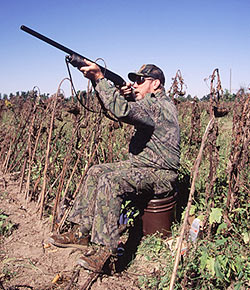 Stick to smaller shot sizes — 7 1/2, 8, or 9; it takes only a few small pellets to down a dove.
Perhaps the best all-round shotshell is a 1- or 1-1/8-ounce load of 7-1/2s, 8s or 9s. Heavier loads allow somewhat longer shots, but you may go through several boxes of shotshells during a single hunt. Your accuracy could suffer if you start flinching due to a sore shoulder.       

Tip: Shop  shotgun shells and hunting ammunition at Bass Pro Shops here
 
Consider spending a little extra for target loads such as those used by skeet and trap shooters. These tend to be manufactured to more stringent standards, and that edge may improve your shooting percentage.    
 
Dove Shooting Tips
Regardless of when or where you hunt doves, remember these tips for success:     
   
First, pick a good stand and allow doves to come within 25 to 35 yards before shooting. At this range, you'll probably shoot more accurately, and use fewer shells. And you can use lighter loads with adequate killing power without bruising your shoulder and flinching.      
 
Remain motionless until an incoming dove is within your practiced shooting range. Doves will spook as soon as they spot you, but if your timing is right, you'll manage one or two shots before they zip out of range.        
 
When shooting, shoulder your gun quickly, keep your head on the stock, swing through the dove, pull the trigger and follow through with the shotgun swing in one smooth, continuous movement. Practice makes perfect. Visit a shooting range as often as possible to hone your skills.        
 
Hunters are starting to wear more hearing protection in the field. They're using devices that not only protect from loud gunshots but some also enhance hearing of low-level animal sounds enabling you to hear quiet, light movements while protecting from the damaging noise of muzzle blasts like the Walker's Game Ear II HD Pro Elite. Hearing damage is permanent, do all you can to protect your hearing.
 
Here's a link to a wide assortment of ear protection such as earmuffs and earplugs at Bass Pro Shops.

Check out this article from the National Institute on Deafness and gun sports.
 
Finally, always take more shotshells than you think you'll need. Even when you're certain you're Deadeye Dick, doves can prove you wrong. Studies indicate dove hunters average about three birds bagged per 25 shots.    
Dove Decoy A Flicker Spinning Wings video

Also Read: Never Forget These Shotgun Shooting Basics

Also Read: Dove Hunting Tips

Also Read: Planting Isn't the Only Way to Attract Doves

Also Read: Use This Rifle Caliber Chart to Pick the Right Ammo for Hunting