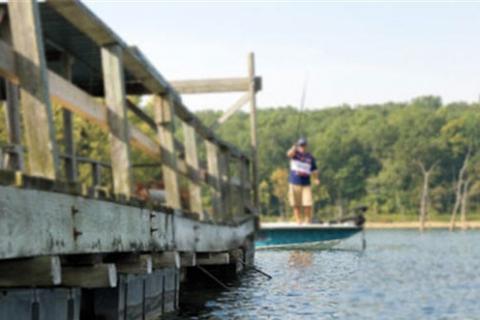 Keith Enloe of Eldon, Missouri, runs a guide service on nearby Lake of the Ozarks, a deep highland impoundment that is noted for excellent crappie fishing. This lake is also lined with private boat docks, many of which have brushpiles sunk by their owners. Enloe says in the Dog Days of summer, crappie hang around brushpiles in specific locations and depths.


"This time of year, I fish where one of the old river channels swings into the bank. Anybody can find these by looking at a topo map," Enloe begins.


"Next, I look for brushpiles off the ends of the docks and close to the edge of the channel in 18-25 feet of water. I find these by idling in front of the docks and watching my fish finder. A good depth finder is a necessity in summer crappie fishing."


Enloe also uses his eyes to determine which docks are most likely to have brush. He says seats, pole holders, lights and other fishing-related paraphernalia are dead giveaways that fish attractors have been sunk next to a dock.


"When I find a likely brushpile, I'll position my boat directly over it and fish it vertically. I use a finesse presentation. I spool with 4-pound test green Berkley XL line, and I tie a #8 gold Eagle Claw hook on the end. I clamp one BB split shot 8 inches above the hook, and I bait with a live minnow hooked through the lips."


"Then I lower this rig down to the top of the brushpile and let the minnow swim around. If there's a crappie there, he'll bite."


Moving from brushpile to brushpile, Enloe routinely takes limits of crappie this way. "The main thing is to find cover at the right depth and close to the channel. Do this and fish patiently, and you can catch'em right through the summer."


You'll find crappie hanging around docks in sunken structure and brushpiles.