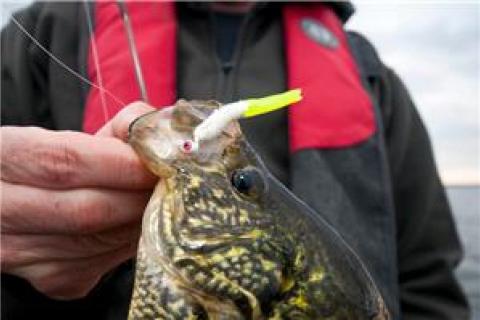 Fall is a great time to catch crappie. One method I use in northern clear-water lakes is sight-fishing crappie around deep, healthy weeds. These crappie are hunting baitfish and various tasty invertebrates living in the aquatic plants. The best fishing days tend to be overcast. Here are four tips for this approach.
 
1. Fish high
Crappie are up-feeders so best results often come working a crappie bait anywhere from one to five feet below the surface. This is often a prime zone for crappie cruising the tops of weed flats or relating to the deep edge of a weed bed. Remember too, the closer to the surface the lure, the easier it is to see.
 
2. Use bright baits
This approach is best done with bright baits. I've had good success with glow, white, chartreuse and other vibrant patterns. Metallic lures also give off good flash, making it easy for anglers to track baits during the retrieve. Panfish lures such as jigs, tubes, spoons, swimbaits, minnowbaits and jerkbaits all work with this approach.
 
3. Wear polarized glasses
Polarized sunglasses cut down on glare and let anglers see beneath the water's surface. High-contrast tints are recommended. These lenses increase the intensity of colors, which is useful during overcast days.
 
4. Watch for fish and bites
Sight-fishing crappie in fall is 50 percent seeing fish and making accurate casts to them. The other 50 percent is fan casting prime areas and watching the lure during the retrieve. It can be difficult to feel the suction-strike of a crappie as it takes a slow-moving bait. But, you can often see telltale white flash as a crappie opens its mouth. Don't wait to feel the fish, set the hook as soon as you lose sight of the lure.
 
Give these tips a try, and you'll put plenty of crappie in the boat this fall. Once twilight arrives, the action can really pick-up, but sight-fishing crappie in low light becomes challenging.
 

  Here's a video on how to use your vision to catch more crappie at dusk at Bass Pro Shops 1Source.