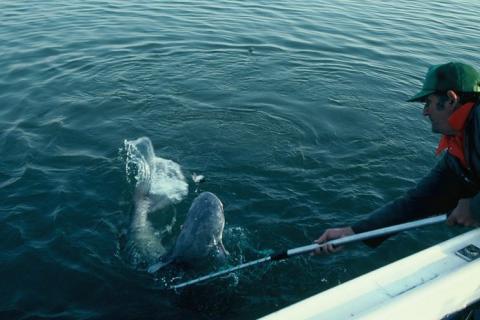 7 Proven "Catching Catfish" Strategies -
Fishing for big catfish is gaining fans in droves as anglers realize the cats offer their best chance to catch a quarry in freshwater that weighs 20-75 pounds on a consistent basis. Here are some tips on how to latch onto one of these whiskered inland giants.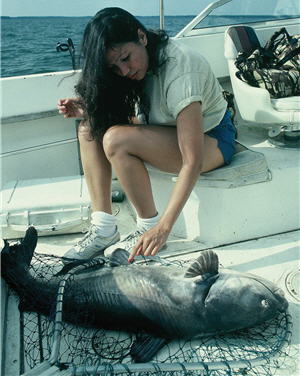 Angler inspecting her Blue Catfish.
Once looked down on by "sport fishermen" catfish have turned their reputation around 180 degrees. They are now one of the most sought-after fish on many lakes and rivers as anglers realize how challenging they are to catch and what a tremendous battle they put on.  Blues, channels, and flathead catfish are attracting increasing attention from newly-intrigued fishermen.
 
But to score on the heaviest cats, you need to find the prime fishing locations where they hang out, you need to use the right fishing tactics, and you need to gear up with fishing tackle up to the big-fish challenge. Here are some tips on catching these giants that lurk in rivers, lakes, and sprawling impoundments from Texas to Canada.
 
Use the Right Fishing Tackle and Terminal Gear
Light tackle won't cut it for big catfish. Experts suggest an 8-9 foot medium-heavy or heavy-weight graphite baitcast fishing rod matched with a high quality level-wind baitcast fishing reel like the Abu Garcia C3 Striper Special Baitcast Reel and 20-50 pound line. Thread a ½-2 ounce barrel sinker on the main line, and then tie in a strong two-way swivel.
 
Now add a 50-pound monofilament leader measuring 18-36 inches. Then tie on a size 4/0-6/0 bait fishing hook, such as an Eagle Claw catfish hooks found at Cabela's or similar.
 

Extra Tip: Both braid and monofilament line can be used. Experts vary on this, so see what works best for the waters and depths you fish. Braid allows better feel of the bottom, but mono will stretch a bit if your drag hangs up or a big fish makes a sudden lunge. In either case, use monofilament for the terminal leader.
What is the Best Catfish Bait?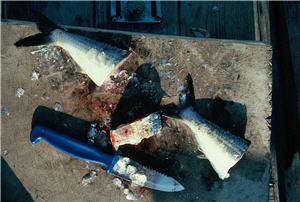 Cut bait is one of the most effective baits for blue catfish
Big catfish will gobble up a wide variety of offerings. On some waters commercial catfish stink bait concoctions are good options. Large live shiners, herring, and shad are deadly, especially on flathead and channel catfish. But it's hard to top a section of cut bait from a herring, shad, or mullet for both of those species and blue catfish as well. Cut them into steaks ¾-1 inch wide. 
 

Extra Tip: Don't waste any part of the bait! The head makes a very effective offering.
How Deep Do You Fish for Catfish?
Vary how deep you fish according to the time of day, season, wind speed and other weather factors. While most people picture big cats of 20-60 pounds hanging out in deep holes all the time, sometimes they move quite shallow.
 
Thin-water areas can be especially productive early in the day and late in the evening. Sometimes they will move into as little as 5-10 feet of water right at dawn or at dusk. During the middle of the day and when it's bright and sunny, they tend hang deeper, from 20-60 feet.
 

Extra Tip: Whatever depth you fish, keep your bait within inches of the bottom.
Where Can You Find Catfish?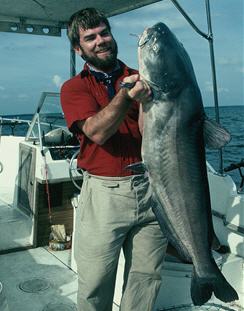 Author - Angler with 52 pound Blue Catfish.
Learn the best spots by trial and error and by studying topo maps and your sonar fish finder with down imaging or down scan and side images or side scan. In general, jumbo catfish like rough cover. Some of the best places to find catfish are hills, saddles, channel edges, submerged islands, ditches, and holes in otherwise flat bottoms. Using a depth finder is crucial for locating this prime cover. Uniformly flat cover bottoms that suddenly drop off are good bets. Cats will hang along the edge and grab food that gets washed off. Points, bars, and humps are also potential hotspots.
 

Extra Tip: Dead standing timber can also be worth trying, especially for flatheads.
When is the Best Time to Fish for Catfish
The hour or two right after daybreak and shortly before dusk are excellent times to catch a catfish as long as your leg. But the fact is, giant cats are going to feed an hour or two every day. The solution is to put your bait in front of them when that feeding period occurs.
 

Extra Tip: The more hours you put in, the more likely you'll score. If you start late, stick it out until dark or into the night. If you start early, stay out as long as you can—or until the food runs out!
Try Anchoring Fishing for Catfish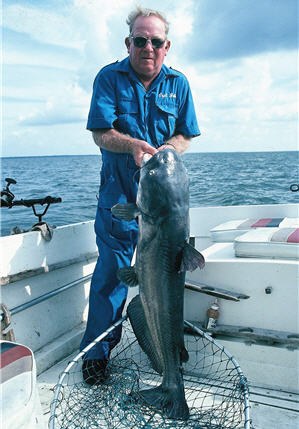 Many catfish guides like to anchor. It's easier to fish that way and keep lines untangled. This is a good approach for spring, when the fish might be in 4-6 feet of water and would be spooked by the boat's presence, or when you are fishing a very small, specific piece of structure you believe is holding fish.
Drift Fishing for Catfish Can be More Productive
As a rule, drift fishing is a more productive tactic in most situations. This method is particularly good for fishing larger, spread-out areas of structure where fish may be scattered. In some cases moving the bait may also excite lethargic fish and incite a strike better than one hanging stationary beneath an anchored boat.
 

Extra Tip: If it's extremely windy, however, anchoring is usually the best approach. It's hard to drift fish effectively in that situation. The bait moves too fast and tends to rise up to the surface.
Try these proven catfish tactics on the best big cat lake or river near your home. Once you latch onto a 20, 30, or even 50-pounder, you'll realize why this whiskered quarry's popularity is skyrocketing.