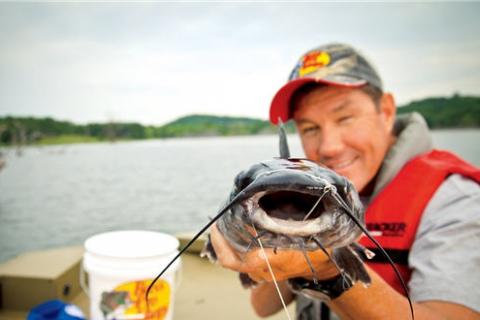 North America encompasses thousands of lakes and rivers that produce catfish in extraordinary numbers and huge sizes. Coming up with a "best" fishing list is like trying to pick America's best restaurants. It's darn near impossible, and lots of excellent establishments are bound to get left out. 
Nevertheless, the following are short reviews of seven waters renowned for great catfishing. Some are best known for their trophy potential. Others have well-deserved reputations for fast action — lots of cats caught in a day's fishing, with an occasional lunker in the harvest to keep you on your toes. All offer excellent fishing for the savvy catfish angler. 
How to Fish the Red River: Channel Catfish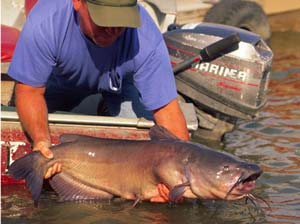 The epitome of a trophy-catfish fishery is that section of the Red River running from the North Dakota/Minnesota border north of Fargo, N.D., to Lake Winnipeg in Manitoba. The average channel catfish here would qualify as a trophy fish in most other waters, especially those from the 25-mile stretch below Lockport Dam in Selkirk, Manitoba. Studies have shown the average catfish caught here weighs more than 19 pounds, and 92 percent of the cats are more than 30 inches long. Hookups with 17- to 25-pounders are common; fish under 10 pounds are rare. Fishing doesn't end until the bait runs out or anglers have a case of terminal tendonitis.  
Several factors account for the Red's astounding catfishing. In the northern (downstream) reach, channel cats from huge Lake Winnipeg make a prespawn migration to Lockport Dam. The population dwindles through summer, but fishing remains excellent compared to similar waters. The dam at Drayton, N.D., about 100 miles south (upstream), functions similarly, although the abundance of channel cats and their average size are slightly lower. 
Red River channel cats live longer than other populations-at least 24 years. The growing season is short compared to more southern populations, but the river is rich with prey. Cats feed voraciously when the water temperature rises above 50 degrees in spring and before it dips below that level in autumn. June and early July are prime times for numbers of fish at Selkirk or the dams near Drayton and Grand Forks, N.D., but the best fishing for the river's 30-pound-plus giants is in September.
How to Fish Santee Cooper Lakes: Blues, Channels and Flatheads
In the world of catfishing, South Carolina's Santee Cooper lakes are hallowed water. This 170,000-acre dual reservoir system-lakes Marion and Moultrie-produces not only big cats, but plenty of them. And with the high numbers of savvy catfishing fanatics fishing here year-round, one has to rate these waters high on the list of places likely to produce new world-record benchmarks.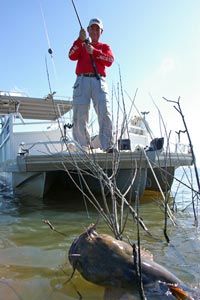 Blue cats are found here as perhaps nowhere else. On Feb. 8, 2012, Leland Selph of Cross, S.C., ran a trotline on Lake Moultrie and caught a blue that tipped the scales at 136 pounds, 6 ounces. The fish would have surpassed the current 21-year-old state record of 109 pounds, 4 ounces (a former all-tackle world record) had it been angled with a rod and reel. On April 12, 2000, a 100-pound, 8-ounce blue was landed in the upper end of Lake Marion. Fifty, 60- and 70-pound blues are caught so frequently, they hardly draw attention.
The current world-record channel cat of 58 pounds was caught in Lake Moultrie in 1964, but trophy-class channels haven't been plentiful since the late 1960s. Nevertheless, 5- to 15-pounders make up a large part of the catch, and its not unusual to catch 50 or more daily.
Giant flatheads also roam these world-famous South Carolina lakes and their tributaries. The 79-pound, 4-ounce state record came from the Santee Cooper Diversion Canal in 2001, and flatheads over 50 pounds are caught with surprising frequency. The best fishing for these bruisers is during the warm months, but blues and channels bite year-round.   Sooner or later, if you're serious about big catfish, you must try Santee Cooper.
How to Fish Lake Texoma: Blue Cats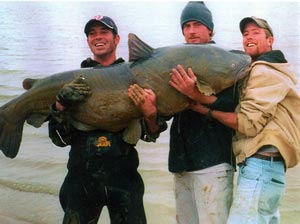 Cody Mullennix,
left, of Howe, Texas, caught this 121.5-pound former world-record blue catfish in Lake Texoma in January 2004.
(photo courtesy of Cody Mullennix)
Straddling the Oklahoma/Texas border, this 89,000-acre reservoir has produced several 100-pound-plus blue cats, including a world-record 121.5-pounder caught in the Texas portion of the Texoma lake in 2004, a 116-pound trotline-caught Texas state record caught in 1985 and a 118.5-pounder landed by an Oklahoma jug fisherman in 1988. Oklahoma's state-record 98-pounder was caught on a rod and reel there in Nov. 2004.
Several International Game Fish Association and National Fresh Water Fishing Hall of Fame line-class records also have been caught in Texoma. Blues exceeding 50 pounds are, as one local put it, "as thick as August blackberries." 
The best chance to catch a record-class blue, say local guides, is during winter. Blue cats are more concentrated then because the shad they feed on are concentrated. Lots of big fish congregate in small areas, and if you can pinpoint them on a graph or by other means, chances of catching several trophy fish are superb.
Tip: Check out Lake Texoma State Park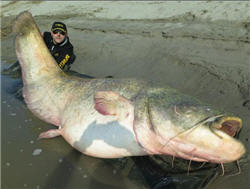 A really big catfish: In 2015, an Italian fisherman caught a 280-lb. Wels Catfish in Italy's Po Delta river. Photo credit: Facebook / Sportex Italia
How to Fish the Osage and Missouri Rivers: Blue Cats
The Osage River from Bagnell Dam to the Missouri River near Jefferson City, Mo., serves up some extraordinary blue cat fishing. Research done by the Missouri Department of Conservation indicates a high-density blue cat fishery that includes numerous 50- to 75-pound fish. Seasoned cat men like Virgil Agee of Chamois are certain there are blues here pushing the 150-pound mark. Agee himself has released blue cats back into the river that weighed 101 and 121 pounds, and he claims to have hooked some bigger. 
The Missouri River, which crosses the state from Kansas City to St. Louis, also produces giant blues. A former world-record 130-pounde blue catfish was boated near the river's confluence with the Mississippi in July 2010, and a previous state-record blue catfish, a 103-pounder, was caught on rod and reel near Kansas City in 1991. In 1999, a 102-pound blue was taken on a trotline near Glasgow. Century-mark fish could turn up here almost anywhere, any time.
Tip: How to Catch Catfish: Fishing for Catfish & Trophy Flatheads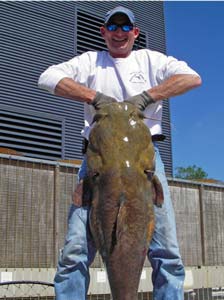 This 77.7-pound flathead catfish was caught in the river by Memphis angler Matt Bingham in April 2012.
(photo courtesy of Matt Bingham)
Fishing the Lower Mississippi River: Blues, Channels and Flatheads
From Alton, Illinois in the north to its confluence with the Gulf of Mexico in Louisiana, the Mississippi River offers action-packed fishing for giant cats equal to that found anywhere on this continent.
Blues are the river's giants, and there are plenty of giants here. On July 1, 2012, a 110-pounder was landed at Alton, but that's several pounds smaller than the former world-record caught there in 2005 — a massive 124-pound blue the size of a calf.
The river at West Memphis also produced a former world-record blue, a 116-pound, 12-ounce specimen caught in August 2001. Many believe a 150-pounder lurks here. The question is: Will it ever be caught? 
The Mississippi is a mother lode of giant flatheads, too. The biggest caught recently was a 77.7-pounder landed downstream from Memphis in April 2012, a new Mississippi state record. Fifteen- to 30-pounders are as common as costume jewelry at a flea market. Forty- to 60-pounders probably are caught somewhere along the river's length every day during summer. 
Channel catfish are extraordinarily abundant, and catching 50 or more during a night's fishing is simple for savvy anglers. Most range from 1 to 5 pounds, but specimens exceeding 10 pounds usually anchor the stringers of serious fishermen.
How to Fish Wheeler Lake: Catfish, Channels, Blues and Flatheads
In recent years, Wheeler Lake, a 67,100-acre Tennessee River impoundment in north-central Alabama, has been the country's hottest blue-cat lake, producing several fish around 100 pounds and scores exceeding 70. Fishing is good year-round, but winter fishing excels, as evidenced by the clients of guide Mike Mitchell who caught a 98-pounder in January 2008 and a whopping 102-pounder in February 2010. A former all-tackle world-record blue (111 pounds) also was caught in Wheeler, but in summer-July 1996. The lake also produced a 95-pounder in March 2011 and 101-pounder in November 2009.
Giant blues may be Wheeler's drawing card, but channel cats dominate the catch. The lake is fairly brimming with 10- to 20-pounders. Flatheads are fairly common and often exceed 50 pounds, but few anglers target them specifically. The lake gave up a 70-pounder in March 2012, a fish just 10 pounds shy of the state record.
How to Fish Lake Dominquez: Channel Cats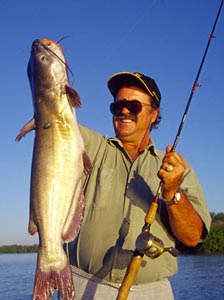 Mexican waters remain relatively unexplored in terms of their catfishing potential. One that has been explored, by this author, is Lake Dominguez, a 20,000-acre impoundment on the Rio Fuerte in western Mexico's state of Sinaloa.
This huge reservoir, nestled in farmland near the town of El Fuerte, harbors an incredibly large population of 1- to 2-pound channel cats, which are heavily harvested by local anglers using fish traps.
Larger catfish, however, aren't considered prime food fish. Consequently, these often are released back into the lake where they grow fat on schools of tilapia fry. It's not unusual to see the heads of 20- to 30-pound channel cats breaching the water as these predators rush through schooling baitfish. A single night of fishing in November produced scores of 5-pound-plus fish for the author, including one 20-pound-plus monster. Several larger fish were lost on too-light fishing tackle.
Locals say the best catfishing is during the sweltering summer rainy season.