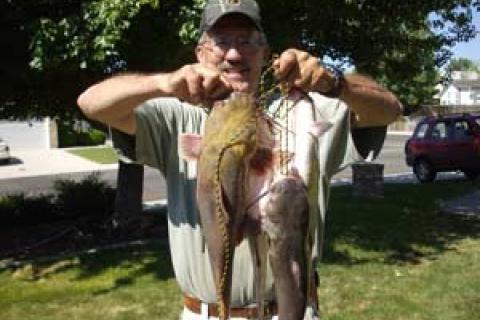 To me catfishing is one outdoor event that should be a kicked back relaxing event. There are some hardcore intense catfishermen but I like to think about it as a sport to be enjoyed like Huckleberry Finn and Jim did it — laid back and enjoying nature on a lazy day.  


So put on your tore up straw hat and let's go back in time 150 years and imagine that we're on the banks of a big river in your area and mimic Huck Finn. Or even camped out on a lake if you don't have a good river. If you live in a state that allows you to set trotlines and throwlines great. Let's start off talking about them.  


I was in the second grade when dad bought our first place. Nearby there was a huge ranch, at least by my standards. The head cowboy there let me have the run of their land for hunting and fishing. They had a lot of stock ponds and bigger ponds as well.  


Dad would let me work until 10 a.m. and then I'd grab a gun and go exploring. The land right behind us was super thick with post oaks and had a couple of good sized ponds on it. I told dad about them.  


Dad said that we needed to set out a trotline and showed us how to build one. We got a nylon rope, a hair smaller than parachute cord and every 30 inches attached a drop down line about 20 inches long and put on a 1 ought hook.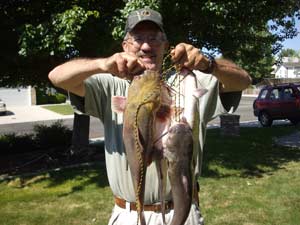 You tie one end to a tree or branch (a branch allows some give to fight them out) and lay the line along the bank. Now you have to bait your line. Experiment to see what you think the best bait is. Crawdads, minnows, bluegills, worms or some kind of stink bait will all work.  


Then according to what the lay of the land is, you can tie the other end to a rock and heave it out deep or tie it across a slough or to a tree on the other side. If you have a boat it makes it easier.  


I once worked for a rancher and we'd go fishing every morning in the spring. We'd tie short lines between willows and catch catfish that came up at night feeding in the willows.  


Running a trotline is almost like running a trapline. When you get there you are full of anticipation. You can't wait to see if you have something. Especially if you're an 8-year old kid. We set our trotline on Saturday night and went back up to check it after church on Sunday.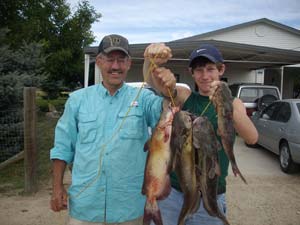 The author

and Eli Combe, showing off their catch after a fishing trip.
Dad showed us how to slightly tug on it first. If something jerked, you knew you had something. Dad slightly tugged and it went wild. Wow, we had something. We pulled it in and had a huge yellow catfish. At least to us kids it was huge. In all actuality it probably wasn't over 2.5 to 3 pounds, but my young fist could have fit in his mouth.  


To really run trotlines right you should check them every two hours throughout the night. That way you'll catch a lot more fish by keeping the hooks rebaited. If you only check it in the morning you may have two fish and 20 empty hooks. You will also grow to hate those bait stealing turtles. This is where my life long battle with turtles begin.  


To me it works best and smoother to check your trotline in a boat. That way you can coast along pulling it up. You don't want to pull the fish all the way out of the water or he'll spook and you may lose him. It's best if you have a fish to leave him a foot under the surface and to run a dip net under him and lift him up. Just like all fish they spook when they get near the surface.   The next summer dad told us we ought to set a setline. What's that? He said to get a small pimento bottle and tie a 12-foot line to it and then run a 3-foot line down from it and put a hook on the 3-foot line. We tied it to a willow tree, baited it up and came back the next day. Wow, we had a 3.5-pound channel cat. We repeated the process and caught a 3.25-pound one. After that we bought fingerlings and threw them in our ponds and fed them catfish food or whole corn. When we threw the feed in the pond the water would boil with feeding fish.  


Every spring after bear season is over and crappie fishing has slowed down I go to Brownlee which is between Idaho and Oregon for a couple of weekends of catfishing. I'll usually take a kid with me so they can enjoy it as well. It's a relaxing time for me. I'll set up a tent, build a fire and throw out a few lines. I plan on staying up all night fishing but usually I crawl in the tent and fall asleep by midnight.  


So, if you want a fun, relaxing fishing trip I don't think that you can do any better than a good old catfishing trip down on a local river. It's a good time to build a fire, cook s'mores and have a good time with your kids. And who knows you might just discover that Huckleberry Finn and Jim had it right.