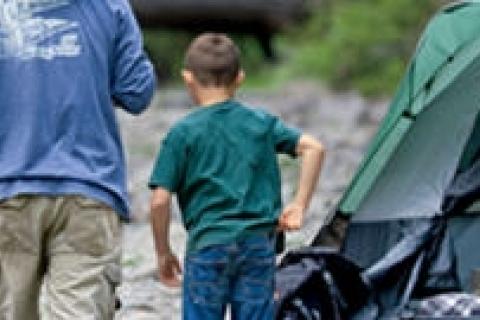 When you go camping, you expect to escape the hustle, bustle and worries of everyday living. You can, however, unexpectedly find yourself at the mercy of Ma Nature. What happens after you possibly encounter a strong storm, snake, spider, sharp rock or other "danger" depends often on what you did prior to that encounter. It pays to be prepared and to plan ahead.
Always search your campsite area for hidden dangers like dead trees and dead limbs in trees.
As a minimum level of protection, always plan to take along a first aid kit and have one that you know how to use. There are numerous styles and sources for these kits, but buy one and pack it along. You should also open it, study the contents, and understand what is there and how it works. Then it's time to go camping.
Inspect Your Campsite
As you reach that X-marks-the-spot, or your destination, you need to do some research and safety scouting. Before you unpack anything, stand at the specific site where your camping tent will be erected, look above, behind and beside for trees with dead limbs, or entire dead trees, that could be easily toppled during a storm. Strong winds, heavy rain and unexpected storms could bring those limbs and trees down onto you.
A few years back a strong, unexpected summer storm passed through the famous Boundary Waters Canoe Area Wilderness in northern Minnesota and wind tossed trees claimed several lives. It doesn't have to be that way. Always look overhead and around for dangers. Beyond falling trees, look for possible boulders that could tumble down from cliffs and look up for exposed hillsides that could become mudslides with heavy rains. If in doubt, move to another site.
Also when thinking about rains, beware of rushing water that can come barreling down dry or desert canyons. Dry creekbeds in the Southwest can become raging rivers in only a few minutes thanks to strong, uphill and far-away storms that you might not see. Flashfloods are still a problem in many areas, and unfortunately these cause threats for campers who erect their tent near rivers. These floods are an almost common occurrence along the Appalachian Mountain range each spring. Those flood waters can rise feet in mere minutes, so look about and plan accordingly.
Next, select the perfect tent site with attention to how open and exposed it is. Don't pitch your tent on high, very exposed areas, such as bare hilltops. The view might be awesome from there, but it could also be deadly when lightning and thunderstorms pass through the region.
Think about the dangers that can come calling when selecting a camping site.
Communicate Before a Problem
In this day of e-communications, it is still important to let someone know where you will be camping, and when you will return. Don't rely on cellphones at the campsite to communicate your location because some phones simply don't reach out from many backcountry areas. Strong storms can also disable communication towers or disrupt, or disable, all electronic communications. Then there are the fast-moving wind and rain storms that seem to be the norm in much of America today. These also lead to widespread communication failures. You should plan ahead to survive any threat and let someone know where you will be and when you will return.
You should also consult the specifications of the tent you will be using or contact the manufacturer for specific details on how to properly erect and anchor the tent. Any winds beyond 20 mph can possibly collapse many tents. A late night wind storm in Death Valley a few summers back collapsed several tents and sent campers to spend the remainder of that dark and dusty night in their cars. Luckily no one was hurt. Like most storms, that one rolled over a nearby ridge top before anyone took notice.
The important thing is to know that dangers are present, but avoidable. Then go camping, relax and have a good time.
Written by Michael D. Faw