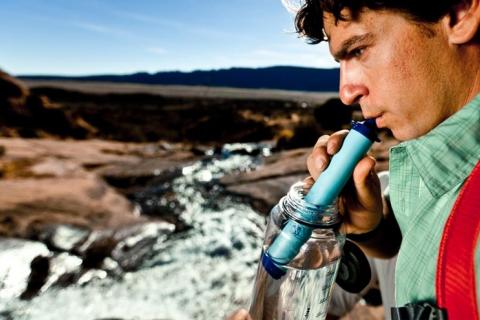 While the casual car camper may consider a portable water filtration system a nice-to-have accessory, anyone who steps off the beaten path should consider it a wise-to-have outdoor essential. Today, finding a right-sized system is easy, and buying a quality system is relatively inexpensive. If you ever find yourself questioning whether you should drink the water, the answer should be "NO" unless you have a filtration system to make certain it's safe.


Here are a variety of options worthy of consideration by even the casual outdoorsperson: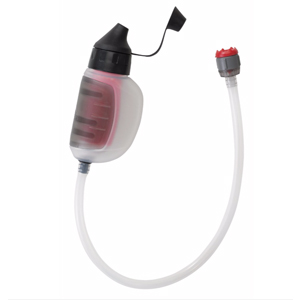 MSR Trailshot Microfilter Pocket Water Filter
$49.99
Weighs only five ounces and is built to stow in the stash pocket on your pack or jacket. Easy one-handed operation filters approximately one liter per minute directly from any trailside water source.


---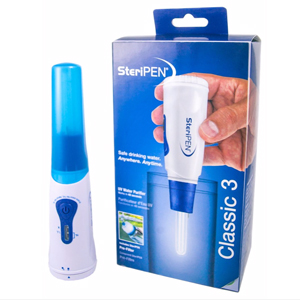 SteriPEN Classic 3 Handheld Water Purifier with Pre-Filter
$69.99


Rather than a mechanical filter, the SteriPEN uses germicidal ultraviolet light to destroy more than 99.9 percent of viruses, bacteria, and protozoa (giardia) in water. Purifies a liter of water in 90 seconds. Runs on four AA batteries. The pre-filter system removes particulates and debris to create clear water you then purify with the UV unit.


---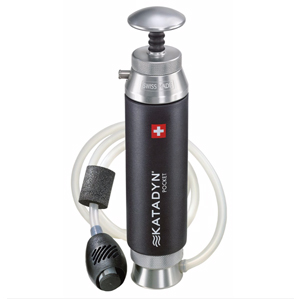 Katadyn Pocket Water Filter
$369.99


This is the Cadillac of camping water filters. It's made of rugged, heavy duty materials and built to last a lifetime. Comes with a 20-year warranty. It incorporates a 0.2 micron ceramic filter and will purify approximately one quart of water per minute over its 13,000 gallon life expectancy. The ceramic filter is cleanable.


---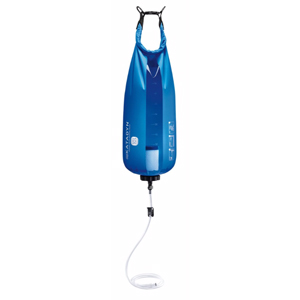 Katadyn Base Camp Pro 10L Water Filter System
$99.99


Designed to serve the needs of an entire camp the no-pump system touts a purification flow rate of two liters per minute. All you need to do is fill, hang, and use. It's Katadyn's highest capacity gravity filtration system. Comes with multiple quick connects to easily fill most hydration resevoirs.


---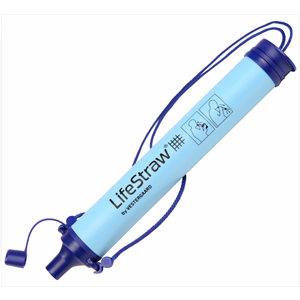 LifeStraw Personal Water Filter
$19.99


Perfect for hiking, camping, fishing, hunting, and more, this system weighs just two ounces, yet exceeds EPA standards for water filtration. Will filter up to 264 gallons by simply putting the lower part of the straw into the water source and sipping water through it.


---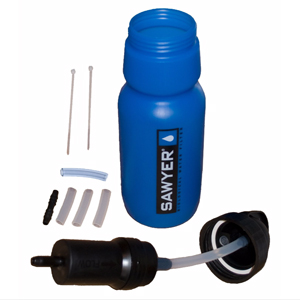 Sawyer Water Treatment Bottle with Internal Filter
$49.99


Fill up bottle from any source and drink immediately. Comes with Sawyer's One-in-a-Million guarantee to remove particles, bacteria and protozoa down to 0.1 micron in size. There's such little resistance you can squeeze water out of the bottle. You can also adapt the standard 63mm cap to your existing bottle.


---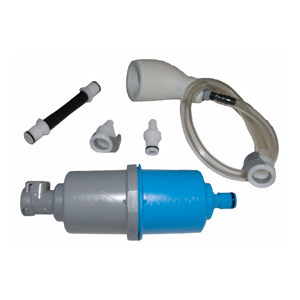 Sawyer 3- Way Water Treatment Filter
$54.99


This unique system with filter water straight from the lake, from a hydration reservoir, or household faucet. Works inline with your hydration pack so you don't have to worry about trying to clean the reservoir in unsanitary conditions.


---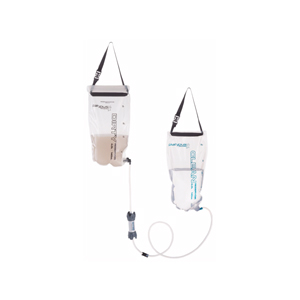 Platypus GravityWorks 4L Water Filter System
$119.99


Delivers four liters of filtered water in just two and a half minutes without pumping. Reservoir to reservoir system keeps filtered water ready when you need it. Doubles as a water transport system carrying up to eight liters.


---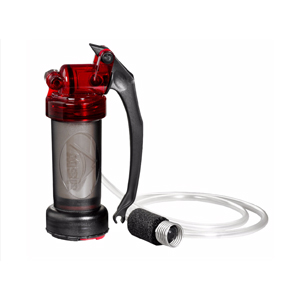 MSR MiniWorks Ceramic Filter
$89.99


Selected for service by the Amphibious Raids and Reconnasissance Division of the U.S. Marine Corps. Ultra-compact, light, easy to use, yet purifies one liter in two minutes.  Total unit weighs a little over one pound.


---