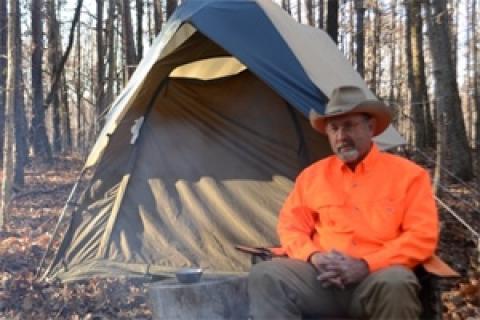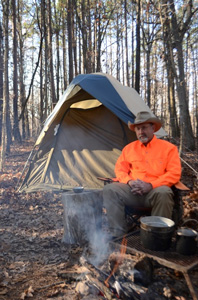 Traditions run strong among deer hunters. I have a few iron clad traditions of my own. Camping in a tent during deer season is one of them.
i chuckled to myself when a shock cord broke on one of my tent poles recently. The old Coleman 8'x10' tent had seen almost 20 years of deer and turkey camps and family campouts.
It only takes a few minutes, occasionally, to practice a few simple tent care routines to insure that you get the most service for your hard earned dollars.
Tent care begins the minute you take it out of the carton. Put a ground cloth down immediately to protect the tent's floor. Unfold the tent on the ground cloth to prevent it from coming in contact with sticks, rocks, dirt, mud and other objects that might cause damage.
Erect the tent according to directions. Tent poles will break and fabric will rip if too much pressure is applied. Poles under pressure can be hazardous. I once had one slip from a loop and strike me in the mouth.
Keep the tent as clean as possible while camping. Placing a small carpet sample at the tent door, both inside and out, keeps dirt to a minimum. Keep food and drink to a minimum inside the tent as well. Any spills should be wiped up with a damp cloth immediately.
Exercise equal caution when taking the tent down. Place tent poles and stakes into separate bags away from the tent. Packing these items all in the same bag can cause rips and scratches in the tent fabric. Either will leak later.
Once you arrive home, immediately set the tent up or hang it up where it can air dry. Spread the tent open as much as possible. There will be moisture in the tent fabric, particularly in the stitched seams. If the moisture is not removed, the seams of the tent will rot quickly, and you will certainly have a mildewed tent the next time you use it. Mildew smells ruin the idea of fresh air on your next campout.
Most dirt or stains acquired on a campout can be easily removed with soap and water. Tougher stains may require a stronger stain remover.
If you want to get maximum length of service from your tent, treat the stitched seams with a good seam sealer at least once a year. You can find it in the camping department of your nearest Bass Pro Shops.
Tents are an important part of making memories at camps. Stories are told in them and pranks are pulled. I never climb into my old tent without thinking of the family and friends who have shared its shelter with me over the last two decades.
Preserve your tent as you do your memories, with a lot of TLC. Take care of it, and it will take care of you.