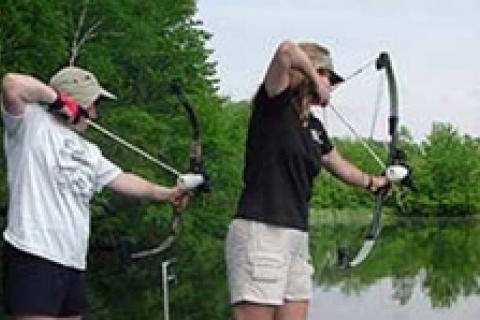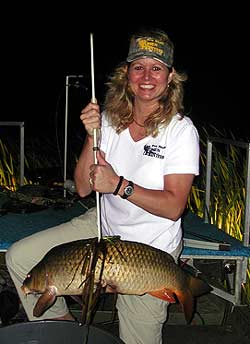 The author's first bowfishing trophy, a nice 13-pound carp shot within five feet of the boat.
Despite over 20 years of bowhunting experience, I still hadn't ever taken to the water with my bow. I'd seen countless bowfishing programs, read about shooting carp with a bow and talked often about going bowfishing "someday." It looked to me like a lot of fun and seemed to be the perfect in-between-seasons excursion. So, what was my hold up? Turns out, my lack of knowledge and wrong assumptions were holding me back from trying it. I mistakenly assumed: 1) that gearing up would be a lengthy process, and 2) that I needed a boat "fully outfitted" for bowfishing.  I couldn't have been more  wrong on both counts.
    
A friend, Linda Thompson, and myself understood how simple, fun and addictive bowfishing actually was after spending a couple of June days on the river with co-owner of AMS Bowfishing, Cindy Braun.
 
First on the "to-do" list: purchase a fishing license. Most states require just an ordinary fishing license to bow fish. In many states you'll find year-round opportunities for shooting rough fish, and often many other types of fish legally allowed to be shot with a bow. Be sure to check your state laws and regulations before heading out.
 
First on the gear list: a bow. I borrowed an old compound set to 45 pounds for my first outing. Bowfishing bows don't need to be high-tech. In fact, recurves are often best suited and preferred for the fast-paced shooting.
 
Choose what you're comfortable with: either a compound or recurve, with a draw weight anywhere from 40 to 50 pounds. Quick, repetitive shooting is the norm, with the majority of shots less than 10 feet, eliminating the need for higher draw weights which only lead to shooter fatigue. Attach a simple prong-type rest and a reel specifically engineered for bowfishing. Arrow "snap-back" can cause serious injury and can result from using the wrong kind of reel, from tangled lines or from lines tied directly to rear-end of the arrow shaft. Its imperative your line releases automatically upon shooting and that your lines remain tangle-free. When placing your arrow on the bow rest, always be certain the attached line remains in front of the rest and free from obstruction before shooting.
     
The AMS Retriever reel and arrow Safety Slides we used guarantee smooth, tangle-free shooting and easy retrieves, and afforded piece of mind to this bowfishing beginner!  Reels attach directly to the pre-drilled sight holes on your bow's riser, and have a plastic "bottle" that holds the Dacron fishing line until a shot is taken.  When ready to retrieve, just pull the "trigger" and reel in the line like normal.
     
No sights are required.  Instinctive shooting works best for the close and quick shooting encountered. There's no time for aligning a sight pin on your target; wait a second too long and that fish will be gone. Though this may seem unusual and awkward, don't fear, you'll be amazed at your own natural ability to adapt to shooting accurately without sight aids. 


Adjustments need to be made in your aiming point because of the water's refraction. Generally, you'll shoot approximately six inches under your target, or at the belly of a big fish, to hit it squarely. Once again, don't fear, this becomes second-nature after a few shots.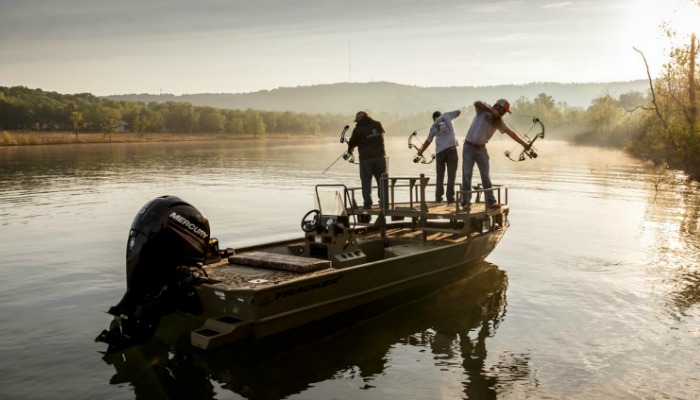 A heavy and durable fiberglass
bowfishing arrow
rigged with an arrow-slide for safety, connects the Dacron fishing line from bow to arrow.
A heavy and durable fiberglass bowfishing arrow (no vanes or feathers needed, they only interfere with the equipment) rigged with an arrow-slide for safety, connects the Dacron fishing line from bow to arrow. A "quick-release" fish point rounds out the required equipment. 


For day fishing, suntan lotion, hat and polarized sunglasses are a must. At night, all you'll need is bug spray or a lightweight shirt to protect yourself from flying insects. 


Any shallow, flat bottom boat works well; other alternatives are shooting from shore or wading slowly in flooded areas or shallows. A trolling motor is helpful for maneuvering through the shallows, but a friend can paddle you into position just as well. For the advanced bow fisherman, an airboat or air fan is preferred for skimming through cattail marshes in search of carp.  


Strong lanterns or flashlights are needed for night fishing, with mounted Halogen lighting the brightest and best choice. Raised platforms make sightings and shooting easier, but certainly aren't necessary. Adapt and use the gear you have, acquiring more sophisticated setups as your pocketbook and interest in bowfishing grows.      


Once your gear is assembled, you're ready to hit the water! We began our bowfishing at night, launching the well-equipped AMS Bowfishing boat at 9 p.m. Warm, gusty winds and recent flooding made for poor visibility in our first hour on the river, but as the evening wore on, the winds settled and our fun began!     
We trolled along the cattail edges searching for "rattlin' reeds" – cattail reeds that quivered and shook from the carp that swam among them. I spotted a fin slice the water's surface and quickly drew, released and connected! With an ear-to-ear smile I reeled in my first bowfishing trophy – a nice 13 pound carp. The hunt was ON! Cindy followed minutes later, then Linda reeled one in too. Now this was fun!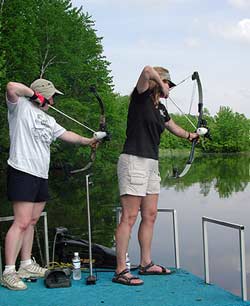 Cindy Braun, left, and the author come to full-draw on two passing carp.
Absorbed in the non-stop action and fun of bowfishing, we lost all track of time, only glancing at our watches hours later when the wind kicked up again. We called it quits at 2 a.m., anxious to rest up for some daytime action. 
 
Cloud cover was thick when we launched the following morning, making sightings difficult. Making our efforts harder still was the fact that the hot spawning period was nearly over for the year. Despite these hardships, we were still able to spot carp rolling and slapping in the shallows and steered the boat toward shore. Over and over we approached slowly using the trolling motor, and came to full draw, only to have the wary carp disappear in an instant. Finally the sun broke through the clouds and with increased visibility began boating some carp. After a long day, we finally surrendered, vowing to return the following May when the spawn was hot. 


Not only had I learned a great deal about bowfishing, I'd discovered yet another type of hunting I enjoyed! I couldn't wait to work the weeds again with my newfound bowfishing buddies. We talked about the fun of shooting rough fish, but Cindy enticed us further with stories of gar, alligator, and shark bowfishing trips. For the avid bow fisherman or woman, you'll find an abundance of carp shoots and tournaments available, and many opportunities for pursuing trophy-size fish with a bow, both freshwater and saltwater. (Ah yes, more bow excursions to add to my ever-increasing list of "dream hunts.")
    
One fact remained: Bowfishing was much easier to prepare for and learn than I'd ever imagined. I only wished I'd tried it sooner. A combination of simple equipment setups, easy shooting and an abundance of rough fish across the United States make for some unequaled off-season bow action. Considering the cost of entertainment these days, you'll quickly realize how cost effective bowfishing is for anyone at any age to enjoy. It's the perfect solution for any hunter who's experiencing the "summer doldrums" and eager to keep their bow skills sharp.