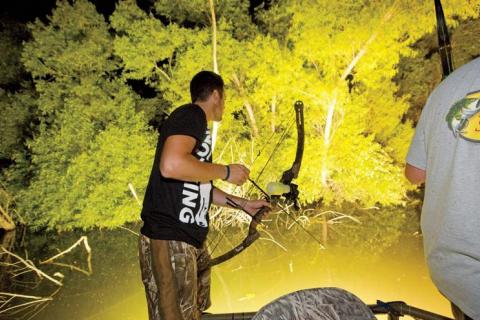 Try bowfishing to sharpen your archery skills and do something good for the environment, too.


So what does bowfishing have to do with the environmental catchphrase: reduce, reuse, recycle? Using specialized archery tackle to fish is a great way to improve the environment and have a heap of fun, too. Bowfishing creates healthier lakes and reservoirs because it reduces rough fish such as common carp, grass carp, buffalo and gar.  Many of these rough fish species degrade water quality by stirring up mud. They also directly compete with spawning game fish by destroying their spawning beds. This is a huge problem especially in deep water lakes because they already lack spawning areas.



  Bowfishing Basics: How to Get Started

  Bowfishing is also an effective way to control populations of invasive species such as Asian carp. These non-natives pose a serious threat because they not only ruin fish habitat but could actually push some fish species to extinction.


  The environmental benefits are a bonus because it's the excitement of bowfishing that's making it so popular. While bowfishing started as a way to sharpen archery skills for fall hunting seasons, it has matured into its own outdoor pursuit.


Listen to Bass Pro Shops Outdoor World interview with bowfishing expert, Captain of Team Blood Vessel and Founder of the Bass Pro Shops U.S. Open Bowfishing Tournament, John Paul Morris.
The U.S. Open Bowfishing Championship has become the World's largest bow-fishing event. The tournament has more than doubled in size after hosting over 500 fishermen in it's inaugural year. In fact, more than 800 bowfishermen headed to the second annual U.S. Bowfishing Championship in 2014.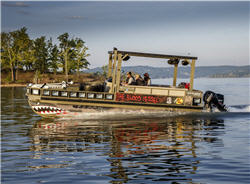 Bowfishing boat: The Blood Vessel
Teams from around the country took over 32,000 lbs of fish in 2015. All these fish were turned into liquid organic fertilizer for use on organic farms. The U.S. Open Bowfishing Championship offers guaranteed cash prizes for the champions and for the biggest fish boated. Also at the event are seminars from top pros, custom bow-fishing boats, vendor booths featureing new and innovative bowfishing products.


2016 Bowfishing Championship



U.S. Open Bowfishing Championship anglers recycle a resource
There's another environmental benefit that participants in the U.S. Open Bowfishing Championship will provide and here's where the recycle part kicks in. All fish taken during the bowfishing tournament will be put to good use as environmentally friendly fertilizer. Advances in technology have made it possible to liquefy fish into a safe, healthy fertilizer for use by organic farmers and home and garden purposes. SF Organics, a Division of Schafer Fisheries, uses hydrolysis to break the product down while maintaining the vitamins, enzymes, amino acids and minerals that create high-quality natural plant food.


"We love being able to get the kind of tonnage this bowfishing tournament will produce," said Brian Kruse, assistant sales manager for SF Organics, a Division of Schafer Fisheries. "We're able to pick up the fish in our refrigerated trucks the same day they're caught so we can convert them into organic fertilizer."