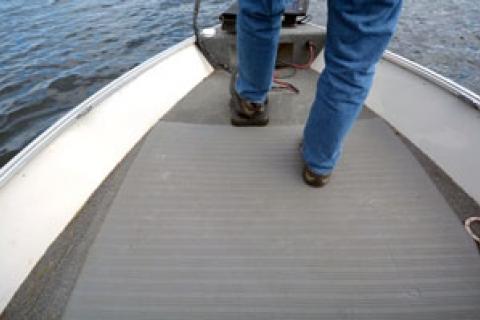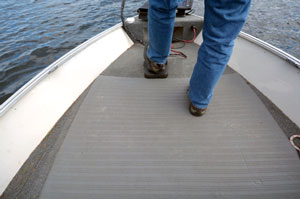 Standing long hours on carpet-covered plywood can take its toll on the body, especially in choppy water. When renovating my casting deck a decade ago, I removed the seat base; so using a chair or pedestal aren't options. One solution I have found to increase comfort is placing an anti-fatigue mat on the deck.


Anti-fatigue mats are available at hardware stores. Quality, size and degree of cushion is linked to price. The model I own cost $40. It has 4-by-3-foot dimensions. Used lengthwise it allows for two anglers.


Mat Features to Consider
When shopping for a mat opt for one with some weight to it. Stay away from interlocking, light foam mats. These will blow off the deck in a stiff breeze or when boating. I use the trolling motor pedal and the shaft's support bar to hold the mat in place when running on the water. Granted, I rarely pass 30 mph, so speedier boats may need other options to secure a mat or store it during transit.


Opt for a mat with beveled edges. This shaping deters it from curling, so it doesn't become a trip hazard.


An anti-slip underside helps the mat hold to the deck's carpet. In rain the top can get a little slippery when wearing certain footwear, but no more so than the boat's vinyl-covered floor. After a soaking, remove the mat to allow it and the carpet to dry separately.


Dampens Sound
In addition to cushioning and comfort, the mat dampens sound. Last year a buddy dropped a pair of pliers on the foam while retying a bait. At the time I was stalking a smallmouth in the shallows and the fish didn't spook. If the tool would have hit the carpet, I'm confident it would have sent the bass scurrying. Luckily it didn't and I caught the fish a few casts later.


One shortcoming is that the mat must be lifted to access certain compartments on the deck. Although not the perfect solution, an anti-fatigue mat can deliver some relief without being a major investment. Other ways to reduce body strain while fishing are wearing quality shoes and sitting when you can.